Shiraz Khan, an aesthetic and restorative dentist, shares what it took to start his racing team, Khanage Racing, and win a double podium in his first season at the Porsche Club Championship. 
Shiraz, thank you for joining us today. Recently you've started your own racing team, Khanage Racing. We love to see what people in dentistry get up to outside of the profession. How did you first get into racing?
My first thought about racing was in year four or five. My teacher asked, 'what's your dream job?' and at that age, I was untainted by the world. Without hesitation, I answered, 'Formula One racing driver'.
Obviously, my life didn't take that path because education was quite critical and you have to do karting from a really early age. So a door never really opened for me, but it stayed in the background of my mind.
This year, an interesting opportunity presented itself. I had secured no funding, but I took a chance and thought, if I'll ever do this, now's the time.
And it wasn't the right time at all, but I just went for it. Lo and behold, we're here.
Racing has clearly been on your mind for some time. What made you take the plunge to set up a team?
When you enter the world of motorsport, you have the competitive side which is racing, but you can also pay to go on a track and drive at high speeds in a relatively controlled environment amongst other cars within certain rules.
So, a group of us have been going on track days quite regularly since 2016. After years of enjoying it and feeling like I was progressing, there was a pull for something more.
Competitivity in terms of sports and other disciplines is a big part of who I am.
I love being able to check where my skills are in relation to the current demographic within that certain specialism or field.
The more I was doing track days, the more I was asking myself, 'Is there something more? Is there something competitive that I can do in this?'
This year was absolutely the wrong time, but people that I've been doing driver training and simulation sessions with started asking, 'Is it worth a shot just to see where you would stand?'
And I just thought, as typical me: 'Why not? We live once, let's give it a go.'
My driver coaches have clearly seen something in me to suggest trying to compete, so I just gave it a shot.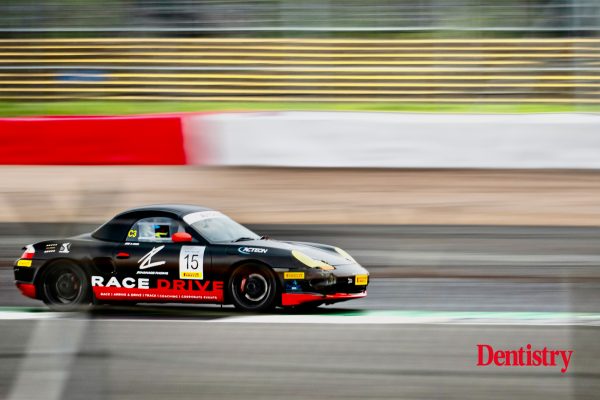 How difficult is it to set up a racing team? What does that process look like and what do you need to get started?
There are many ways that you can go about it. My team relies on infrastructure support from adjacent people within the industry.
For example, mechanics, car maintenance, etc is dealt by one team and driver coaching and supplying cars by another team.
Is it any different from running a dental practice? You've got people within your own specialisms, you do your part, and then you call on other people to join to provide a service or compete at a level.
It's quite hard because my team is focused on me as a driver, and I lean onto supporting organisations to provide the infrastructure that allows me to race.
You can go racing with your own car and have no team support, but it's difficult.
In my first ever race on the first day of testing, I had a mechanical failure. The engine had completely gone.
If that was my own car, there was no way I was going to get out. Because I had a team around and had support, they were able to get a loan car from another client that we used to race.
It's all about having an infrastructure and network around you of people that are better at things than you, and leaning on them and paying for their services to maximise your weekend.
This year you're racing in the Porsche Club Championship in the Boxster Cup. Can you tell us more about this championship and category? What do you hope to achieve?
I've been part of the Porsche Club since 2016 and have been doing various track days with them for a while.
In the Porsche Club Championship, there are three classes.
Class one is the premier class for seasoned racers that may have been doing this for 10, 15, 20 years.
Class two is for intermediaries.
Finally, class three is the Boxster Cup, which I feature in. It's for newcomers and is considered the slowest category, even though there are very experienced drivers.
I had no race experience before, no competitive driving experience. So I wasn't going to throw myself into the deep end.
I want to gauge my ability amongst those that have 'similar experience'.
That being said, there are people with a lot more experience than me this year who've been doing it for four to eight years.
But it's a great entry level opportunity to be in a rear-engine car, which has a different set of balance.
And if things don't work out, parts and cars are quite accessible, so it seemed like the most 'cost effective' and 'risk averse' cup to go into for my level of experience.
Additionally, Race Drive, which is the team that runs my car, already had a car pre-prepared. They were already giving me driver coaching, so it just meshed to be the perfect fit.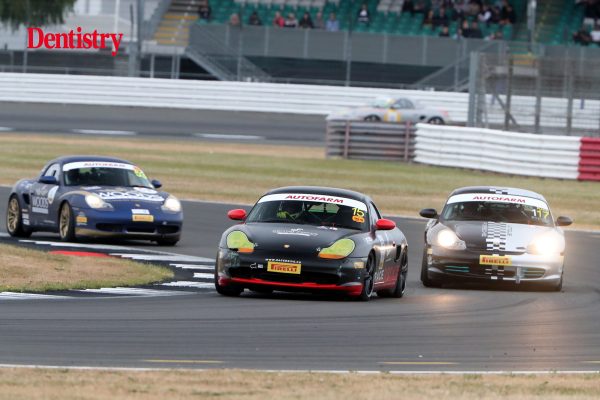 You have the backing of some very generous dental companies. Who are your sponsors?
First of all, I want to say a big thank you to them. I had committed myself to the season not knowing I would get any sponsors.
I said I'll fund this season myself, but if I can make 50% of the fees, I'll be delighted.
Now, I've got the whole season with sponsors, and I want to give a very big shout out to all of them.
My team's primary sponsor is Dental Focus. Krishan Joshi and his team were all over the idea of sponsoring a race team.
Acteon, a dental distributor company who I lecture with as well, was also very kind to support this. That was Stancey, who I've got a very big soft spot for.
We've also got Prestige Dental, the whole team there has been fantastic. Massive shoutout to Lucy Gabbitas, who's also very close to my heart.
She's taken me out to different places to lecture and learn and grow.
And Orascoptic, Michael Reichel has been lovely also. I've done lecturing for them, and in return, they've sponsored for the race season.
We've also got GTS RS Simulation, who is responsible for my driver training, and FTA Media.
Sculpt, which is my company, also sponsors it.
Ordinarily, you wouldn't think that this is something these companies would want to get involved with, but they did.
I'm grateful because perhaps this season wouldn't have worked out as it has without them. So thank you and I look forward to another great season with them, hopefully.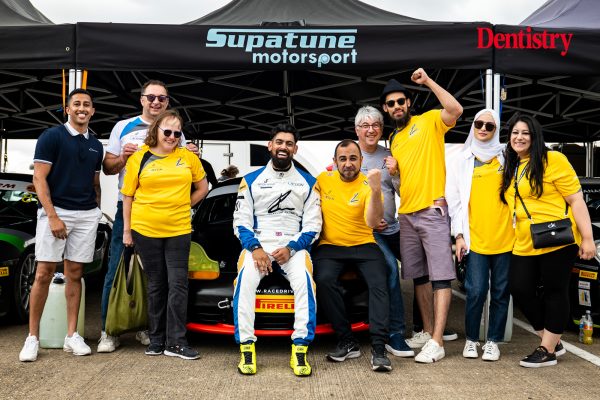 And now you've started a team merchandise line as well, what does that consist of? What inspired you to start your own line?
It's funny, this is a typical Shiraz thing. I want to do something and then I spur off into a different idea that detracts from what I need to focus on. I always digress in my life!
But actually, I've always been into formal fashion and I like presenting myself in a certain way.
Whenever I want to present myself at something, I always want to do so as well as possible within the confines of that discipline, field or profession.
So when I'm lecturing, I always like dressing very formally.
When I was at Selfridges or doing tailoring for Ted Baker, I was always very formal and I liked looking very iconic in my style.
When I started breaking, I wanted to have a very specific style of how I present myself.
So, when I started this racing line, I knew I need to look smart and have my own team gear.
Again, the sponsors play a huge role in the team gear. It looks great because I've got all the supporting companies on the arms and across on the back. It looks like much more of a team effort with all these people involved.
I got in touch with a company near Leeds and we did some designs.
Again, typical me, I was very pivotal to those designs, telling them 'no, I don't like that, we need to have this'. I sent all these drawings and sketches of what I wanted it to look like and they made it happen.
At the moment, we've got a line of t-shirts and long sleeves.
Honestly, I didn't think I was going to sell any of them! I made all this stuff and thought, who's going to buy this?
But when people come to race weekends, they go through the buzz of it. They want to have something to remember it by. They might want to buy something.
I got to my first race and I'd sold out all of my gear, so I had nothing to sell on the day, which I didn't expect at all.
So, just a bit about sponsors. A part of my sponsorship package to people is that, depending on the tier that you choose, I invite you to race weekends and allow you to be on the team merchandise and apparel.
You obviously have a prime spot on the car, my race suit, and the helmet.
All of these things I offer as coverage as well as social media content etc, but again, if it wasn't for sponsors, I don't think I'd be able to do the merchandise line because it wouldn't look that great.
It's only because of them that I've gotten support. Companies are already asking to sponsor my next season.
I have to pinch myself sometimes because I don't believe it. I'm really grateful.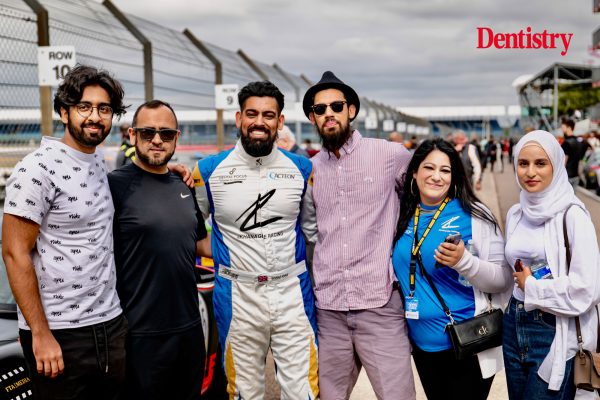 You have a young family, you're a successful dentist, competitive dancer, and now a racing driver with your own racing team. Where do you find the time?
That's the million-pound question. Time is the thing that always suffers.
Interestingly, with Covid-19 and the pandemic, competitive dancing had to take a backseat because there weren't any competitions.
I still train in dancing, but my frequency of competitive endeavours has significantly decreased.
Having a physical or creative outlet is critical for me to be successful or driven in other things, and training and doing competitions (still but much less frequently), is really important to keeping my mental balance.
Still, if it wasn't for my understanding family, all of this wouldn't be possible because the one currency that's most important and constantly diminishing is time.
My wife is incredibly supportive of any endeavour that I've wished to be part of.
If it wasn't for that, if I was by myself or didn't have someone so understanding, you can imagine these things really start pulling away from you as a being.
When we got engaged, my wife already knew what a big dream of mine this was.
When an opportunity opened, she said, 'we've got to do this', and it's so lovely that she said 'we'.
And I don't know what lucky stars I've crossed or what good things I've done in my life to have received such a wonderful spouse, but I can't be grateful to the world and up above enough for such a supportive family.
What are your future plans for your racing team, what do you hope to achieve?
I just want to achieve the best that's within my ability, and I never anticipated that my trophies would exist in my first season of racing, definitely not in my second weekend.
But I have a true understanding of what it takes to learn from those that are better than you, professionals, and get mentoring from people that are successful.
Does it sound any different to dentistry? I didn't anticipate any awards or accolades that I've achieved within dentistry. I just had faith in the process of working hard.
If it's meant to come, it will come.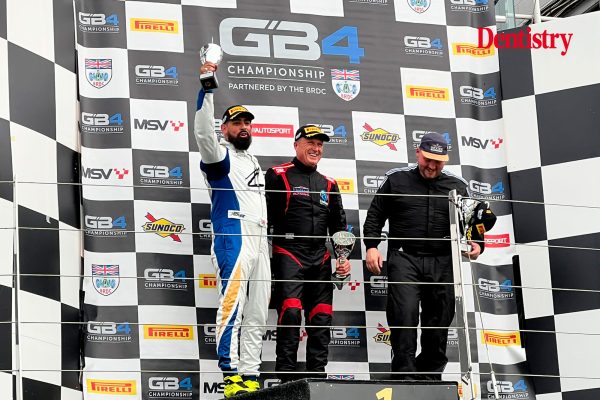 In terms of the future, I've got great plans for my racing team.
We're going to run in a higher class category next year. I hope to join the Porsche Championship, which is run by Porsche AG, in the following seasons after that.
Hopefully, I'll also be running multiple cars so that I can have more drivers on my team.
One thing I've already started is running driver coaching with a neighbouring racing team.
We give anyone that wants to enter the world of driving track and racing the appropriate support network to grow in that field.
And that's only the tip of the iceberg, there are many plans.
But I really want to push on the message that if you want to achieve something, goal setting is a great thing, but sometimes it's more important to have pure faith in the process and the results will take care of themselves.
---
Follow Dentistry.co.uk on Instagram to keep up with all the latest dental news and trends.