Stress-awareness month – let's talk about it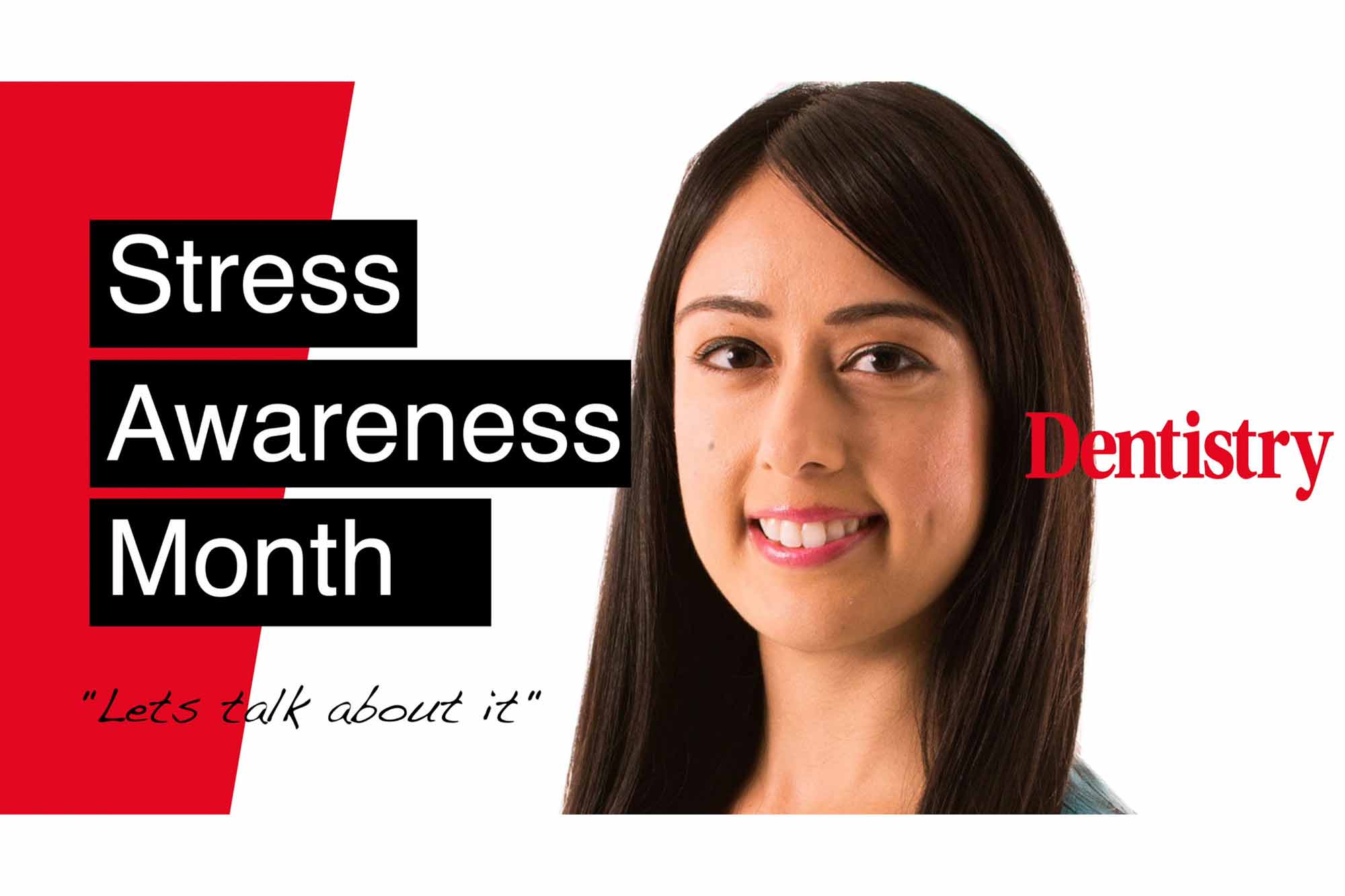 With April signifying stress-awareness month, Mahrukh Khwaja draws attention to positive psychology strategies to overcome stress and increase well-being.
Stress affects the health of millions of individuals in the UK. However, few people realise that stress is one of our time's most pressing public health issues. Despite this, stress is seldom treated with the same seriousness as physical health problems.
Anxiety and sadness are exacerbated by stress. It is also connected to physical health concerns such as heart disease. 
Individually, we must understand what is generating our own stress. We should learn how to lessen it for ourselves and people around us. It is also connected to physical health concerns such as heart disease. 
This April is stress-awareneness month. In a conversation with dentist, positive psychologist and founder of Mind Ninja, Mahrukh Khwaja, some light is shed on how stress has affected the UK in the workplace, and how we can address it.
Jeylan Ramis:
What impact did the Covid-19 pandemic have on the stress of the profession?
Mahrukh Khwaja: The high chronic stressors within dentistry have been long established, prior to the pandemic.
These stressors translate to a picture of poor mental health within the profession, with increased levels of burnout (Rada et al 2004; Alexander et al 2001), often starting at undergraduate level. 
In a recent study in UK dental students, 35% of students experienced burnout, psychological distress, perfectionism and ineffective coping styles (Collin et al, 2020).  
Alarmingly, 10% of UK GDPs had suicidal thoughts, much greater than the general population of 5% (Toon et al, 2019).
Sadly, this upwards trend magnified during the stressors of the pandemic. 
In the recent Dentistry Census 2022, 68% of dental professionals felt that their relationships, both within the clinic and at home, suffered as a result of work-related stress. 
And 77% of dentists felt they were practising defensive dentistry. Over 30% of dental professionals felt routinely depressed as a result of their work and 49% felt nervous. 
The DDU in 2020 reported similar statistics. 68% of dental professionals felt that their stress and anxiety levels had elevated since the pandemic. 
And 52% felt they were time poor with patients, 49% unable to work effectively and 47% felt they would go into work despite feeling unwell.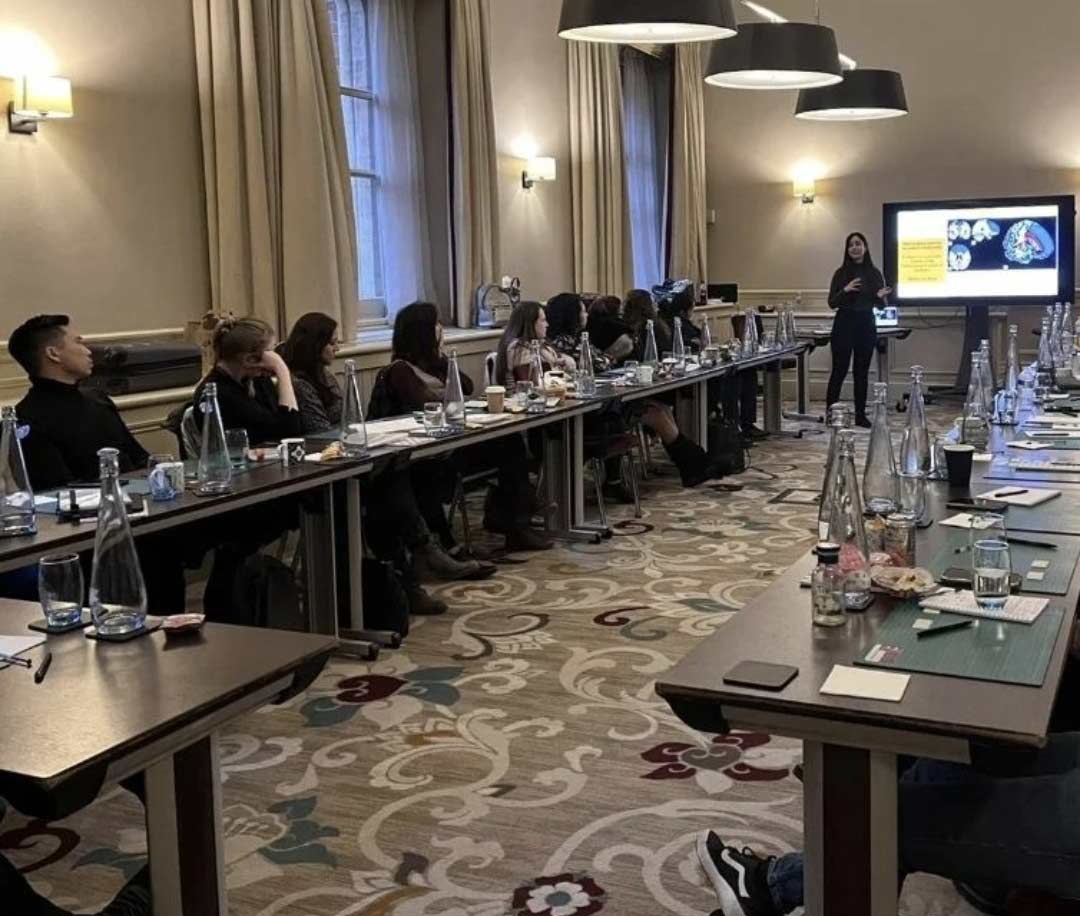 Jeylan Ramis:
How does chronic stress impact mental health, resilience and thriving at work?
Mahrukh Khwaja: Our brains were evolved to manage acute stressors. And a certain amount of stress can aid in making us feel focused and energised to take action. 
However, chronic stress in dental professionals dangerously interferes with a system built only to manage short-term responses.
This has many detrimental impacts on our brains. 
The neuroscience research illustrates how high levels of cortisol causes psychical and functional changes as a result. From shrinking our hippocampus, decreasing our ability to remember and learn, reducing our pre-frontal cortex which impacts our concentration, decision making, judgement and social interaction to our amygdala going into overdrive, levels of dopamine and serotonin dropping and an increased risk of depression and Alzheimer's disease. 
Chronic stress also mediates our ability to be a positive leader, our capacity to thrive at work and achieve our optimal potential. 
It mediates the highly vital positive wellbeing markers that make our lives happier and healthier. From resilience (the ability to navigate adversities and grow through them), compassion satisfaction (the pleasure clinicians derive from being able to help patients as opposed to caregiver fatigue), work engagement, happiness to the ability to go into 'psychological flow' states, self-confidence and the readiness to utilise a growth mindset. 
The high pressures dentistry demands requires individuals with high psychological wellbeing and resilience. The optimistic news is that both occupational hazards of burnout and compassion fatigue, that we are so prone to experiencing working so closely with patients, are preventable. 
Clinician wellbeing training can help to empower us with tools we can utilise to prevent illness and increase wellbeing. Recommendations made by literature recently spotlight the need for curriculum changes that incorporate psychological wellbeing training. This includes stress management and self-compassion training (Collin et al, 2020; Toon et al, 2019). In addition to organisational changes, with interventions focusing on changing the working conditions of dental professionals (Toon et al, 2019).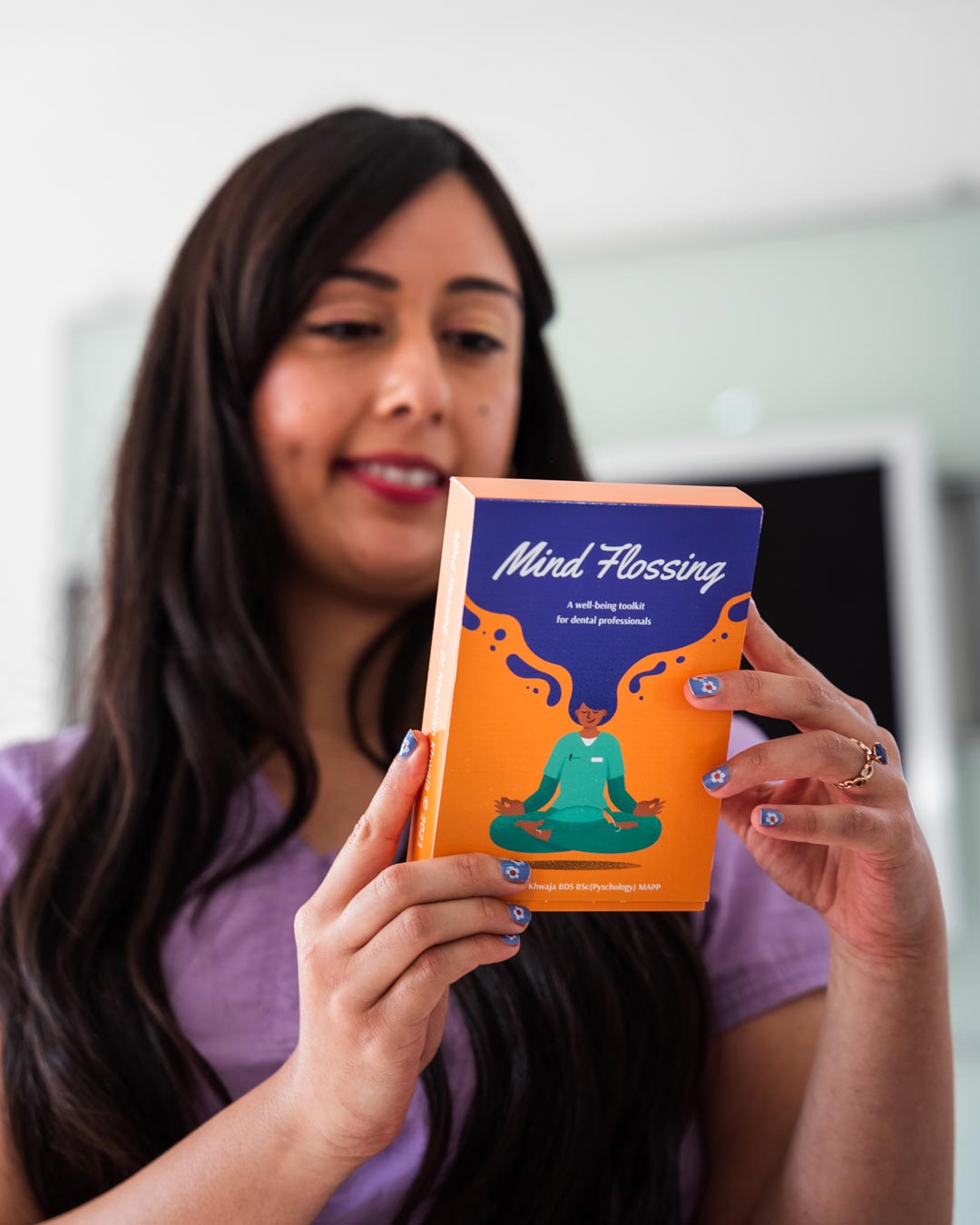 Jeylan Ramis:
What are the buffering, bolstering and building mental health impacts of using positive psychology?

 
Mahrukh Khwaja: Positive psychology factors can play an enormous role in buffering against stressors and mental illness. This is done through building positive processes and capacities that can help to strengthen future mental health (Waters et al, 2021). 
This beautiful branch of psychology can be defined as the scientific study of what makes individuals and organisations thrive, and live a life of happiness and purpose. Positive psychology factors can play an enormous role in buffering against stressors and mental illness, through building positive processes and capacities that can help to strengthen future mental health (Waters et al, 2021). 
Factors include resilience, mindful self-compassion, positive emotions, character strengths, gratitude, meaning, coping sills and high quality connections. 
These have been shown in the literature to reduce burnout, mediate stress and fatigue, increase work engagement, our relationships and even improve our physical health (Cohen el al, 2016; Roepke et al, 2014; Steger, 2012).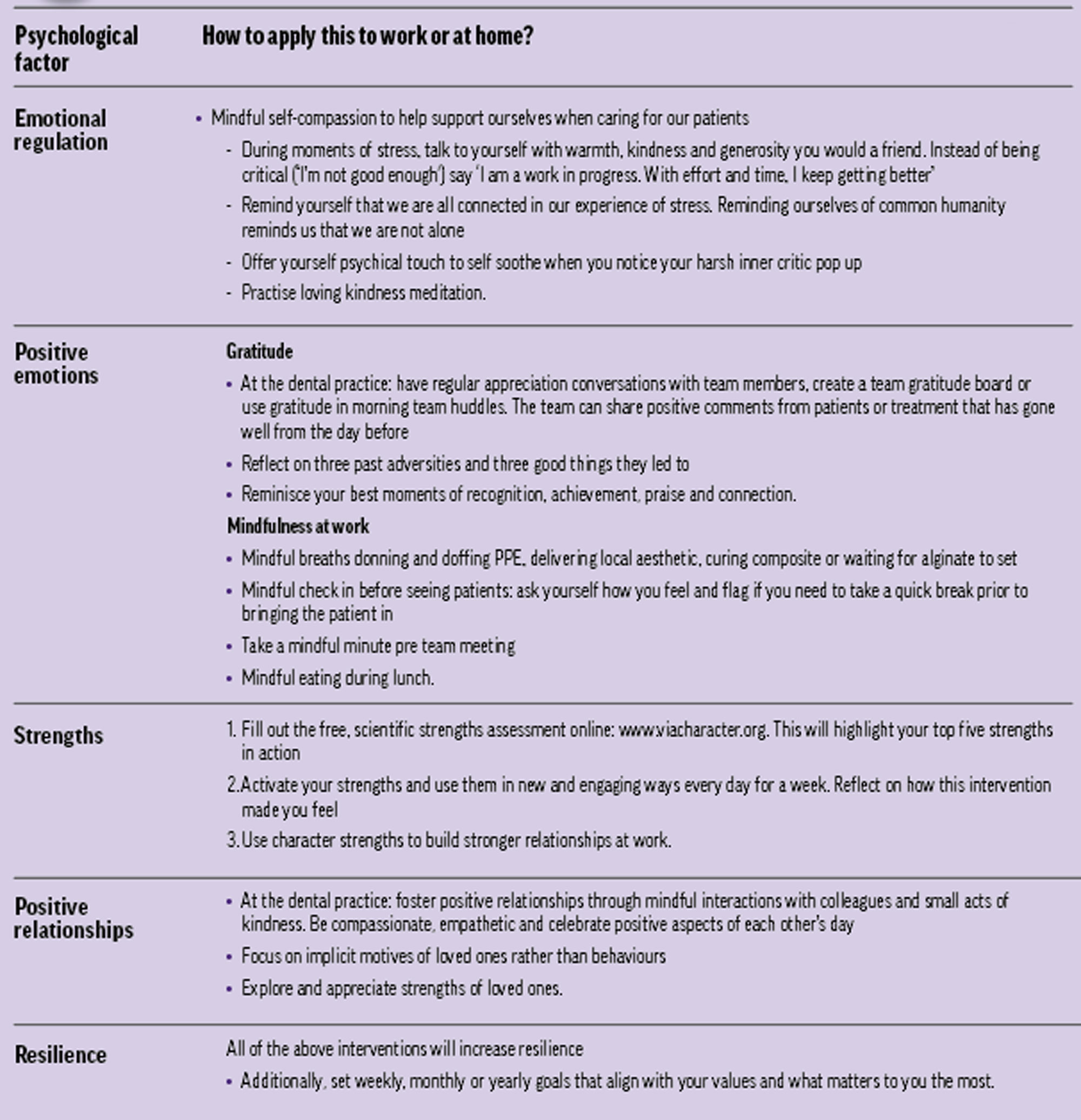 Jeylan Ramis:
Tell us a bit about Mind Ninja. Who has Mind Ninja helped during the Covid-19 pandemic and how?

 
Mahrukh Khwaja: Mind Ninja is a wellbeing start-up providing resilience and mental health training to dental professionals so they can thrive in any environment. 
I founded it as a result of experiencing both burnout and depression. I was surprised to find only services available to me at crisis point and no preventative solutions. 
This led me on a deep dive into the literature on evidenced based strategies. These strategies could help not only prevent poor metal health but also help us feel happier, engaged at work, connected with others and living a life of purpose. 
Although interventions in dentistry in the research are limited, the literature for medical and healthcare professionals is vast. 
It spotlights mindfulness, thinking and behavioural and resilience-based interventions (Astin 1997; Shapiro et al 1998; Teasdale et al 2000; Mache et al 2016; Goodman MJ, Schorling JB 2012). 
This spurred me to developing my expertise in sharing evidence-based mind tools from positive psychology, neuroscience and mindfulness. 
I gained my accreditation in mindfulness teaching, acceptance and commitment training and my masters in applied positive psychology. 
During the pandemic, through Mind Ninja, I have helped to support dental professionals directly through wellbeing coaching in addition to working closely with organisations, in both public and private sectors. For example: NHS Oxford Health, King's College London, Acteon, BDA, Tipton Training, Dentinal Tubules, Cephtactics and the Royal College of Physicians and Surgeons of Glasgow, delivering positive psychology online workshops and wellbeing programmes. 
In 2020, I wrote the level seven wellbeing online programme for Acteon. In 2021, I led two cohorts on a four-week positive psychology intervention. This provided a balance of empirical research and practical tools for greater resilience and wellbeing. 
Last September, I branched into wellbeing products, launching the 'Mind Flossing' toolkit. This is a deck of wellbeing cards to help dental professionals practise mindfulness, self-compassion, gratitude, growth mindset and use their strengths, with patients and at home. 
The vision was to create a self-intervention toolkit that could help increase positive emotions, thoughts and actions. 
Since its launch six months ago, 352 dental professionals have benefited from practising the wellbeing tools with four amazing organisations. Acteon, NSK, Practice Plan and the mental health charity Confidental have supported the profession through purchasing the toolkits. 
Jeylan Ramis:
What's the future for Mind Ninja?
Mahrukh Khwaja: I'm looking forward to the release of my book 'Resilience and well-being for dental professionals' by Wiley-Blackwell in summer 2022.  
---
For references email [email protected].