Join the best with full arch guided surgery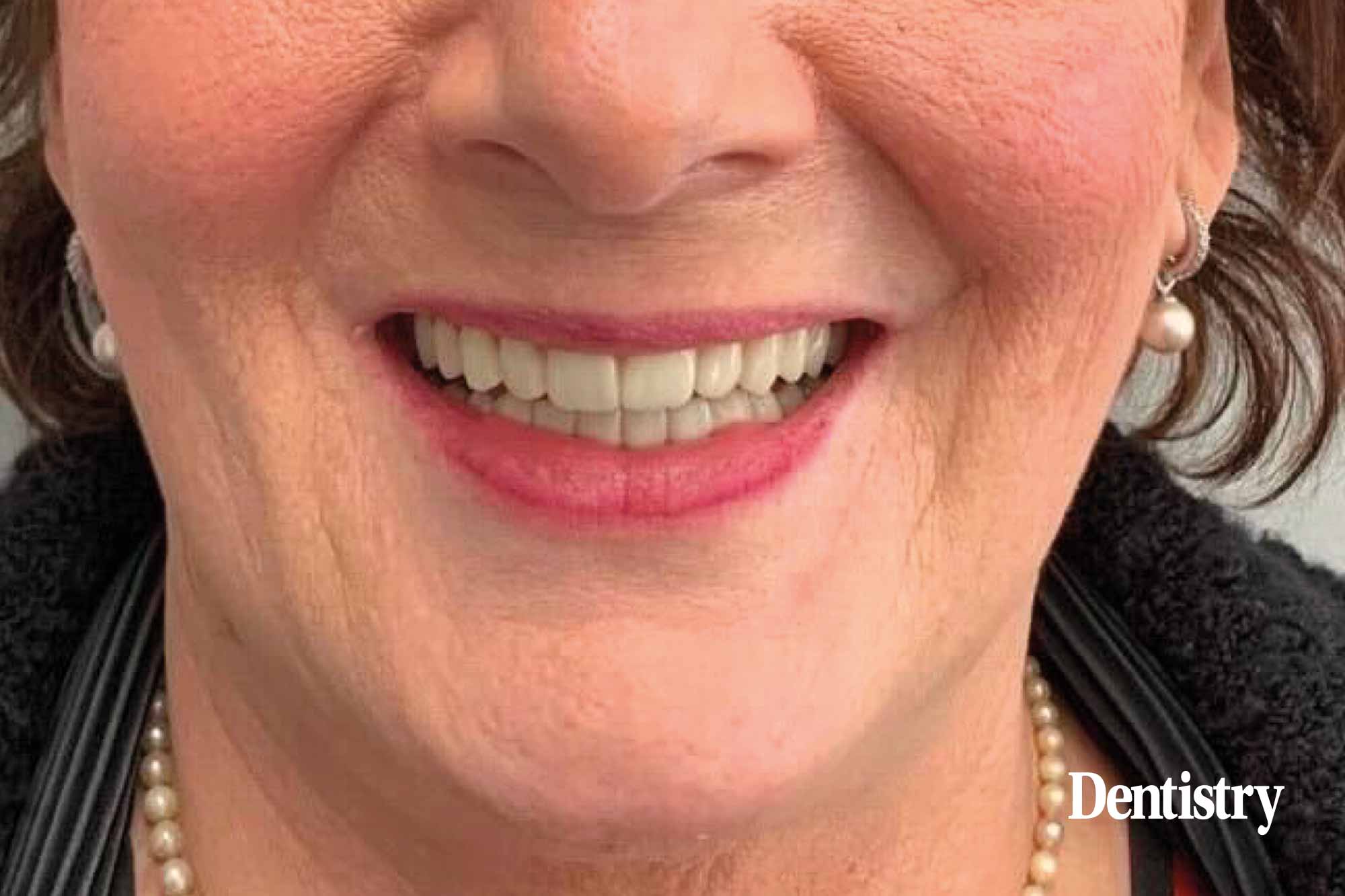 Sharing his wealth of full arch guided surgery experience with Dentistry readers, James Hamill offers invaluable insight into why this treatment modality can't be beaten.
For you, as a clinician and the owner of Quoris3D, what does the modern implant dentistry landscape look like?
We're in a position where there are more implants being placed than ever before. It makes for a sector of the market that's growing and it's great to be part of that.
What then follows is the need to integrate clinical skills with established and emerging technologies. Most notably, when it comes to implants, the digital revolution.
I do see that there is some confusion as to where digital dentistry sits within implant dentistry. And how those two elements are going to evolve for the benefit of patients, as well as dentists.
The truth is, the simplest and most beneficial thing that digital technology can do for implant dentistry is help us put implants in the right place.
For some reason, that's something that we just haven't got right as a profession. Figures suggest that somewhere between 70% and 90% of implants are positioned wrongly or in a less than ideal place.
That raises for me the question as to how are we educating these dentists entering the implant world? Surely we are getting it wrong.
Whatever the underlying reason, digital technology can massively reduce that issue. If we put the implant simply, in the right place, we will reduce a large amount of the complications that we see in implant dentistry today.
So, that's where I think the interface of digital workflow and implant industry must first of all start; right at the beginning. And we know that this technology exists and works very well.
You have pioneered the use of guided surgery in full arch immediate rehabilitation in the UK and Ireland – can you talk us through this journey?
My problem at the beginning was a lack of consistency in my process. Over the years, I've realised that it is a common issue. Especially for general practitioners only doing a couple of full arch cases a month.
I needed a well-described or prescribed system. Starting from when the patient first walked through the practice's door to walking out with their final bridge. But I didn't know how to put what I needed in place.
So, realising this inconsistency, I was on the cusp of ceasing to offer full arch treatment, which, as we all know, is a very challenging process. Then I came across Chrome Guidedsmile.
When I investigated it properly, I realised that it could immediately offer me consistency and systematisation; essentially, all the steps that we require to put a case together, to treat a case, and to finish a case.
Chrome Guidedsmile has been around for seven years. But it is new in the UK and Ireland. Only having officially launched in January 2021.
I have been using it personally since 2018. In that time, I have completed over 75 cases, which makes me one of the most experienced Chrome users in the world, a KOL and it has indeed allowed me to improve outcomes and efficiencies.
What do you believe makes Chrome the best-in-market product?
Firstly, lots of hard won battle scars! We, as a company, and our partners in America, have got the battle scars.
I know from my own experience that performing fully guided surgery for full arch treatment is almost the pinnacle of where guided surgery can go.
Lots of people out there say it's not accurate, or it doesn't work.
Unfortunately, a lot of the people who say that, because I know who's doing the cases, haven't done any full arch guided cases. In fact they often have little or no actual experience in any guided surgery. So they are not qualified to offer any opinion in my eyes.
They haven't used the same techniques that we have or even experienced our product.
So I encourage these doubters to use the system. Get 10-20 cases under their belt and I will then take their comments more seriously.
Altogether, we have well over 10,000 Chrome cases completed. Together, we have learned what works and what doesn't work.
So that all boils down to pure, utter and total clinical experience. No other company has that level of clinical experience with those kinds of numbers.
Secondly, our material of choice is very significant.
We have chosen metal over plastic for our surgical guides, unlike many of our competitors. This is due in part to tight patent restrictions over the actual techniques used. Indeed many using stacked or sequential guides currently are actually falling foul of the patents that exist and that are held by the inventor of Chrome Guidedsmile.
I would say metal has many advantages over plastic in several very important areas: rigidity and strength; flex; visibility; irrigation; ease of use and handling; and surgical and clinical efficiency.
The third thing that makes Chrome the best is the composition of our team.
In some implant arenas, you have dental technicians and 'one man bands'. They create guides using easily accessible technology with absolutely no practical or clinical experience of the application of what they are designing or selling.
How could anyone reasonably expect that to be successful? I know the pain and failings that some of them will have.
Large sales-based companies don't work either. Trying to do a full arch, fully guided is an extremely skilled process. It is ultimately a product that requires complete clinical and technical support, including chairside help.
Sales-based companies will never achieve success with a purely sales-led approach.
On the other hand, our team is made up of three dentists, four dental technicians, one salesperson, and an admin team.
Our balance is unique in the market. That makes our team special. We understand that this is a clinical and technical based product. Sales come second.
What advice would you give to someone who is looking at full arch companies and trying to find the perfect partner?
I think they need to be careful because full arch implant dentistry isn't easy; these are complex treatments.
So, they need to look for somebody who can provide an end-to-end solution.
That includes training and education. As well as planning the case right through to surgical application.
My experience is that everyone but us dips in and out of various parts of that process.
We think about the entire journey, and we support dentists every step of the way. Chairside support is even included in the price of the first Chrome case they perform.
As someone who has placed over 75 cases, what difference has it made to your patients?
Patients love it and there are a few reasons for that.
One is that because the process is digital and systemised, you can involve your patient in the journey. They like the fact that there's technology involved in the process; that there is a step-by-step way of doing it; and, if the dentist is skilled at communicating, the patient will really appreciate and understand all the effort being put in.
I also believe patients have a much better understanding of what they are consenting to. They have involvement in the process.
Also, they spend less time in the chair with guided surgery. It's not a race, but it is possible to complete a case in just two hours.
As a rule of thumb, guided surgery can halve the time the patient spends in the chair. No patient is going to turn that down!
As a whole, I believe patients who undergo Chrome Guidedsmile, full arch, guided surgery have a more positive, shorter and more pleasant treatment journey.
As with anything new, there are always some people who criticise what we might call disruption to the status quo. What do you think about that?
I welcome it! That way I know people are talking about it and questioning what they currently do.
It's a conversation that we need to have, and I don't need or want to shy away from it. I believe it is a better way of working.
We have a duty of care to our patients. If 70% to 90% of implants being placed are wrongly positioned, then we as a profession are getting one of the fundamentals, one of the building blocks of successful implant dentistry wrong. It's time we woke up to that.
Whether people want to believe it or not, guided surgery is a hugely advantageous technique. But it is also one that needs teaching appropriately.
Guided surgery isn't a magic wand, but it does improve efficiency and accuracy.
I urge people who think that it's a load of rubbish to come on my Chrome Guidedsmile course. Experience our Fermanagh hospitality and see it for themselves.
I can show them a case done in two hours and then they can try to tell me it doesn't work!
---
Full arch guided surgery with Chrome
Chrome Guidedsmile is available exclusively through Quoris 3D in the UK and Ireland. It is for dentists who desire a preplanned, predictable guided 'all-on-x' style surgery.
This metal stackable guide coordinates implants, bone reduction, prosthetics, with a simplified final conversion protocol.
In its entirety, the Chrome service delivers anchored bite verification, anchored bone reduction, anchored site drilling, accurate anchored provisionalisation, and a method of transferring all surgical and restorative information for the final restorative conversion phase.
For further information, please visit quoris3d.com or email [email protected].
You can also hear more from James Hamill in his upcoming webinar here.