FMC's Kimberley memorial climb – a record amount for Dentaid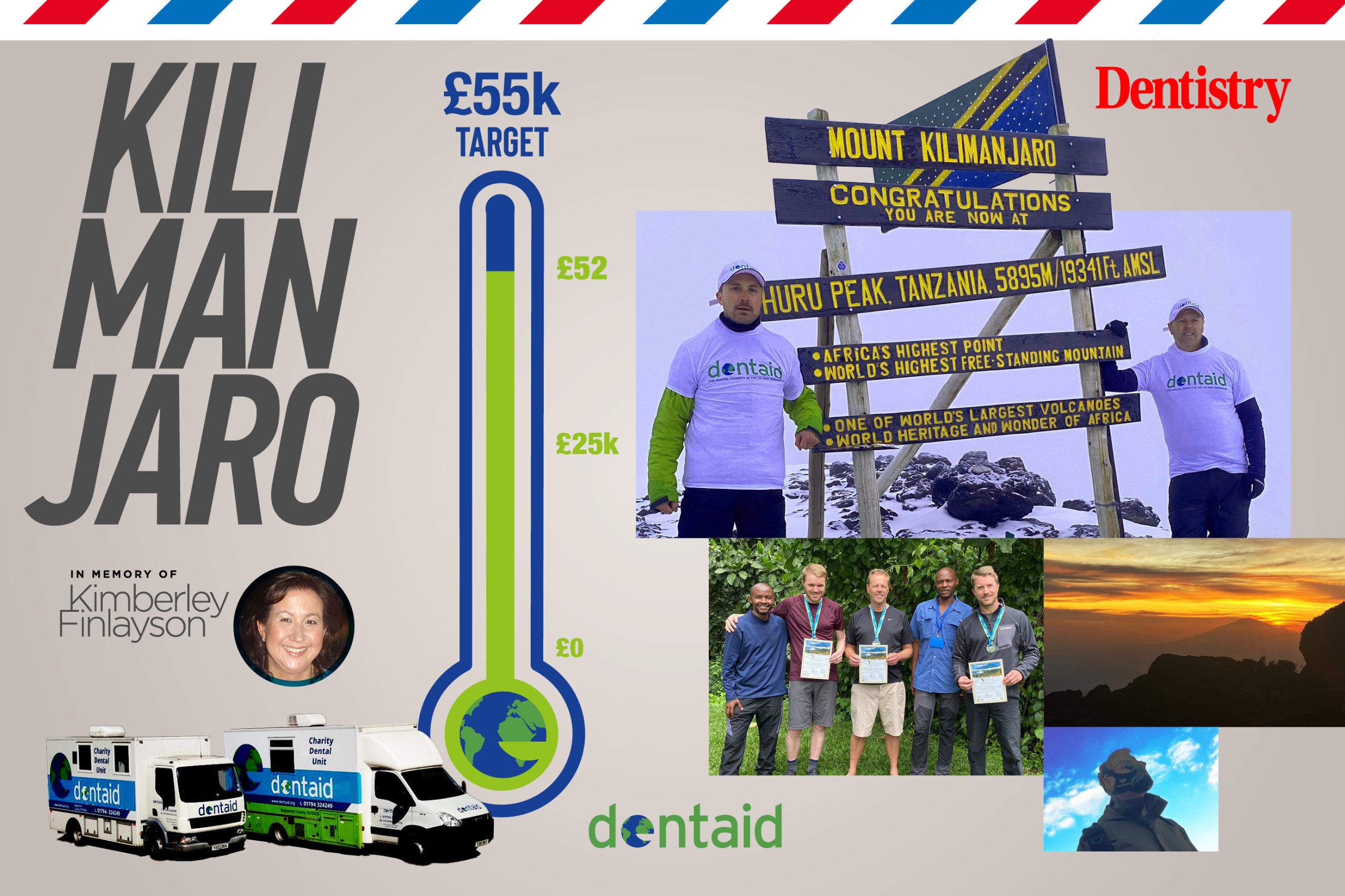 FMC's chairman, Ken Finlayson details the gruelling Kilimanjaro climb he undertook with Tim Molony as they close in on raising £55k. 
I would like to take this opportunity to thank the dental community from the bottom of my heart for the amazing level of support we have received for our Kilimanjaro climb.
So far, the dental world has raised an amazing £52k+ for FMC's Kilimanjaro climb for a Dentaid mobile clinic to honour Kimberley Finlayson, my late wife and co-founder of FMC.
This is the biggest amount ever raised by a dental charity for one event and it bears huge testimony to the generosity and spirit at the heart of UK dentistry. Joining me on the climb were Tim Molony, FMC's digital director, and Charles Molony, Tim's brother.
Freezing temperatures
After seven days of torturous trekking, we finally summited Kilimanjaro in ice cold conditions of around -25ºc on 24 February 2022. There were many times when we half considered turning back, as multiple injuries took their toll and the unusually inclement weather beat us to a pulp morning, noon and night.
Added to that, freezing temperatures, howling winds, severe headaches and feelings of nausea blighted us daily. The effects of altitude sickness made their mark from 12,000 feet right up to the 20,000 feet summit – and back!
It was far tougher than we had anticipated. But the responsibility of the UK dental world's huge fundraising efforts weighed heavily on our shoulders, even as the burning desire to deliver for Kimberley lifted us up – and so making it to the top was never seriously in question.
We finally summited and had our few minutes of delirium, having conquered Africa's highest peak, at 6:22am, following an all-night climb.
Massive difference
We are very proud to have achieved this; proud of the dental communities' support, proud of the feat itself and incredibly proud to have delivered a lasting memorial to a wonderful woman whose legacy will tangibly live on across the UK through the new mobile clinic.
Thank you so much to the hundreds that supported the cause, which really spurred Tim and I on. Your generosity will make a massive difference to less fortunate people up and down the length and breadth of the UK for years to come.
---
PS it's not too late to donate if you've not yet got round to it, just visit: www.justgiving.com/fundraising/ken-finlayson.