Going green with infection control

Ian Creighton explores the world of infection control, balancing the requirements for universal precautions – including against coronavirus – with the need to protect the environment from harsh chemicals.
As we all know very well, Covid-19 continues to circulate. And it is entirely possible that it is here to stay.
There is a line of thought that we need to learn to live with it, and to minimise potential risks rather than to hope for its elimination.
Of course, the dental profession has been mindful of the need for infection control measures for a very long time now. It is adopting universal precautions to keep team members and patients alike as safe as practicable.
It was the unknown that caused dental practices to close down in the spring of 2020. But as more information came filtering down, it became apparent – thank goodness – that much of what practices were already doing in terms of universal precautions would also work against coronavirus.
Although it was logistically challenging to re-open practices, there were still many unknowns. Along with fallow time and extra PPE, some infection control products used prior to the existence of Covid-19 proved themselves worthy foes against the spread of SARS-CoV-2.
An effective solution against Covid-19
Indeed, some companies were able to make use of the lockdown to establish an evidence base to support such claims.
The alcohol- and bleach-free Continu range is one such example. It is effective against all enveloped viruses. That includes efficacy against coronavirus, as well as a wide range of harmful micro-organisms including C difficile, E-coli, hepatitis B, hepatitis C, HIV-1, influenza A, legionella, MRSA, salmonella and TB among many others.
It is therefore safe to say Continu offers HTM 01-05 compliant, alcohol-free disinfectant solutions.
The Continu range includes:
Surface cleaning and disinfection
Antimicrobial hand wash and antimicrobial hand sanitising foam
Disinfection for dental unit water lines
Instrument and ultrasonic bath cleaner concentrate.
Environmentally friendly and effective
As well as caring about people's health, the manufacturer of Continu is also well aware of the need and responsibility to protect our environment.
The Sustainability in Dentistry project, supported by the FDI Policy Statement on Sustainability in Dentistry, supports this ethos. It states: 'Sustainability integrates a broader commitment of the oral health professional to social and environmental responsibility. We must respect the right of future generations to a world with adequate natural resources.'
It continues: 'Efforts to reduce the pollution impact of dentistry on the environment must focus on a strategy of reduction alongside any recycling and reusing capabilities when possible.'
As a water-based product, Continu is a greener option than traditional alcohol- and bleach-based cleaning and disinfection offerings in the marketplace.
In general, bleach is toxic to waterways and aquatic life. While alcohol-based cleaners kill bacteria, algae and microbes that are involved in the natural process of cleaning water.
The good news is that good quality low-alcohol and alcohol-free cleaners and disinfectants have a good balance of blood/saliva cleaning capability and antimicrobial efficacy.
The truth of the matter is in Section 6.57 of HTM 01-05. 'The use of disinfectant or detergent will reduce contamination on surfaces. If there is obvious blood contamination, the presence of protein will compromise the efficacy of alcohol based wipes.'
As blood and saliva are protein-based, alcohol can denature those proteins. It will adhere the proteins to the surface, a bit like glue.
When you fix it on the surface, it becomes a bit sticky. And then it is particularly challenging to remove. For that reason, it's best to avoid high-alcohol cleaner or disinfectant.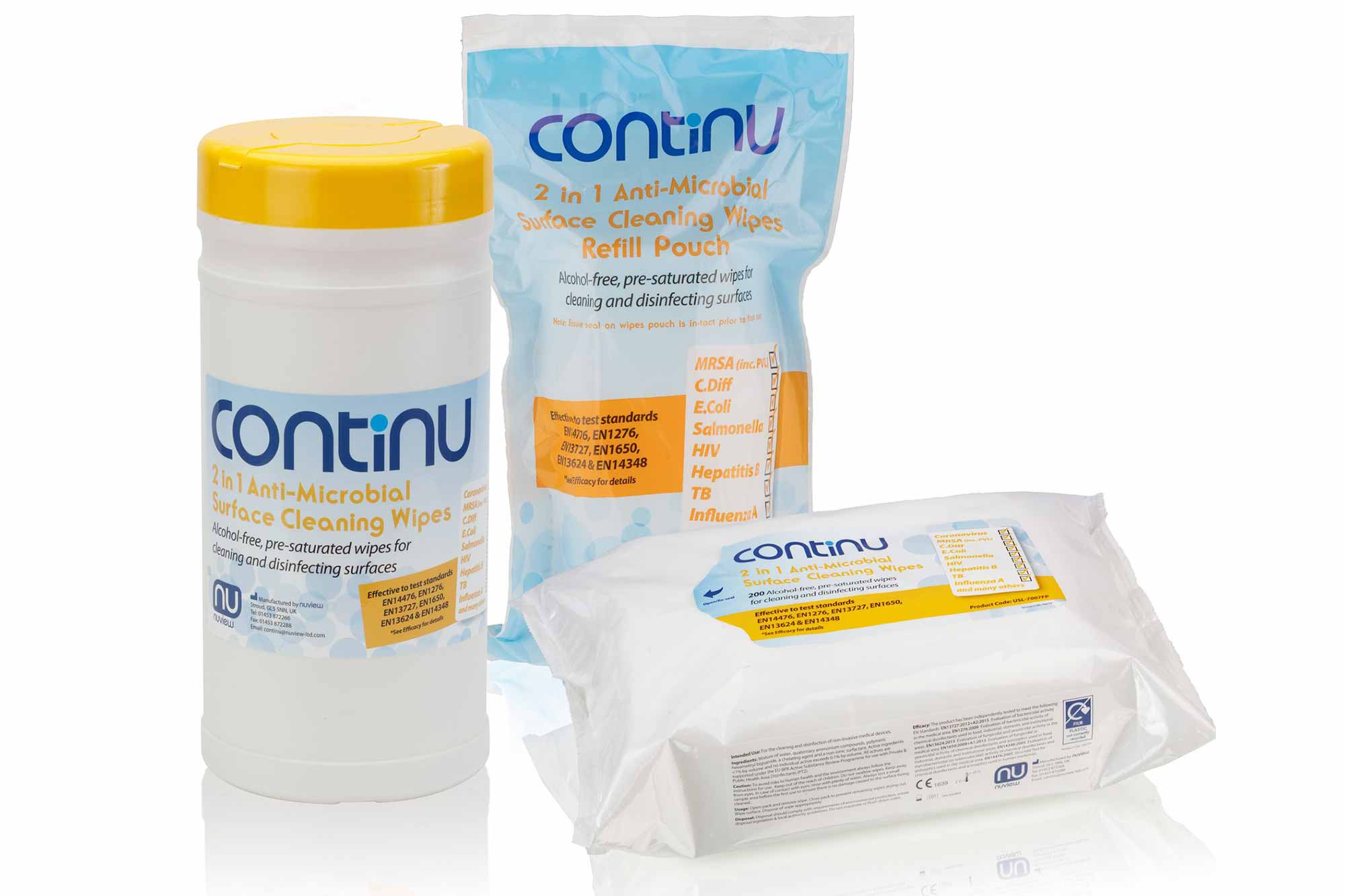 Tackling the plastic challenge
Although the use of plastic containers is at present unavoidable, Quintess is taking steps to reduce harmful and virgin plastics.
In fact, the plastic polymer within Continu containers is 40% UK recycled material. And there is a plan to increase the percentage of recycled plastic content shortly. As well as this, the containers are suitable for recycling and transformation into other plastic products
Continu is also available in refill packs, supporting the need to reduce the amount of plastic pollution at source.
In addition, Continu is completely UK manufactured. This keeps the carbon footprint from travel and transport down.
What's more, refills are lighter to transport. This results in a distribution service that, again, facilitates a lower carbon footprint.
Make your practice greener
A true all-rounder, why not see how Continu could benefit your team and your patients alike, completely removing the challenge of infection control as dentistry in the UK embraces a more positive, healthier and greener future?
What's more, Quintess is delighted to offer 20% off initial orders.
---
For further information, please contact Ian Creighton on +353 (0)1 691 8870, email [email protected] or visit quintessdenta.com.