Key opinion leaders reach an evidence-based consensus on mouthwash use
On 29 October, a group of key opinion leaders (KOLs) gathered on the Southbank in London with Johnson & Johnson Ltd for its 2021 National Advisory Panel event. 
These National Advisory Panel events and the relationships with the KOLs provide insight into how Johnson & Johnson Ltd can best support primary care dental professionals in maintaining and improving the oral health of their patients. As well as building on the company's continuing supportive partnership.
The overarching aim of the event was to seek the KOLs' views in relation to supporting and maintaining oral health in patients between appointments, specifically looking at mechanical cleaning, any limitations, and possible adjunctive support in the form of a chemotherapeutic mouthwash.
To support these efforts, three presentations were structured to offer insight into periodontal disease and caries. These included the science, evidence base and recommendations that support primary care practitioners' decision-making in the pursuit of prevention, which then led to discussions amongst the KOLs as to what guidance might be needed moving forward to tailor recommendations to the individual.
Counting the cost of periodontal disease
Chairperson for the event, Iain Chapple, gave the first presentation of the day, looking at the global economic impact of periodontal health.
With periodontitis being the most common human inflammatory disease, affecting 45 to 50% of the population (Chan et al, 2021), the importance of early diagnosis and preventive care in an effort to stop gingivitis progressing to periodontitis was highlighted.
The possible negative outcomes of periodontal disease were mentioned, such as tooth loss, issues with speech, nutrition, self-esteem and quality of life, as well as general health and wellbeing.
These stark realities have been quantified in The Economist's 2021 white paper: 'Time to take gum disease seriously. The societal and economic impact of periodontitis.'
Among the important topics covered is an emphasis on the economic and societal effects of action and inaction in the early treatment of periodontitis, alongside offering several recommendations to improve early detection and prevention of this disease.
Putting aside the societal impact of personal disease for one moment, it was suggested that the lowest economic cost of several management scenarios in all the countries considered, including the UK, both NHS and private care, would be for eliminating gingivitis.
A further message taken from the white paper was that eliminating gingivitis gives each nation the best return on investment over a 10-year period, as well as offering periodontal patients a better quality of life.
Interestingly, since it has been established that caries and periodontal disease have common risk factors such as socio-economic status, diet, smoking, obesity and diabetes, this means you cannot address one without the other, despite the fact that they have different patho-biological mechanisms.
Certainly, the white paper also indicated that professional management of caries and periodontal disease, in particular prevention, will result in a very positive impact on society
The session closed with a simple message, that if you can control plaque levels, there will be a benefit in terms of both caries and periodontal disease reductions.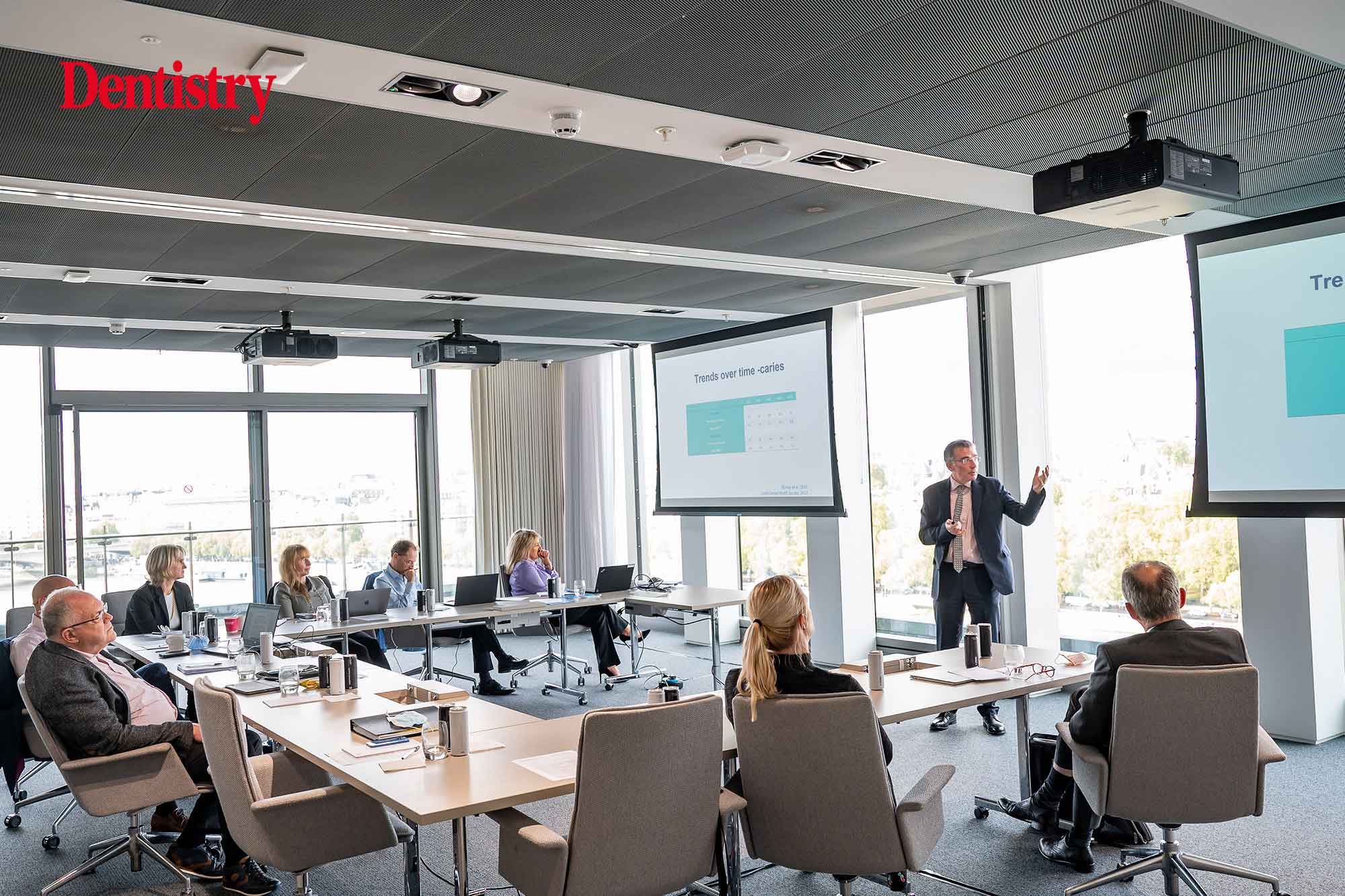 The need for a consistent approach to prevention
Next up was Anthony Roberts, who offered a fresh perspective on periodontal health and disease, stating that periodontitis is a ubiquitous disease (Petersen and Ogawa, 2012), with severe periodontitis affecting 11.2% of the population (Kassebaum et al, 2014).
With the prevalence of this disease fully established by data revealed in the first two presentations of the day, there was a natural progression to discuss that a patient having persistent gingivitis matters because it means that they may progress to periodontitis (Kinane and Attstrom, 2005), and therefore early intervention is important.
Also worthy of note is the idea that health care materials shared with patients can be equally relevant to periodontal disease and caries prevention, and that a consistent approach is needed to ensure confusion does not follow.
Building on this important message of commonalties and differences, a 2016 European Federation of Periodontology (EFP) workshop on these two conditions was alluded to, which considered the boundaries between caries and periodontal diseases.
For instance, biofilm is a significant factor in both caries and periodontal disease, and, as mentioned earlier, they share common risk factors and social aspects, which can affect preventive efforts.
What then followed was a sharing of information regarding the available guidelines, such as the British Society of Periodontology's (BSP) version of the EFP S3-level Clinical Practice Guidelines, which offer UK-specific evidence-based recommendations for therapy in relation to periodontitis stages I-IV (of BSP implementation of the 2017 classification system) and which organises treatment into four steps.
It was stated that such guidelines are not rule books but rather should be used in conjunction with the clinician's skill, knowledge, and judgement.
Moving on to further practical elements of care, given the need to raise awareness among the public that bleeding gums are not normal, the importance of bleeding on probing could not be over-emphasised, since gingival bleeding is an early sign of periodontal disease and a leading risk marker for existing periodontal inflammation that accounts for the onset and progression of periodontitis.
Next up on the agenda was the issue of patient engagement and the need for better daily plaque control. In line with the ethos, that: 'Periodontitis is beaten in the bathroom, not the dental surgery', for patients willing to engage, the use of adjunctive chemotherapeutics to support mechanical cleaning may be recommended for some patients in specific circumstances (Figuero et al, 2020).
Closing this section of the discussions, it was stated that everyone around the table knew that mechanical cleaning is not always enough for some patients, and that perhaps further consideration is needed as to what can be done to help those patients, and how those actions may be effectively communicated to primary care dental clinicians, who provide the bulk of treatment.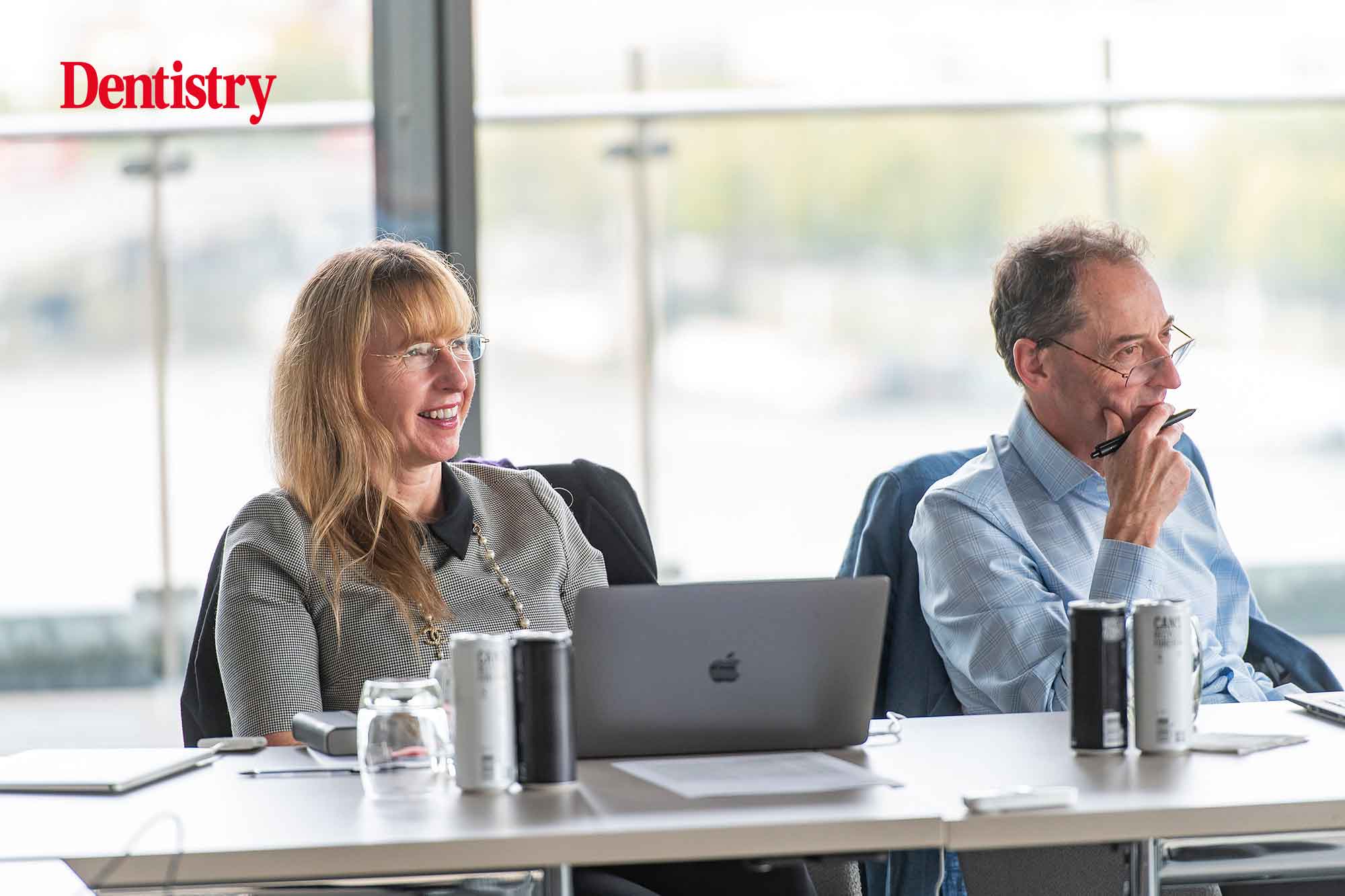 Caries – a multi-risk condition
Chris Deery then took to the floor to speak about the current situation in relation to caries, which, like periodontal disease, is biofilm driven, requiring plaque control to halt the maturation of plaque for caries (which takes two to three days) (Imfeld and Lutz, 1980).
He further shared that there are multiple risk factors, including genetic, socio-economic, racial, cultural, disability, and gender.
Preventive care requires tooth brushing twice a day with a fluoridated toothpaste, with the public using a number of means to try to achieve good outcomes, such as powered toothbrushes, mouthwash or dental floss.
How to meet the needs of children, teenagers and adults were covered, such as children's and teenagers' motivation for brushing being cosmetic. Together with their preference for powered brushes, this may mean they would use them more than they would manual brushes (Gill et al, 2010).
Then, in a section focused on prevention and management of caries and periodontal disease, behaviour modification was discussed, mooting the idea that with the use of sealants, fluoride and improved diet, caries would be eliminated.
It was further stated that the evidence base supports the following statements (Figuero et al, 2020; Luis et al, 2018):
Chlorhexidine is effective for gingivitis
Chlorhexidine is effective for root caries (varnish)
Fluoride mouthwash is effective for caries
Essential oil mouthwash is more effective than floss at reducing interproximal plaque levels over time.
Offering insight into what is needed for future improvement, the following questions were posed:
How do we effectively manage caries and periodontal disease?
Should rinsing with a mouthwash occur at different time to brushing for caries management?
Should different advice be based on the caries risks of different age groups?
Is there a need for more research?
Iain Chapple then expanded upon Chris' presentation and drove the discussion towards the application of precision treatment based upon an assessment of risk factors, which should ensure that patients are managed for their individual disease threat.
Therefore, if caries is the key risk, the pathway of treatment is a caries priority, which is documented in the updated edition of the Delivering Better Oral Health toolkit (2021), including the strong recommendation that adults spit out after brushing rather than rinsing with water, to avoid diluting the fluoride concentration.
On the other hand, if poor periodontal health is the key risk the pathway is the EFP S3-level Clinical Practice Guidelines route. For example, evidence-based recommendation 4.13 states: 'If an antiseptic mouth rinse formulation is going to be adjunctively used, we suggest products containing chlorhexidine, essential oils [or] cetylpyridinium chloride for the control of gingival inflammation, in periodontitis patients in periodontal maintenance' (West  et al, 2021).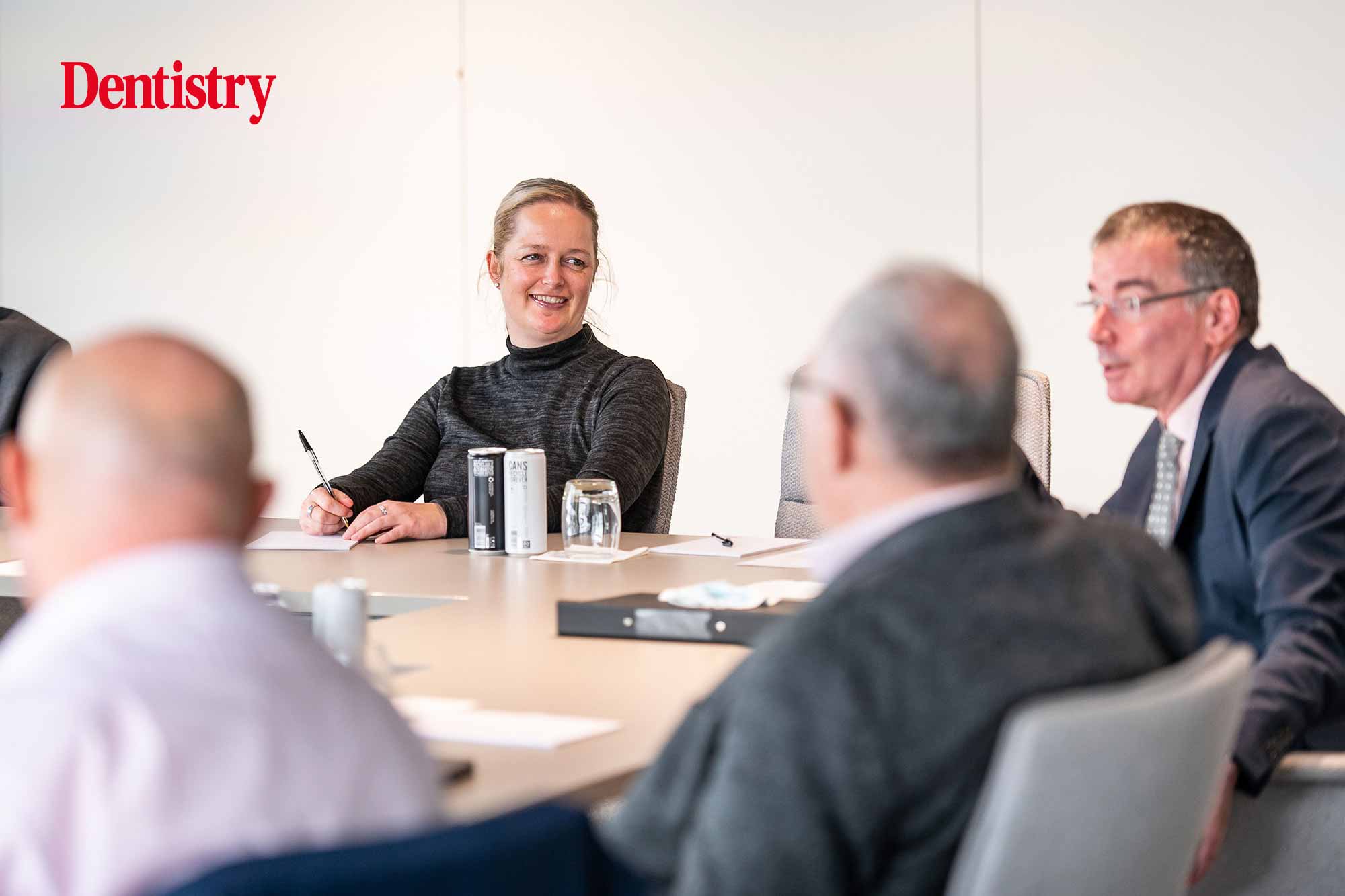 New opportunities…
Following each presentation, there was a group discussion and a review of the evidence. Ultimately, the KOLs concluded there was a perceived need for simple recommendations to help primary care dental professionals support their patients' plaque management efforts to best effect.
They therefore agreed on the following evidence-based consensus on mouthwash use: 'Healthy gums don't bleed. Effective toothbrushing and interdental cleaning is essential for keeping gums healthy. Mouthwashes containing fluoride (> 100 ppm F) that are clinically proven to reduce plaque offer additional benefit.'
Children over the age of seven and adults
'After brushing with a fluoride toothpaste, spit don't rinse with water and if gingival bleeding is present, use a daily fluoride containing mouthwash that is clinically proven to reduce plaque.'
Johnson & Johnson Ltd looks forward to continuing to work in partnership with dental professionals following the insights gained from this National Advisory Panel event.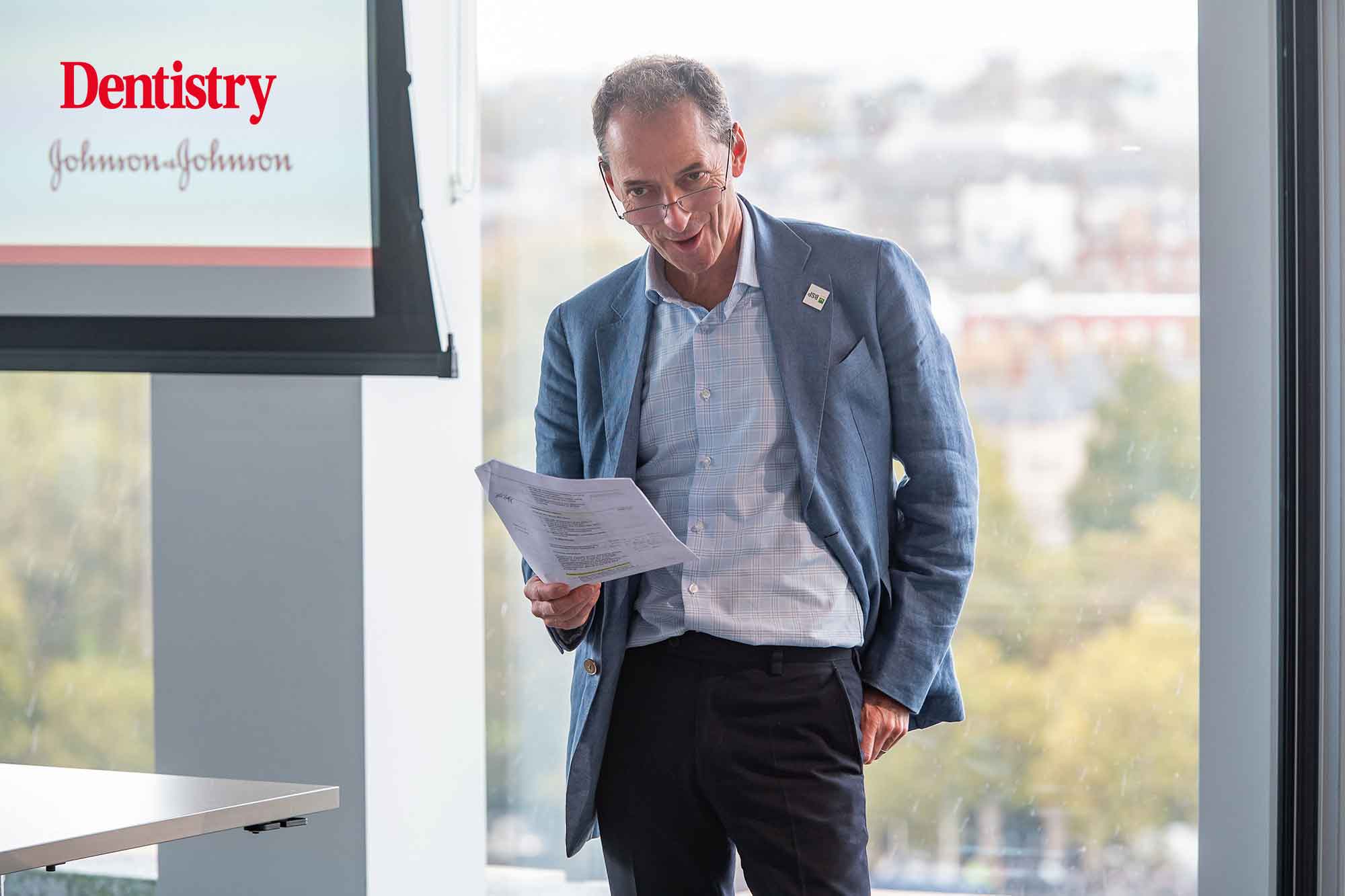 References
Chan AKY, Tamrakar M, Jiang CM, Lo ECM, Leung KCM and Chu CH (2021) Common Medical and Dental Problems of Older Adults: A Narrative Review. Geriatrics 6: 76
Figuero E, Roldán S, Serrano J, Escribano M, Martín C and Preshaw PM (2020) Efficacy of adjunctive therapies in patients with gingival inflammation. A systematic review and meta-analysis. J Clin Periodontol 47: 125-43
Gill P, Stewart K, Chetcuti D and Chestnutt IG (2010) Children's understanding of and motivations for toothbrushing: a qualitative study. Int J Dent Hygiene
Imfeld T and Lutz F (1980) Intraplaque acid formation assessed in vivo in children and young adults. Pediatric Dentistry 2(2): 87-93
Kassebaum NJ, Bernabé E, Dahiya M, Bhandari B, Murray CJL and Marcenes W (2014) Global Burden of Severe Periodontitis in 1990-2010: A Systematic Review and Meta-regression. J Dent Res 93(11): 1045-53
Kinane DF and Attstrom RJ (2005) Group B consensus report of the fifth European Workshop in Periodontology. Clin Periodontol 32(Supp 6): 130-1
Luis HS, Luís LS, Bernardo M and Dos Santos NR (2018) Randomized controlled trial on mouth rinse and flossing efficacy on interproximal gingivitis and dental plaque. Int J Dent Hygiene 16: e73-e78
Petersen PE and Ogawa H (2012) The global burden of periodontal disease: towards integration with chronic disease prevention and control. Periodontology 2000 60: 15-39
West N, Chapple I, Claydon N, D'Aiuto F, Donos N, Ide M, Needleman I and Kebschull M (2021) BSP implementation of European S3 – level evidence-based treatment guidelines for stage I-III periodontitis in UK clinical practice. J Dent 106: 103562
The key opinion leaders

Dr Nigel Carter, chief executive of the Oral Health Foundation
Professor Iain Chapple, head of periodontology within the School of Dentistry, College of Medical and Dental Sciences, University of Birmingham
Professor Chris Deery, dean of the School of Clinical Dentistry, University of Sheffield
Professor Mike Milward, professor of periodontology at the University of Birmingham
Professor Anthony Roberts, professor/consultant in restorative dentistry at Cork University Dental School and Hospital
Miranda Steeples, president-elect of the British Society of Dental Hygiene and Therapy
Professor Nicola West, professor in restorative dentistry, Bristol Dental School
Professor Helen Whelton, head of the College of Medicine and Health at University College Cork and chief academic officer to the HSE south/south-west Hospital Group in Ireland.
UKI-LI-2100091