Dentistry Gym – combat lower back pain and stiffness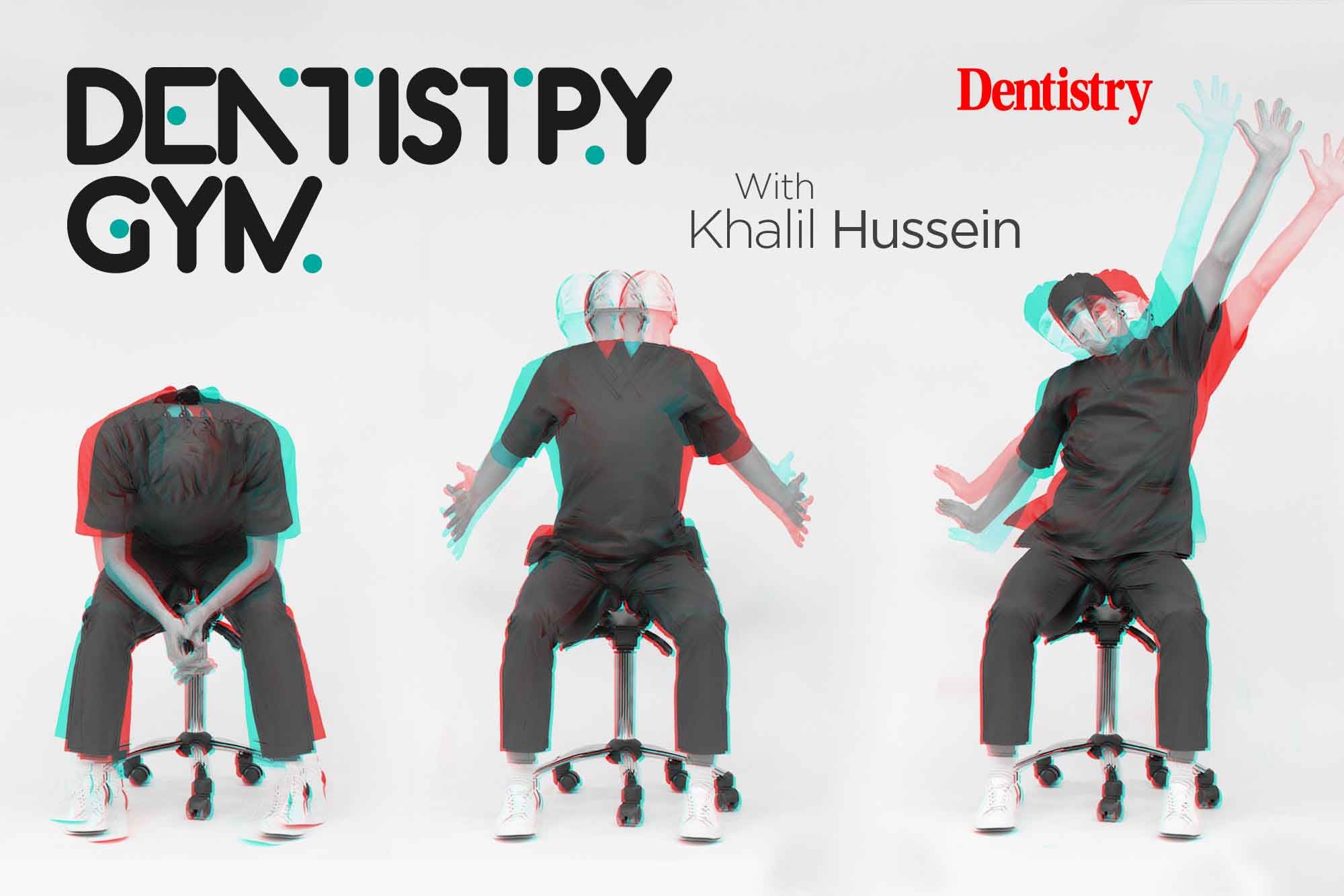 In today's episode of Dentistry Gym, Khalil Hussein focuses on some exercises for improving spinal mobility and strength.
When it comes to spinal stiffness and pain, one culprit that often rears its ugly head is the limited amount of movement between spinal segments.
Lower back pain and stiffness
The spine is made up of 24 individual vertebrae. Each of them is required to contribute to normal movement.
Movement occurs when one vertebra moves in relation to its neighbours. And the culmination of several vertebra moving are how we get around the world in our daily lives.
In the lumbar spine, the shape of the joints focuses on allowing flexion and extension to occur easily.
In the thoracic spine, flexion and extension also occur easily. But they also allow for much more rotation when compared with the lumbar spine.
It's very much like the function of the teeth. We chew with our molars and we bite with our anterior teeth.
Each area has a function that it specialises in. And using all of the available teeth is how we can produce mastication for a variety of different foods.
Now imagine what happens when the anterior teeth are not healthy and they are unable to bite well. Or if the molars are unable to withstand the impact of chewing. Eating becomes difficult and the quality of life diminishes.
Something very similar occurs with the spine. But unfortunately there are no spinal dentures to help with the problem.
Gaining movement
What often occurs over time spent being sedentary is that more and more of the 24 vertebrae lose the ability to move well.
Over time movement starts to become isolated to a handful of vertebrae. This can then lead to stiffness, pain and difficulty moving.
When only a handful of vertebrae do most of the heavy lifting, they can start to wear out much faster.
When we have multiple segments moving well, movement becomes easier. In turn feelings of stiffness and pain can diminish.
This is where it's important to regain the lost art of moving your spine well.
The exercises we focus on today are easy to do. When done consistently over time, they can help with stiffness and pain in the lower back.
Take your time and focus
For this class, you will need a resistance band and a tennis ball.
The most important thing to remember is to take your time and focus on trying to increase movement in the areas that don't move well.
Over time, you will gain much more control over your spine. And you will start to feel better and start to move better.
Regularly taking part in exercise can help with a lot of issues that dentists face. Let Dentistry Gym help you by following our easy workouts and help to make your body stronger and more flexible.
---
This class is designed for viewers to carry it out with minimal equipment at home. We don't use weights so these exercises are quite safe for most people.
However, before conducting any exercises please consult your GP or allied health therapist for guidance and advice about your own circumstances and whether these exercises are the right thing for you.
Always seek medical advice before starting any exercise program.
Follow Khalil Hussein on his Instagram: @khalilchiro, or via his website: www.khalilhussein.net.
Catch previous Dentistry Gym videos: