NHS dentistry discussed: no change is not an option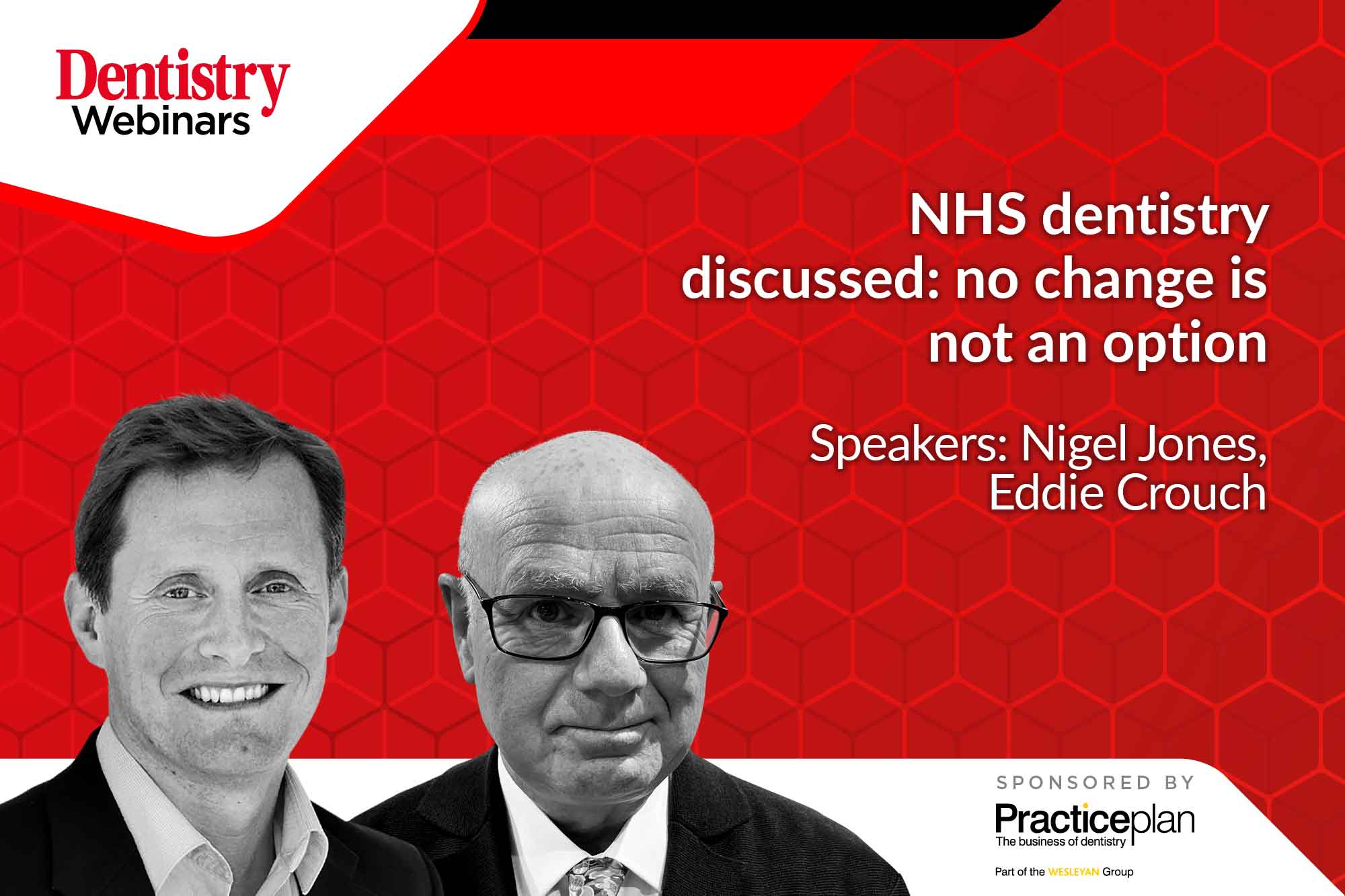 Eddie Crouch and Nigel Jones will discuss the future of NHS dentistry during a free webinar at 19:00 on Wednesday 20 October.
With the current NHS contractual arrangements in England due for review at the end of September, Eddie Crouch will join Nigel Jones for this live webinar.
They will discuss the most up-to-date information available to NHS contract holders. And consider the implications for dentistry across the UK.
As NHS dentistry continues to face significant pressure to meet patient demand and deliver care under extremely challenging conditions, one thing is for certain; no change is not an option.
Learning outcomes
Nigel and Eddie will discuss the latest position on:
UDA targets
Abatement
Clawback
System reform programmes
Workforce issues
COVID-19 safety precautions, including personal protective equipment (PPE) and fallow time
Signals of change
Quick wins versus longer term changes.
Eddie and Nigel will also invite questions and comments from the audience throughout the webinar, so you can join in and have your say!
Nigel Jones
Nigel Jones is the sales and marketing director at Practice Plan. He has been working in the dental sector for over 30 years.
Nigel has a special interest in the development and future of NHS dentistry in the UK.
His knowledge and passion for dentistry has led him to become a trusted voice. He offers invaluable advice on how to strategically and successfully run a practice and is named in the Dentistry Top 50 of influential people within the profession.
Eddie Crouch
Eddie Crouch has been chair of the British Dental Association Principal Executive Committee since September 2020.
Before that, he served as deputy chair between 2014 and 2020. And past chair of Central Counties Branch of the British Dental Association.
He works in two practices in Birmingham and is vice chair of the Birmingham Local Dental Committee.
---
To register for this webinar, simply visit www.dentistry.co.uk/webinar.
Catch previous On Demand webinars: