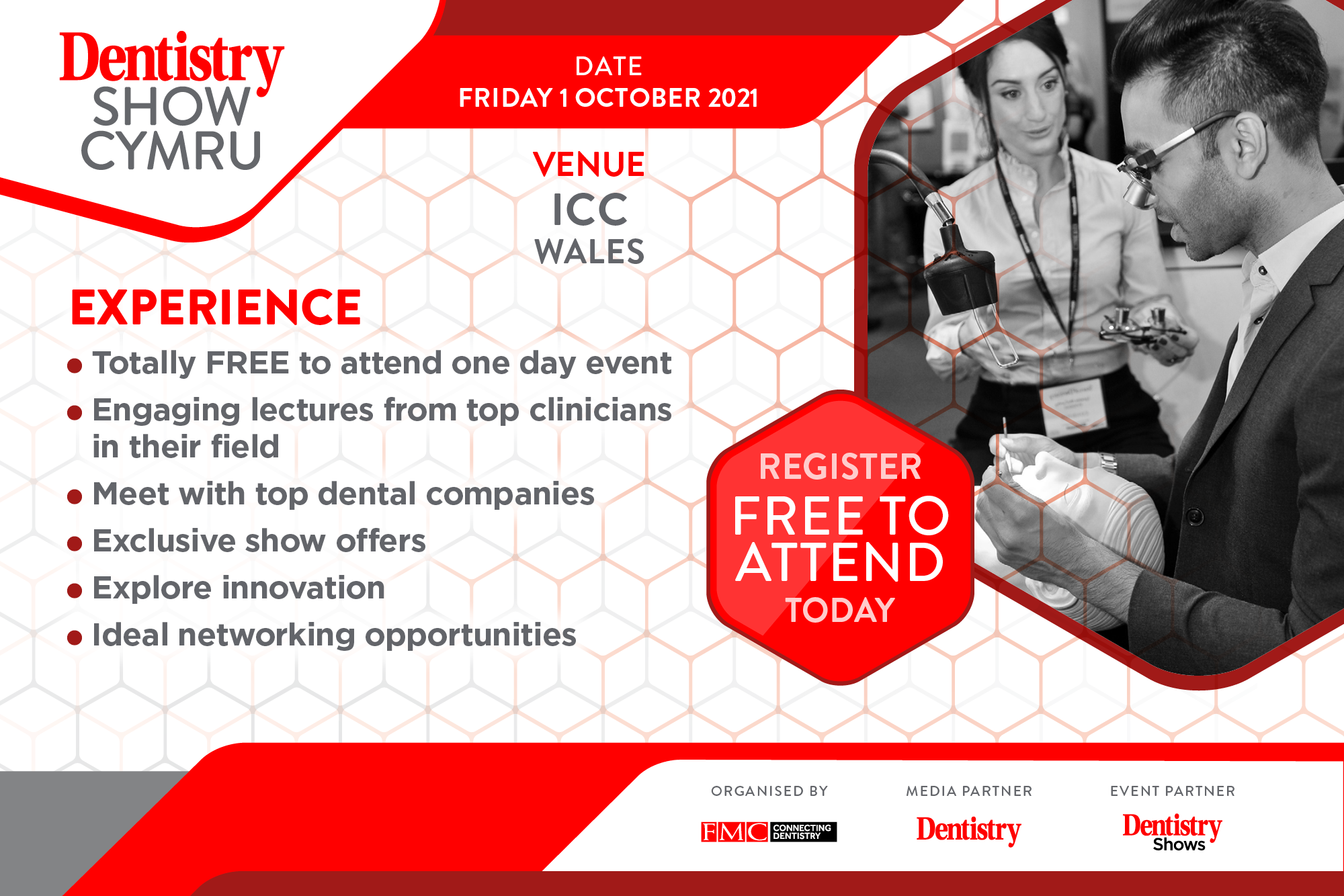 Get yourself registered and you can tune in to a whole list of leading speakers at the Welsh Dentistry Show this Friday.
Taking place at the ICC, Newport on Friday 1 October, delegates can enjoy a wide range of lectures on topics from digital dentistry and implants to selling and buying a dental practice.
As well as key speakers, there is also an impressive exhibition of companies and suppliers.
To register for free, simply visit dentistry.co.uk/shows/welsh-dentistry-show.
Harry Singh – How to add an extra £1k per week to your turnover from facial aesthetics
This session is truly focused to help dentists to grow their facial aesthetics business. He is now on a mission to help empower over 10,000 dentists to grow their facial aesthetics business.
The three Ms of the marketing mix
My number one lead generation strategy that costs you no money upfront
How to reward salons and stay on the right side of the regulators
Which one sentence you need to use during the assessment that will keep you patients for life
The four Ps that will significantly reduce patient complaints
How to carry out a full aesthetics assessment so your patients will request more and buy more of your services – don't be a line chaser
'Golden ticket' strategy that influences patients to keep on coming back
Why 99% of practitioners use gift vouchers the wrong way
Create 'raving fan customers' so they can't stop telling their family and friends about your services.
Emilee Walby – Managing periodontitis with Philips Sonicare
In this session, Emilee will discuss how powered toothbrushes are superior to manual tooth brushes, how Sonicare delivers optimal plaque removal, and the latest evidence on the role Sonicare plays in managing periodontal disease.
Understand the Science of Sonicare
Understand how Sonicare helps manage periodontitis
Review the clinical study underpinning Sonicare and periodontitis
Understand how Sonicare can be built in to the treatment plans of periodontal patients.
Ben Tighe – An introduction to Guided Biofilm Therapy – the game changer for hygiene rooms
In this session you will be given an introduction to the Guided Biofilm Therapy concept and its role in disease prevention and the management of a broad spectrum of patients including children, implants, ortho and perio.
Laura Edgar – Management of biofilms in DUWL
To understand the risks and how to treat dental unit water lines in compliance with current guidance.
Identify key terminology and discover risks posed by pathogenic micro-organisms in DUWL
Explain the process of biofilm build up
Identify key legislation, regulations and guidance
Identify how the physical design of dental units contribute to biofilm build up
Finally, to identify how to eradicate biofilm in DUWL to produce drinking quality water.
Tom Morley and Steve O'Connor – Buying and selling dental practice from offer to completion
Tom and Steve have a wealth of knowledge to share with you regarding the process of buying and selling dental practices.
The audience will learn more about the process of buying and selling and reaching a preparedness of buying and selling in the market
The audience will gain knowledge of Christie & Co offering and understanding why we are the 'go to' agents in the market.
Dr Barry Oulton – The 20-minute solution to parafunction
Learn about parafunction and a simple, effective and profitable solution that has been proven to work for over 10 million patients worldwide. Discover how you can treat those presenting with bruxism in your practice in just 20 minutes. 
Understanding of parafunction and its effective treatment

 

Identifying signs and symptoms of those presenting with bruxism

 

Available treatments for bruxism 

 

Live-fitting demonstration of Sci Chairside splint.
Craig Mallorie – Are your patients being fully informed? – understanding the various treatment options available with dental implants
Dr Mallorie will provide an overview of the various treatment options that are possible with dental implants to hopefully help clinicians best inform their patients as to options available for a given clinical problem.
To understand the treatment options available utilising dental implants
To understand the clinical scenarios best suited for the various options available
And to facilitate the clinicians to obtain a valid informed consent from their patients during their treatment planning.
Rhodri Thomas – A journey into aesthetics – creating beauty by recreating nature
This lecture will be a short journey over aesthetic dentistry. Ranging from photography, resin, ceramic, prosthodontics and single unit cases to full mouth rehabs. All under the ethos of creating beauty in our dentistry by recreating nature, filled with useful hints and tips to inspire.
To better understand the process of case planning
To improve understanding and importance of photography
An overview of resin layering techniques
See the sequence of step by step veneer cases
An overview of the BLI impression technique for suction fit dentures
To inspire!
To get involved visit dentistry.co.uk/shows/welsh-dentistry-show.
---
Follow Dentistry.co.uk on Instagram to keep up with all the latest dental news and trends.