The business of dentistry with Sandeep Kumar and Sameer Patel (chaired by Justin Leigh)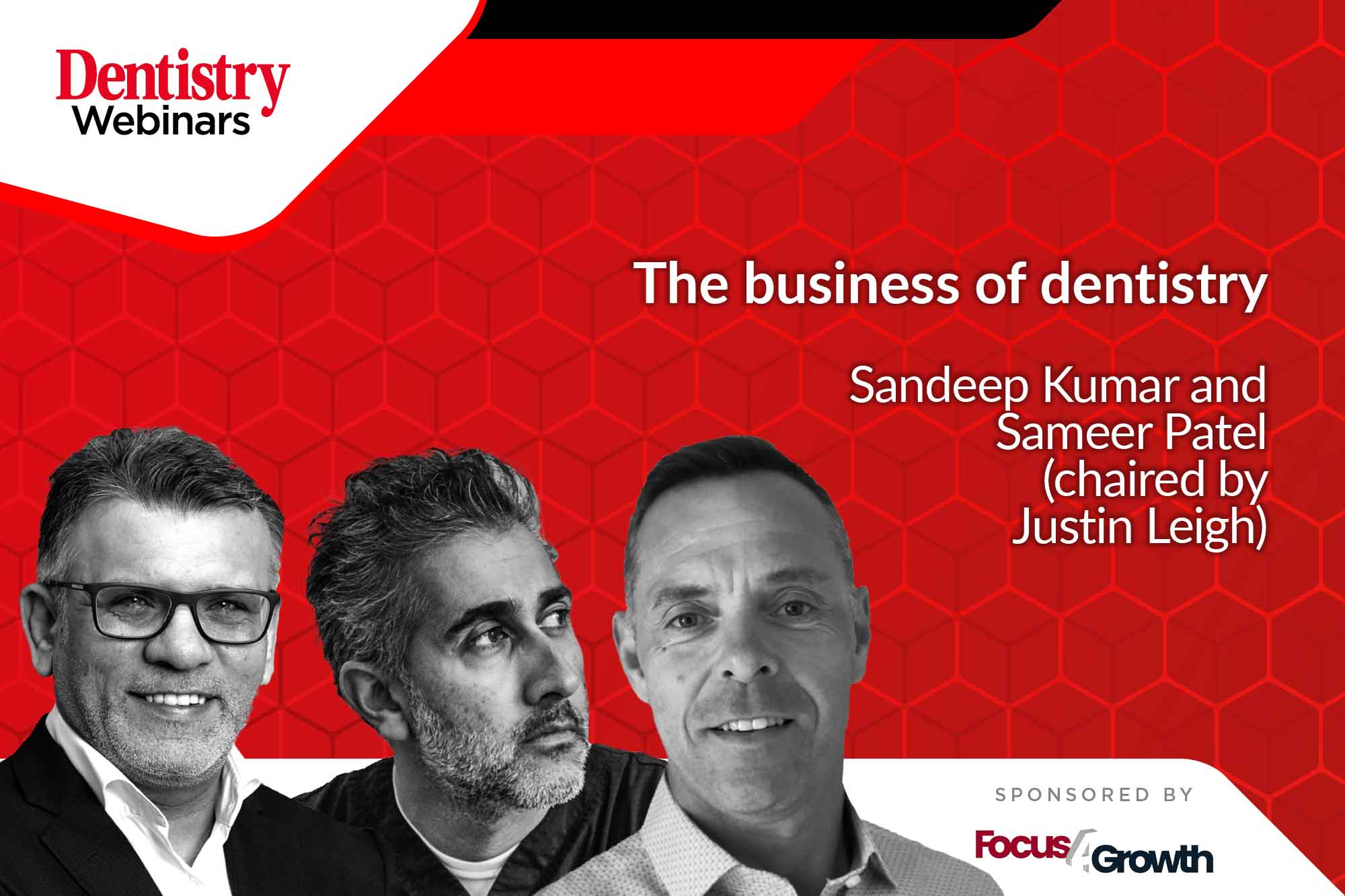 Justin Leigh will chair a discussion about the business of dentistry during a free webinar at 19:00 on 29 September.
During this webinar, Sameer Patel and Sandeep Kumar will talk about how to manage your dental practice like a business.
Learn to manage your practice as a business
Understand the principles of business leadership from leaders in the field
Discover the impact of focusing on the patient experience.
Learn how to
Set ambitious goals for your dental practice
Lead your practice as a business
Improve engagement and team performance
Better serve your patients and elevate their experience.
Justin Leigh
Justin Leigh is the founder of Focus4growth. This is a sales and leadership training company specialising in the dental market.
He's the bestselling author of Inspire, influence, sell.
Justin has trained thousands of sales professionals in amazing companies like 3M, Align Technology, W&H, Septodont, Vitality, Odeon and many more.
He's British Dental Industry Association's preferred sales trainer and is invited to speak for many business organisations including the Association of Professional Sales and The Institute of Directors.
Focus4growth works with some of the fastest growing businesses in the world. Its mission is to share differences with dental clients. They can then become the market leaders in their field and make a bigger impact in the world.
Sandeep Kumar
Dr Sandeep Kumar is one of the UK's leading Invisalign Diamond Providers. He has created more than 4,000 beautiful new smiles with Invisalign in his private clinics.
Sandeep is a trailblazer in the world of Invisalign.
Originally from India, Sandeep came to the UK in 1999. He qualified with the GDC in 2000 and on the lookout for his next opportunity, bought his first practice in 2003.
More than 20 years later and after recognising the huge business potential Invisalign could bring, Sandeep has built his success around the clear aligner brand. He has inspired and encouraged those around him to do the same.
Founder of three successful private clinic brands, the Mismile Network and the Mismile Academy, Sandeep also shares his thoughts and opinions with the wider industry. He is often found on stage speaking and training others on the opportunities Invisalign can harness.
Sameer Patel
CEO, partner and co-founder of E11even Dental Wellness, London and partner at Blandy House Dental Practice, Henley on Thames.
On acquisition of E11even Orthodontics 11 years ago, Sameer has played an instrumental role in metamorphosing a small two-surgery, single speciality practice, into an 18-clinician multidisciplinary practice.
He has grown it 600% in nine years. He did this with many failures and would like to try and help you to avoid making the same mistakes.
Sameer's clinical ethos is all centred around minimally invasive care, which he instils into his hand-picked clinicians.
His leadership, motivation, and teamship culture all stems from his sporting background. Sameer has played and captained at county and club level both home and abroad with great success. Bringing these vales into the dental setting.
He is known for his charity work, partnerships and annual percentage profit contributions to Smile Train, Keen, Salvation Army and dental missions to Uganda and India. His willingness to give for the greater good has been recognised amongst his fraternity peers and nationally
---
To register for this webinar, simply visit www.dentistry.co.uk/webinar.
Catch previous webinars: