How to reward patients for aligner treatment in an unusually 'feel good' way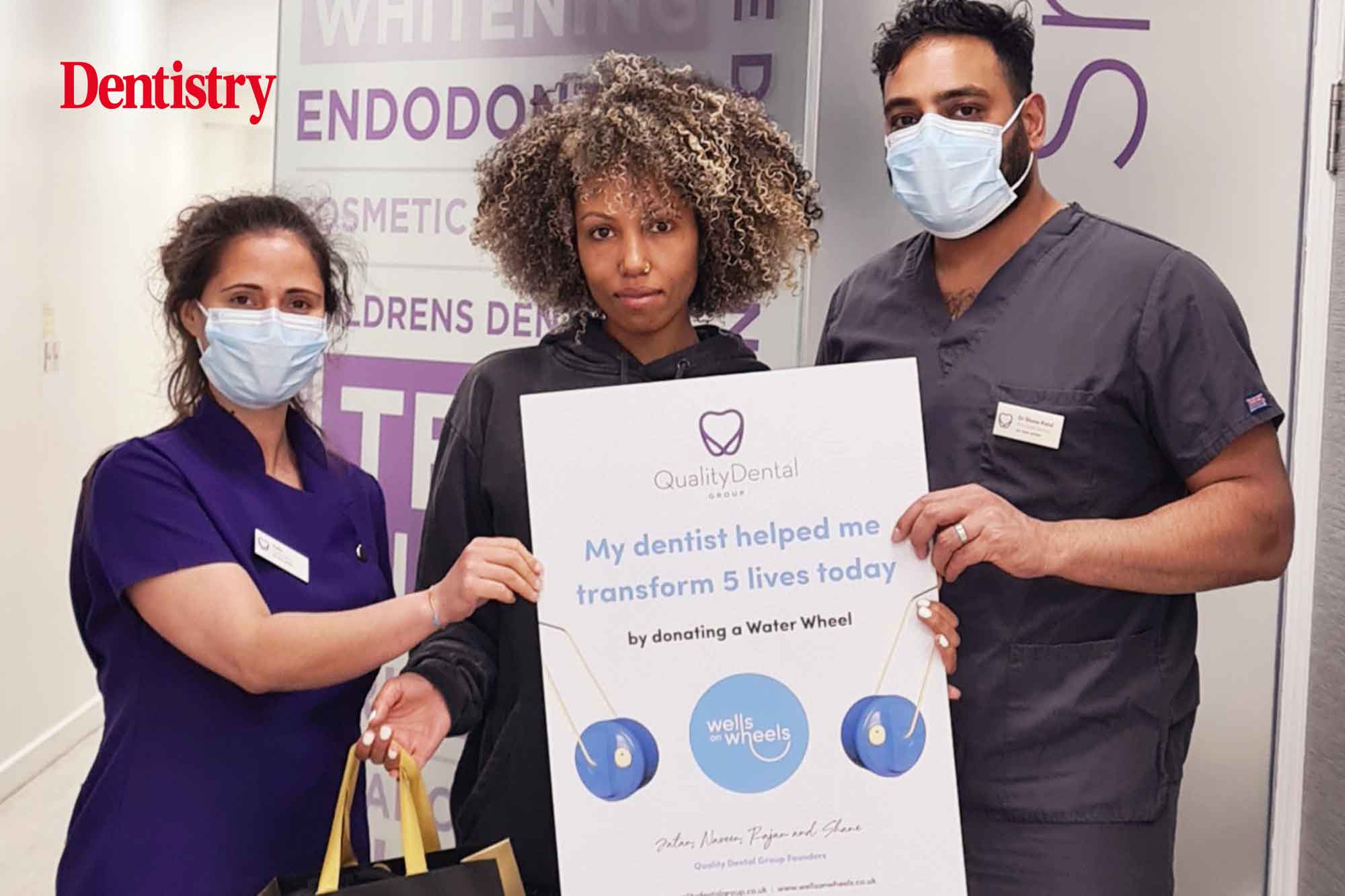 Shane Patel shares why he chose to support the Wells on Wheels charity and what the practice does to promote WOW's work.
The plight of women and girls in Afghanistan has been a growing concern since the political upheaval began. It once again highlights the fact that they often bear the brunt in any given crisis.
Whilst we all hold our breath regarding the ramifications of the withdrawal of military forces, women and girls remain on the frontline and fearful for their futures.
Victims of circumstance and often without the will of governments to effect change in their best interests, it is left to not-for-profit organisations to pick up the pieces and help ease the many burdens they face.
Wells on Wheels (WOW) is one such organisation.
Wells on Wheels
It provides a seemingly simple solution to a complex problem. And it is encouraging the dental community to spearhead a campaign to forever change the day-to-day lives of women and girls in rural areas of India.
Water wells that supply water to some of the country's poorest communities are usually a distance away from where they live. Mostly it is left to women and girls in villages to transport the water by balancing pails on their heads.
It's a traditional method that threatens their health and wellbeing. And sometimes they traipse in heat that can reach up to 40°C.
This expectation upon them also has implications for their future. It limits access to education by restricting time spent in school.
WOW was founded by dental marketer Shaz Memon, CEO of Digimax. It has been providing rural communities with innovative water wheels since 2019.
Women can now pull water from wells back to their communities in just one journey instead of four to five, freeing up time for young girls to attend school.
According to the latest estimation, some 2,000 young girls are now attending school as a result of not having to carry water in the traditional way.
A partner programme now means dental practices throughout the UK can also help the charity make this tangible difference.
Time to reflect
Shane Patel is a director at the Quality Dental Group. They have clinics in six locations across the UK – Ruislip, Brighton, Fulham, Worthing, Shoreham and Coulsdon.
For him, WOW's aims and objectives are not just intrinsic to his Indian identity and heritage. They are also representative of his business DNA.
The first lockdown gifted him and his partners the opportunity to reflect on the group's direction. With the team, they reassessed brand values and identity. From this, came the essence of its rebranding – and the group's new profile as 'the feelgood dentists' was born.
Ultimately, it was also this reassessment that led to Quality Dental Group partnering with WOW.
Shane recalls: 'I first met Shaz Memon six or seven years ago when he revamped our practice website. His ethos matched ours. I liked the way he worked and admired his commitment.
'When he launched WOW, he told me about his vision and we donated some wheels. But when COVID-19 hit, our team had time to reflect. Time to work on our business values and time to rethink what we wanted to do as a dental group and how we wanted to grow as a company and as a brand.'
With more than 100 staff, the partners were keen to consult.
Bringing positivity to dentistry
Shane says: 'People are in healthcare for a reason. We all get a buzz from making a difference to people's lives.
'After foundation training, I spent a year in Australia working in a mining town in the outback, in the middle of nowhere in Queensland. It made me realise how the work we do as dentists can have a direct impact on communities.'
He adds: 'Now, our main ethos is to spread the feel good factor to staff and communities and bring a positive vibe back into dentistry.
'Partnering with WOW, we see it as our responsibility to get more people involved in the effort to change the lives of women and children in India.
'Individually, we all have charities we support. But, because of my Indian heritage, WOW resonates.
'My grandmother still tells stories about how she used to carry water as part of her daily ritual. She is nearly 90 and, shockingly, this practice is still happening today. Despite so many advances in the world.
'We explained the principles of the charity to our team, discussed what we wanted to do and also showed them the WOW videos and they were on board. We want to get the word out.'
Spreading the word
For Quality Dental Group patients, there is a whole process to help them understand more about the charity.
The group posts regularly on social media about its charity partner and has taken the programme one step further by involving patients, taking photographs with them holding up a WOW board on the group's Instagram and Facebook posts.
They have also embedded the WOW video on their practice website page. Along with a mission statement that reads: 'Quality Dental Group is committed to giving young females in rural India a more promising future, by removing them from the arduous task of water collection.'
For every Invisalign smile transformation, the group donates a water wheel.
Shane says: 'When patients come in for treatment, they are shown the WOW Youtube video. Our dentists will talk about what the team are doing.
'In the waiting room, there are WOW posters and our receptionists explain the charity's aims.
'The feedback we have has been great. For the team, it's rewarding that we not only see the difference changing the smiles of our patients, but also that we are changing lives elsewhere in the world, too.
'For the patients, they are getting the new smile they always wanted and supporting poorer communities in the world. This partnership adds value for everyone.
'It is another dimension to the treatments we offer, transforming smiles as well as improving lives.'
Shane's tips
Choose a charity you trust. Shaz Memon has been in dentistry for many years and I know his ethos and was happy to support Wells on Wheels. It is a charity built within the profession
Make it personal. Whether it's WOW or another charity you support, sharing real-life experiences and stories help to connect patients with the cause
Consult with your staff. The whole team needs to buy into the charity you choose. Share ideas across the business and encourage honest feedback. Everyone needs to have that connection with the charity so the whole team is passionate and affiliated with it
Rewrite the story of dentistry. There is a lot of negative perception about our profession and because WOW has come from within dentistry, we talk about our partnership with a sense of pride. WOW shines a positive light on our role and the conversation about its aims continues throughout the patient journey to reinforce the good we do
Spread the word. Use your website and social media accounts smartly. We invite patients to help us promote the charity's efforts by holding up a board in a photo that we post to Instagram, showing what their treatment has achieved for them and how it has helped the women and girls in India
Say thank you. WOW sends out emails on our behalf thanking patients for their support. It explains how many people they help along with a donation certificate
Be authentic. Choose a charity wisely and ensure it is one that resonates with a wide range of people. It is easier for the team and your patients to buy into it if there is relevance to a member of staff or, indeed, dentistry itself.
---
For more information visit www.wellsonwheels.co.uk.