Thrive, not survive: vital tips and insight to help you elevate your practice and enhance your work/life balance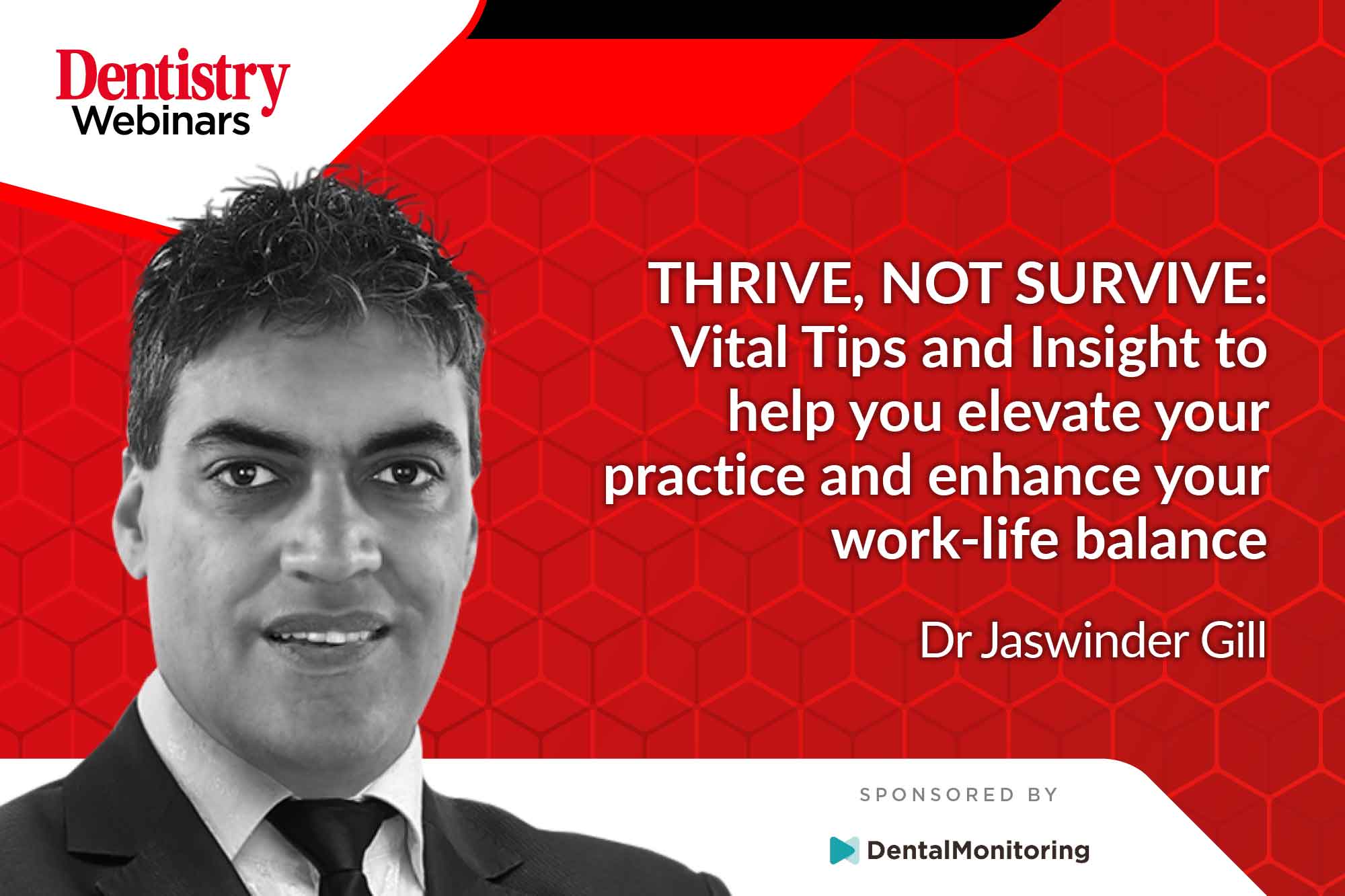 Join Jaswinder Gill as he gives tips to elevate your practice during a free webinar on Tuesday 7 September at 19:00.
During this free live training event you will learn valuable skills and processes to implement in your work environment. It will enable you to increase profits, whilst reducing work and time spent working.
Through years of trialling methods, succeeding and failing, Dr Gill has harnessed effective systems and processes that have taken his practice to huge success and given him a much better quality of life, professionally and personally.
Dr Gill will summarise key tips and advice that you can implement right away. Whether you are an associate, principal or other DCP, he can give you insights to improve your current workload.
Learning outcomes
During this free live training event, Jaswinder Gill will show you:
An understanding of how he took his practice from surviving to thriving
A selection of key tips to improve your work/life balance right away
Key implementations that revolutionised the patient journey and increased Invisalign cases exponentially, how technology enabled Dr Gill to enhance his patient reach.
Jaswinder Gill
Since qualifying, Jas hasn't looked back, opening his first practice in 2006, promptly followed by a further two practices, before building on everything he's learnt to pursue his ever-growing passion for teaching.
His astonishing knack for establishing partnerships – spurred by his long-held belief that dentists are the ones best placed to support other dentists – has seen him partner with the likes of Ashley Latter, Smilefast, Smilemate and Dengro. And become UK clinical lead and KOL for the Carestream digital scanner and Dental Monitoring.
He also sits on the editorial board for Clinical Dentistry and is a judge for the Private Dentistry Awards 2021.
During lockdown, Jas seized the chance to explore new routes to market. He created webinars on virtual consultations and on how to thrive – not simply survive – in this 'new normal'.
Jas is a Diamond provider for Invisalign. He has devised his own course, Platinum Practice Solutions, to help Invisalign providers achieve Platinum status.
His business background has enabled him to help dentists reduce their stress. He simply suggests spending more time working on the business as opposed to in the business. This is his real mission and is highlighted in his USP, #itsallabouteveryone.
---
To register for this webinar, simply visit www.dentistry.co.uk/webinar.