What could the future of your dental practice look like?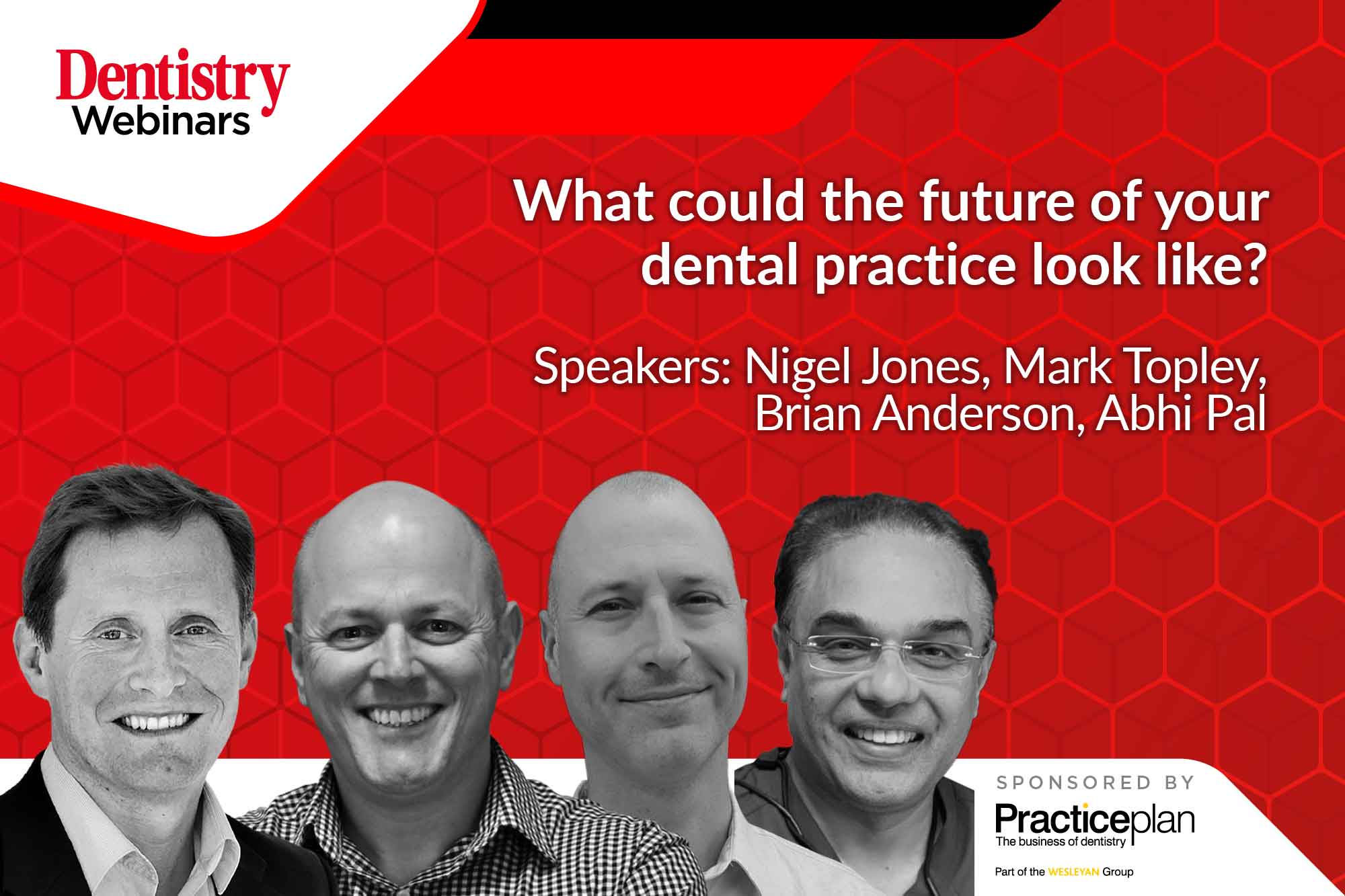 Join Nigel Jones, Mark Topley, Brian Anderson and Abhi Pal discuss the future of dentistry during a free webinar on Tuesday 31 August at 19:00.
What's your practice vision? What could the future of your dental practice look like?
It's been a hugely challenging time for all. But with the future NHS landscape looking changeable yet again, many people are starting to think about what the future holds for them and their practice.
Is now the right time for you to make a move away from the constraints of NHS dentistry? So you can start to build the business and practice the kind of dentistry you've always dreamt of.
Or, if you're already working under private provision, is it time to start being more proactive in achieving your practice vision?
Opportunities and directions for your practice
Join Nigel Jones in conversation with industry experts Abhi Pal, Brian Anderson and Mark Topley. They will explore the different opportunities and directions you could take your practice in.
You'll hear how to…
Empower your dental practice and enhance the lives of your patients. Add total health screens and oral systemic health education to your existing patient journey
Build a more successful, purpose-driven, positive practice and team. All by focusing on corporate social responsibility (CSR)
Retain and nurture a motivated dental team through professional development and career pathways.
This webinar will leave you feeling inspired and driven to make a positive change for yourself, your practice and your team.
Nigel Jones
Nigel Jones is sales and marketing director at Practice Plan, specialist provider of practice-branded dental plans.
He has supported the development of successful private practices throughout the majority of his 30-year career. Practice Plan has supported over 1,500 dental practices to transform the profitability of their business through the combination of a well-populated plan and personalised support including marketing, business advice, events and training.
Abhi Pal
Abhi Pal is the dean of the Faculty of General Dental Practice UK (FGDP). He has recently become the first elected president of the College of General Dentistry.
He has worked in general dentistry for over 30 years'; spending most of this time as a principal dentist at a mixed NHS and private practice in Edgbaston.
Brian Anderson
Brian Anderson is a dental business coach and consultant specialising in marketing, sales and leadership training.
After working in the dental industry for over a decade, Brian's goal is to show how dentistry can save lives. As well as changing the healthcare industry through the development of Total Health Screens. He hopes it will give more value to patients by connecting oral health with general health.
Mark Topley
Mark Topley helps people to run more responsible businesses. He helps practices win more patients and build more productive teams by structuring corporate social responsibility (CSR) into the practice.
After 20+ years in the charity sector, including 10 years overseas leading the dental charity Bridge2aid, he developed a simple and effective model of CSR for dentistry targeting people, planet, and community.
---
To register for this webinar, simply visit www.dentistry.co.uk/webinar.