Last chance to register for the South West Dentistry Show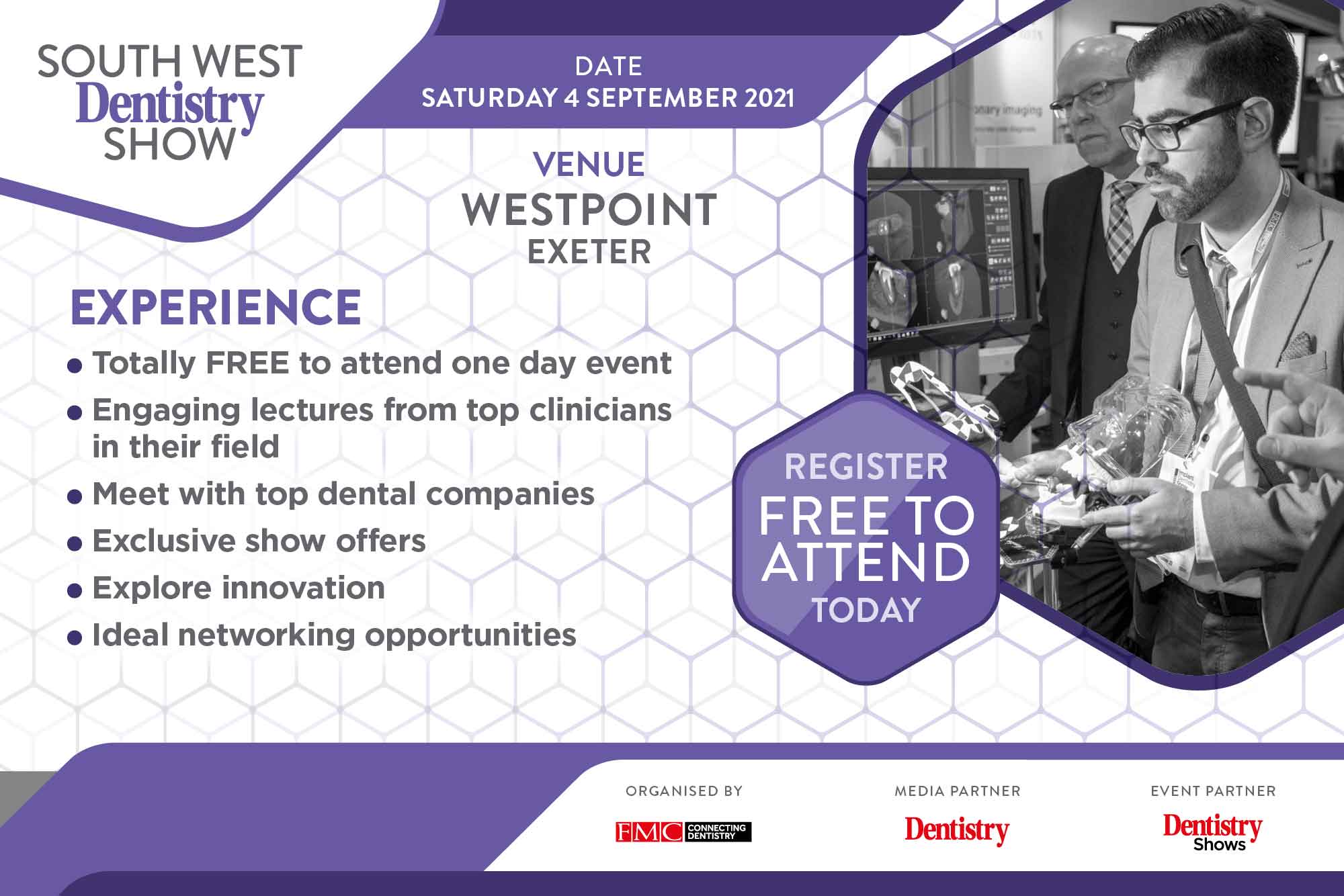 The South West Dentistry Show is taking place this Saturday at Westpoint in Exeter, make sure you register now.
With an impressive array of power lectures on a variety of clinical topics, as well as a whole range of companies exhibiting, the South West Dentistry Show is your chance to learn, engage and experience the latest in dentistry.
The event is completely free to attend and marks the first FMC face to face exhibition since the pandemic.
Register now, simply visit dentistry.co.uk/shows/south-west-dentistry-show.
'We are really looking forward to seeing everyone at our first show of the year,' Leanna Ellis, events director at FMC, said.
'This is the first show to visit the south west. Hundreds of dentists and dental professionals have already registered to attend.
'FMC is also going above and beyond to ensure the safety of delegates. So rest assured that this is a great opportunity to speak to old friends and catch up with the industry, as well as taking the opportunity to find out about the latest innovations.'
South West Dentistry Show
The full speaker line up for the South West Dentistry Show is here. On the day you can hear from a leading line up of speakers about the latest clinical techniques.
Speakers include:
Gayle Kime – Dry mouth and the impact on our patients
Ben Cross – Leveraging Dental Monitoring to build a patient-centric practice
David Claridge – How do you correctly choose which intraoral scanner is right for you?
David Brewer – Buying/financing a dental practice
Timothy O'Brien – Developing clinical skills in the 21st century
Dhiraj Arora – Mindful mechanical preparation
Harry Singh – How to add an extra £1k per week to your turnover from facial aesthetics
Julian Perry – What is private dentistry really and how do you access the five main areas of private growth?
Edd Jones – Customer service – a team sport
Annija Mantaja – Managing patient compliance in oral health
Chris Baker – What has the pandemic taught us about communication
Oliver Brown – The guide to selling your dental practice
Anna Middleton – An introduction to Guided Biofilm Therapy – a game changer for hygiene rooms
Matthew Jerreat – Dentistry in the south west and the future developments
Kevin Lewis – High tech: high risk?
Nicky Benbow – Handpiece maintenance and reprocessing – how clean is your handpiece?
Register at dentistry.co.uk/shows/south-west-dentistry-show.
Safety measures in place
FMC is doing everything it can to ensure the safety of those attending shows.
Measures include:
Delegates complete a health and safety risk assessment that includes risks from COVID-19
Turn people with COVID-19 symptoms away
Provide hand sanitiser gel throughout show space
Density/congestion easing where possible or needed – one-way flows, larger aisles between stands, staggered access, signage to influence crowd behaviour
Increase cleaning of hi-touch surfaces
Encourage mask wearing in crowded places
Have a stock of disposable face coverings for attendees
Ask delegates not to attend if they are unwell or are self-isolating
Behaviour guidance signage including:

Wash your hands, wear a face covering in crowded spaces, keep space between other delegates and exhibitors, look out for and observe any restrictions or requests set by individual exhibitors, no hand-shaking or hugging
As a delegate at our exhibitions your safety is our highest priority. We want you to feel comfortable and secure when you visit any one of our shows.
As a minimum we will follow all the local government coronavirus guidance. As well as adding our own extra safety measures too.
We look forward to welcoming you back to one of our exhibitions very soon.
---
Follow Dentistry.co.uk on Instagram to keep up with all the latest dental news and trends.