What patient feedback should be
Pouyeh Esfahani explains what good patient feedback looks like and explains how it can help your dental practice.
Just as dentistry continues to evolve, so do the methods for collecting and utilising feedback to drive higher quality care for patients.
Online reviews have quickly become the most popular way of receiving feedback from patients within dentistry.
They allow dentists to better understand the patient experience and recognise ways to drive improvements to their care, in an easy, efficient and cost effective way.
And for patients – who are now approaching dentistry with an increasingly consumer mindset – online reviews provide them with the insight that they need to decide upon the right practice for them.
How valuable is good patient feedback?
Dr Jaz Gulati, a passionate general dental practitioner, says that with: '14 million missed appointments a year, it is clear that patients are moving around.
'It is important to remember that the first place these patients will look to find a new dentist is online'. Dr Gulati adds that: 'facts tell, stories sell'.
Online reviews influence where a person will ultimately turn to for their treatment. They give people an opportunity to read about the first-hand experiences of fellow patients. And readers get a real understanding of how their appointment and their treatment is likely to go.
They help people to determine the dentist or dental practice that will be right for them.
Patient feedback that is real and meaningful is also incredibly valuable to dentists. They have the opportunity to understand, learn from and improve on the experiences of their patients.
When reviews are published online, this also gives dentists the opportunity to boost both their online visibility and online reputation, to their current and potential patients.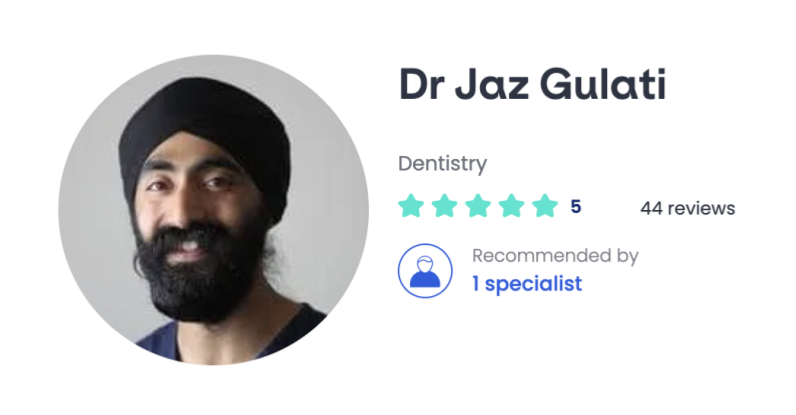 How to get the most from your patient reviews
Vetted and verified
It is recommended that when a dentist or dental practice is actively collecting online reviews, there is a verification process within the review platform that they use.
A clear verification process – where the person leaving the review has to confirm that they have used the service – ensures the feedback that goes online is based on real experiences from real patients, and can be trusted by dentists and patients alike.
Review verification helps to prevent fake or unsubstantiated feedback from going live. Which is something that can unfortunately happen on open source review platforms.
Anonymity
Patients should have the opportunity to leave reviews anonymously. A patient who knows that your are protecting their privacy and personal information is more likely to leave a review. And, without having to provide sensitive, identifiable details, patients will tend to be more open and honest in the feedback that they do give. They know they can provide their real thoughts and opinions, without the fear of repercussions.
Access to these authentic and detailed accounts of patients' experiences is incredibly valuable to dentists and dental practices.
They provide real insight into exactly what patients think about the service and the care provided. They also highlight what's going well and where improvements need making. It allows for dentists and dental practices to focus on the areas of improvement that will drive actual change to the patient experience.
Some dentists worry about anonymous feedback. It can make it easier for fake and fraudulent reviews to appear online.
But, when patient anonymity is combined with a robust verification process, this ensures that dentists and dental practices get the most authentic and helpful feedback from real patients.
A mix of ratings
We understand that when it comes to online reviews, the idea of having visible negative feedback is worrying.
But, it is important to know that when a dentist or a practice has exclusively five-star reviews, this can feel suspicious to some.
Everyone's a little cynical, so a perfect score can sometimes seem too-good-to-be-true. Instead, a mix of ratings demonstrates transparency and the trustworthiness of a practice. It demonstrates that they don't filter out less-than-perfect feedback.
For many clinicians and practices who work with us, the constructive feedback that they do receive provides them with great insights from which they can learn and improve.
Review responses
We recommend that you respond to all reviews – whether they are positive or negative.
When a dentist or dental practice replies to their reviews, it shows care, empathy and attentiveness. It highlights that they truly value feedback, to both their current and prospective future patients. And, it leaves the person who has left the review feeling that they have been listened to. That you are taking their feedback onboard.
Tagged reviews
A review platform with a tagging system – where patients leaving feedback are able to tag their reviews with the procedure that they had – adds further value.
A tagging system helps dentists to better organise and get greater insight from their feedback.
When assessing the feedback, dentists can filter reviews by procedure, compare the ratings, and easily determine areas of improvement to focus on.
Tags make it easier to take the right action to improve patient care.
Tags are also powerful to potential patients. It gives them the opportunity to filter a dentist's feedback. They can see reviews for the procedure that they want or need. They can then spend their time exclusively reading reviews for that treatment.
Looking to the future with peer recommendations
Many dentists who are actively collecting and publishing patient feedback have now turned their sights to getting peer recommendations from their colleagues. These endorsements work to emphasise their experience and expertise further.
When one dentist trusts another dentist, this can instil confidence in both current and prospective patients. They can see that the dentist is well respected in their field.
With online reviews becoming increasingly used across dentistry, and peer recommendations starting to become more popular with patients, it is important for dentists and dental practices to have a robust strategy for their collection and publication. This way practices can stay ahead.
Patients are making their decisions online. It is crucial for you to exist and thrive in this space in order for patients to see you.
---
For more information visit www.doctify.com, email [email protected] or call 07490 188020.