Guided implants = predictable and stress-free placement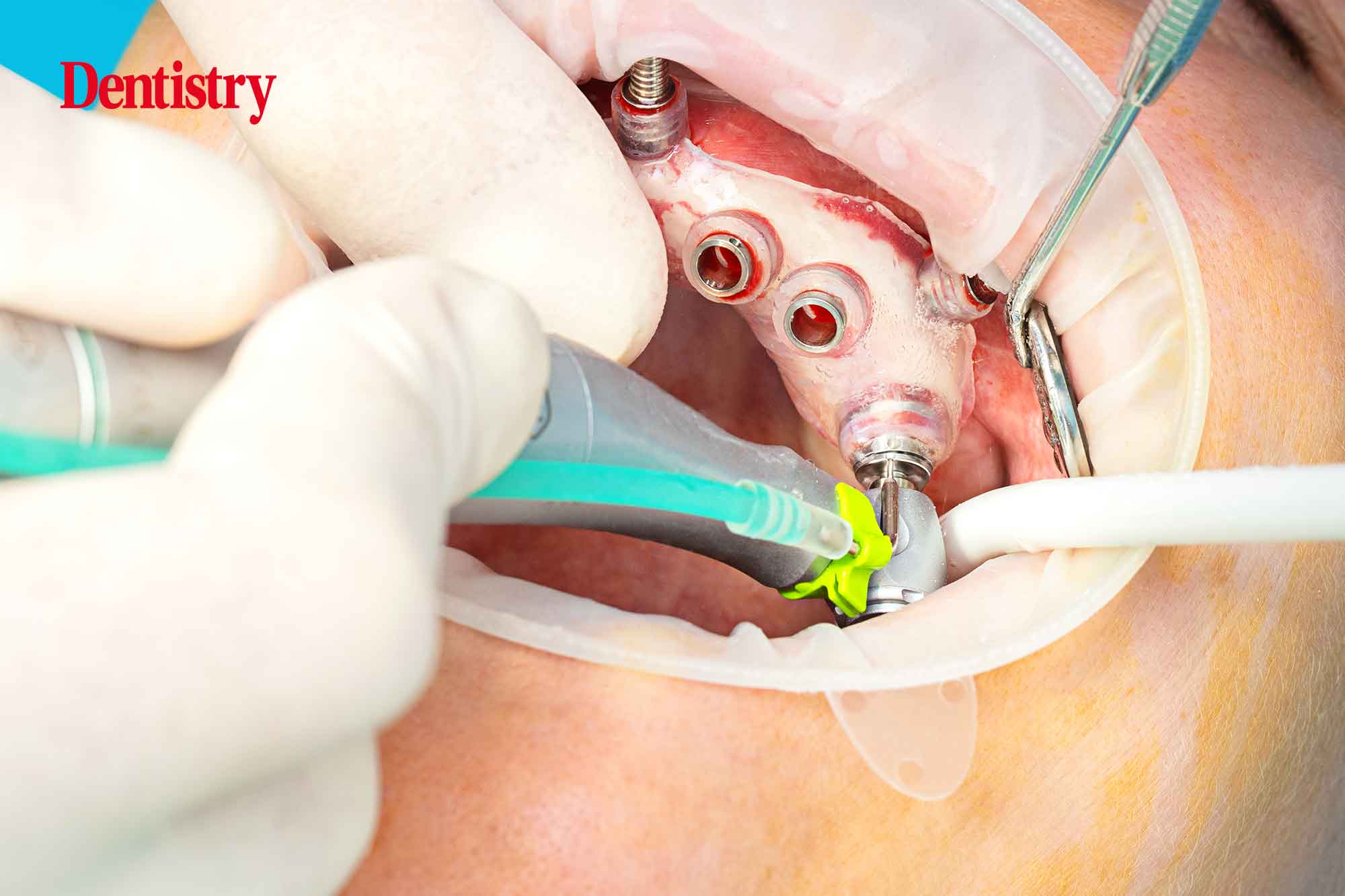 Gurs Sehmi shares with readers his experiences performing guided implant placement and offers insight into how to get the best from this stress-free aspect of treatment workflow.
You're an advocate of guided dental implant surgery. Why is that and how do you use it?
Having talked to many dentists placing implants, their experience has been that if a patient is going to complain about anything once they've had dental implants, it's going to be about the look of the final tooth. That's all they can see and therefore all they have to judge success.
Nine times out of 10, the reason it doesn't look good is because the placement isn't quite as it should be. Just 1mm can make all the difference to the end result.
Guided dental implant surgery is almost like having stabilisers on a bike. It takes a lot of the risk out of dental implant placement.
So, I use guides for almost every implant that I do on the front 10 teeth. The only reason I don't use it on the back teeth is because the drills are long, and you can't get them back there.
Quite often, we're not just putting an implant in. We might also perform a bone graft or a tissue graft or both. We have to make a temporary tooth. You have to do all of these other things, so if you can take the stress out of the implant placement and positioning, it gives you more mental capacity to focus on the other aspects of treatment.
That said, I do think that for dentists starting out, it is important to learn to do it the hard way as well.
The reason is, very rarely a guide might not fit on the teeth. Or the guide might break half-way through because of unusual anatomy. It is very rare, but it can happen.
You don't want to be caught in a situation where you've got no guide and no experience on how to treat an implant patient without one.
Your go-to guide provider is Quoris 3D. How did you get involved with Quoris?
I met James Hamill, Quoris 3D's CEO, on an orthodontic course a few years ago. We were out of touch for a little while but then he was using a particular implant system. He was very involved with the brand at that time, and I happened to be at a presentation he was giving.
We got talking, and I found out his association with Quoris 3D, which has a guided surgery offering. I mentioned I had tried it a few years earlier, but I hadn't found it terribly accurate.
James told me things had moved on a lot in recent years. He persuaded me to try again, because I trusted him.
He's a dentist who places implants and he knows his stuff. That is a big differentiator for me.
So, I got going with Quoris 3D, and it has been great. All you need to give them is two -records – the CT and a digital scan.
I've had consistent success with both simple and tricky cases. In fact, I've had some really challenging situations I've shared with the Quoris team and they have worked out exactly as planned on the CT.
For some cases, James has made me a short video to explain his thoughts on treatment, which is such a great support.
What is your overarching goal when treating patients?
The overarching goal is for the patient to be 100% happy with the outcome of their treatment. It can take a lot of courage for patients to admit their mouth is in a state. And to then spend money on improving their form and function.
My patients are putting a lot of trust in me and my team. We have a responsibility to do whatever we can to ensure that treatment outcome is as good as it possibly can be.
So, it's all about reducing risk in every little area of your treatment. Placing the implant guide is a big part of that. You're reducing that risk of the implant not being in the right place.
What advice can you offer to fellow dentists thinking about getting started with guided dental implant surgery?
I'd say, spend the money, get a guided kit and just do it. My patients are very aesthetically demanding and guided treatment enables me to ensure I always meet their expectations.
I also think that medicolegally, it's very good to have a surgical guide. It shows that you've taken an extra step in planning the case.
Very few cases give you problems later on. But those problems are usually a result of the implant placement not being perfect. Guides offer you the ultimate safeguard here.
Leading on from that, what are your top three tips when it comes to guided surgery?
Firstly, always have a plan B. It's very easy to think that a guide is going to make everything super easy, which it does in the vast majority of cases. But don't rely on it 100%.
Next, as a clinician, you need to build value in having a guide. Otherwise, patients aren't going to pay for it.
I believe that guided implant treatment is a unique selling proposition for practices focusing on quality treatment, like we do. Patients need to understand why it's worth another £500 or so, for what to them will just seem like a piece of plastic you're then going to throw away, unless you explain it properly. I have never had a patient decline to pay for a guide once they understand its role.
Lastly, think of your workflow. To get a guide from Quoris 3D, for example, as I mentioned earlier, all you need is the CT and the digital scan or impression. So have that first diagnostic appointment, send off those bits and everything gets planned. Implant placement is then stress-free.
Who doesn't want to have the stress of correct implant placement lifted off their shoulders? Go guided and never look back!
---
For further information about guided implants, please contact Orla Sheehy, sales manager Ireland and Scotland, on +353 874512000, or Amanda Williams, sales manager England and Wales, on 07769 353598.
Alternatively, visit quoris3d.com or email [email protected].