The Dentistry Awards – Hawa Azhar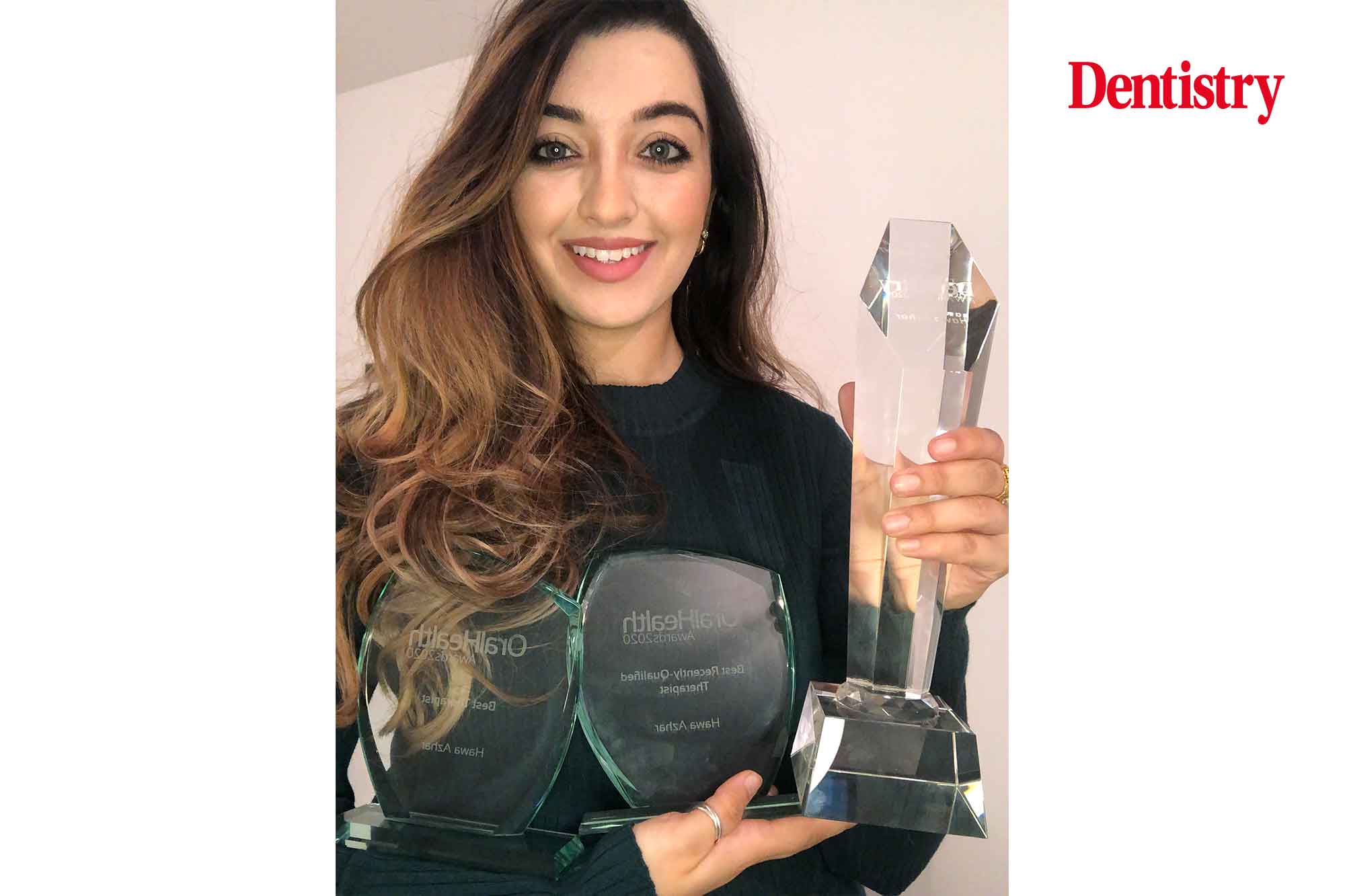 After scooping Best Therapist UK at The Dentistry Awards, we speak to Hawa Azhar about the awards and how they're helping the profession.
How does it feel to have won an award?
Hawa Azhar: I feel incredibly honoured and humbled to have been recognised for my work out of all the incredible entrants. Especially so early on in my career.
Did you enjoy the awards evening?
Hawa Azhar: It was a real shame it wasn't in person this year due to the circumstances. But it was definitely a cosy, comfy evening at home!
Why did you choose to enter the awards?
Hawa Azhar: The Dentistry Awards are highly regarded throughout the profession.
Even if I hadn't won, the chance to showcase my work to the panel of judges would have been enough of an accomplishment.
What do you think the awards are doing to the standards within the profession?
Hawa Azhar: Anyone wanting to enter The Dentistry Awards will put the maximum amount of effort into each case and document it to be in with a chance of becoming a finalist.
This in turn is definitely raising the standards of the profession to higher levels, which is a positive all round. 
Why do you think you won?
Hawa Azhar: I think that the judges recognised that all the finalists this year have gone out of their way to provide comprehensive patient care, both inside and outside of the surgery.
The patient-clinician relationship is evolving into one where clinicians are more accessible now than they have ever been, especially via social media.
I think we've all made an effort to educate and advise patients over social media during this time where everyone has had to stay at home. 
Have you noticed a difference in patient numbers since winning the awards?
Hawa Azhar: I feel patients are much more confident now in choosing me as their clinician.
It is difficult gaining the trust of somebody new. But patients seem much more reassured having treatment carried out by somebody who is recognised within their profession. 
Will you enter the awards again this year?
Hawa Azhar: Last year's outcome is still so overwhelming I actually haven't given this year much thought.
Never say never, it would be nice to potentially attend a non virtual ceremony this time!
Anything else you'd like to add?
Hawa Azhar: Just a big thank you to anyone that is supporting my career progression and encouraging me to be the best I can. I definitely could not have done it alone.
I'm looking forward to seeing what dentistry will bring for me in the future. 
---
Find out more about The Dentistry Awards and register your interest for 2021 at dentistry.co.uk/awards/the-dentistry-awards.
Hear more from The Dentistry Awards winners