Building 'We Are Medics' for dental undergraduates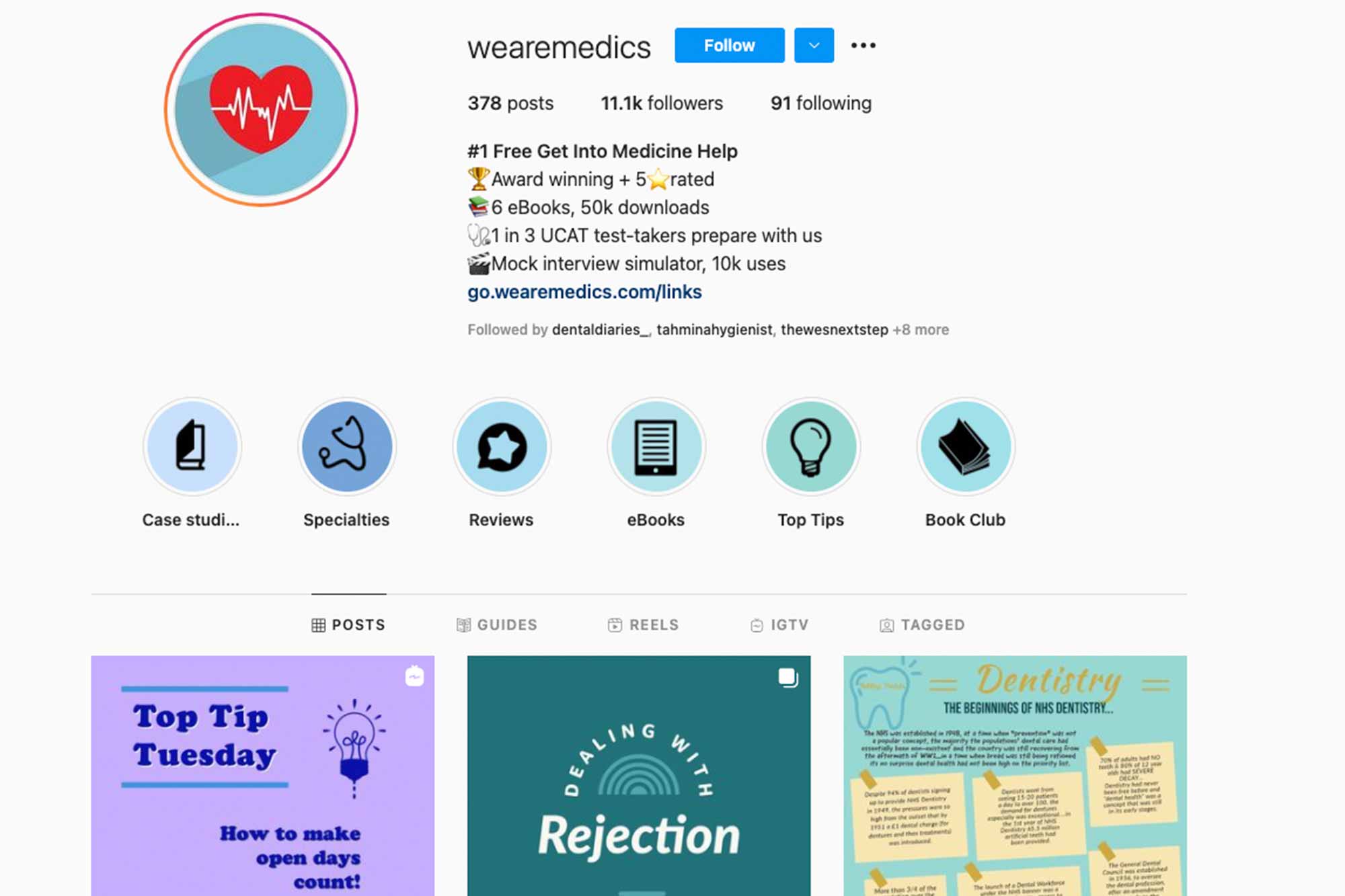 We Are Medics is a growing social media profile that provides more details about getting into dentistry and support through university. Here Karishma Dewitt talks about the platform and plans for the future.
Over lockdown I began working with 'We Are Medics' a non-profit organisation and dynamic force of healthcare students aiming to widen participation in dentistry and medicine.
Who is 'We Are Medics'?
In early March, during a time of uncertainty for all, especially students navigating the highly competitive dental and medical application processes, a group of Birmingham healthcare students (already advocates for widening access to these highly competitive courses) decided to move to a virtual platform to replace cancelled outreach events.
The hope was to provide free, scalable, student-led online content to facilitate a diverse and level playing field for all.
Fast forward nine months, we having more than 10,000 Instagram followers, an array of free high quality content such as five free ebooks (including a whistle stop guide to dental school), Instagram videos, livestreams, blogs and much more.
Our content
Our Instagram has allowed us to share essential information. We share this in the form of posts, videos, host an array of livestreams with various professionals. Some of these include candid conversations discussing life in dental school and mental health within dentistry.
Additionally, our website allows free access to our blogs and any of our free ebooks; regarding personal statements, the UCAT, interviews and a thorough guide to dental school. It is produced by a team of current Birmingham dental students.
All of the content we create is available online through our website and Instagram account. It's our aim to make it as easily accessible and transparent as possible. This will allow students who would not have been able to access widening participation schemes otherwise to feel supported.
The process of getting into dental/medical school is no well-kept secret. And it doesn't need to be.
By levelling the playing field for all we hope the exchange of information and multidisciplinary team growth mindset can inspire future generations of healthcare students and professionals to do the same.
How I became involved with We Are Medics
Lockdown was the first time in a while that time seemed endless. It allowed me to look back at my current journey through dental school and realise that I was now halfway through my degree and wanted to give back.
I found myself writing a set of blogs for a widening access team at Birmingham. I was thrilled when some of my peers contacted me about the We Are Medics platform.
It has been a privilege to support students over the past few months. As well as working alongside a team to inspire, enlighten, educate, and guide the next generation of healthcare professionals.
It was nerve-wrecking at first trying to create insightful, informative content that applicants would find beneficial. However, the enthusiasm of my peers was a definite motivator.
It allowed me to grow in confidence and slowly but steadily build a team of equally enthusiastic peers to help expand dental content going forward.
Goals going forward
Dentistry is a highly competitive course. There are only 15 dental schools in the UK, each with fairly 'small' cohorts compared to other healthcare courses.
I hope to continue to work with my peers through the We Are Medics platform. This way we can expand our dental content and watch the next generations of dental students and dentists to inspire, educate and support each other going forward.
If these times have shown us anything it's that team work really does make the dream work.
Please keep a look out for exciting informative dental content we hope to release as soon as possible. To check out some of our amazing content and join us on this journey please follow our Instagram account @wearemedics.
We Are Medics additionally hopes to register as a CIO in 2021. We are a new member of the HLA:IDEAS incubator scheme, aspiring to reach even more students going forwards.
---
Note: special thanks to everyone on the We Are Medics team, especially Kirsty and Vaibhi for their continued support and encouragement throughout my journey. As well as my fellow dental content creators (Ajay Soni, Ferin Varghese, Lewis Fitness, Nabeela Caratela, Priya Sandhu, Reece Bushell, Sarah Mehanna, Tamara Kwartz, and Talia Harris) who help to create new content to inspire the next generation.