Streamline your restorative workflows with 3M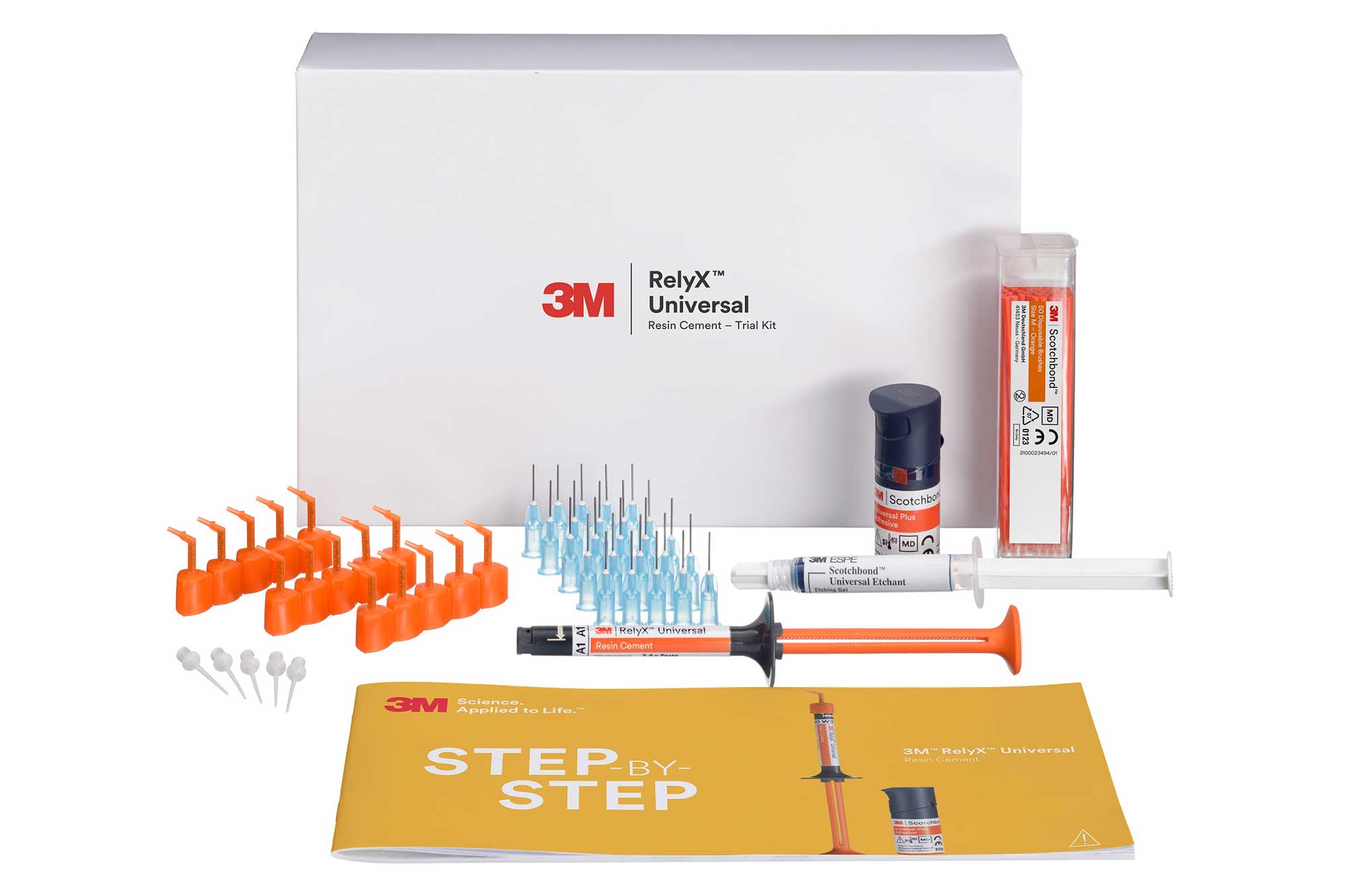 3M Oral Care explains how Scotchbond Universal Plus Adhesive and Relyx Universal Resin Cement can streamline the restorative workflow.
Your dental adhesive and dental cement are the foundation of your restorative armamentarium. As such, you need to choose products that adapt to the way you work. And which not only help you achieve exceptional results, but also simplify the process.
With Scotchbond Universal Plus Adhesive and Relyx Universal Resin Cement from 3M Oral Care, you can revolutionise the way you work and streamline your indirect restorative workflows. All the while saving time, money, and removing the stress of managing an expansive stock of products.
An adhesive that meets your needs
Scotchbond Universal Plus Adhesive from 3M Oral Care is a revolutionary new adhesive. It is specifically designed to make clinicians' lives easier.
The very first radiopaque universal adhesive, Scotchbond Universal Plus Adhesive from 3M offers all the benefits of its predecessor with enhanced levels of control and predictability.
Plus, as the adhesive is radiopaque, it helps to lower the chances of misdiagnosis on sites after use. This ensures there is no false detection of radiolucency.
Another great property of the adhesive is its ability to be used on a wide array of natural and manufactured surfaces. As well as supplying excellent bond strength with ceramics, metals and other common dental materials. The adhesive can also bond and seal caries-affected dentine. This helps to boost user confidence when performing minimally invasive preparations.
Due to this versatility and strength, Scotchbond Universal Plus Adhesive from 3M can easily replace multiple adhesives from your armamentarium.
A simple workflow
Dr Charles Fox comments: 'Scotchbond Universal Plus Adhesive is a complete evolution of its predecessor.
'One of the biggest benefits of using it is that it's radiopaque. This means that it helps professionals to avoid the risk of misdiagnosis.
'Another huge benefit is that we can use it directly on caries-affected dentine. It holds its bond really well on all materials. And because I now only have the need for one adhesive, it has really streamlined the way I work.'
Similarly, Dr Erika Spyer gave this feedback: 'Scotchbond Universal Plus Adhesive is really easy to use, simple and quick.
'It is a simplified system that removes the need to use several bottles, ensuring a smooth workflow. The bond strength is also really good!'
Another excellent aspect of Scotchbond Universal Plus Adhesive from 3M is its innovative delivery system.
The unit dose has been designed to reduce the risk of cross contamination. While the flip top vial has also been made more ergonomic, meaning it's easier than ever before to wipe off any excess after use.
Dr Aviva Riley says: 'The product was easy to apply, ensuring low wastage, and I particularly liked the consistency.
'The new design of the bottle is great as it is stable and heavy enough not to topple over. It certainly supports a simple workflow. I have not even had one failure, so the bond strength is reliable.'
A cement that makes all the difference
Much like Scotchbond Universal Plus Adhesive, Relyx Universal Resin Cement from 3M represents a new era of restorative ease for clinicians who want to simplify their armamentarium and achieve clinical excellence.
One of the key benefits of the new 3M Relyx Universal Resin Cement is that it features an impressive new design to help aid easier placement, user comfort and simple dispensing.
The automix syringe is hygienic and self-sealing. While the long, flexible elongation tip means that you can easily access even tricky sites in the root canal.
All this helps to reduce overall cement waste by up to 80% compared to other automix syringes.
Relyx Universal Resin Cement from 3M also offers outstanding bond strength. Perfect for professionals who want to save time as it abolishes the need for additional adhesives and primer.
When used in conjunction with Scotchbond Universal Plus Adhesive, Relyx Universal Resin Cement from 3M forms an unbeatable duo. Both products aim to simplify and strengthen restorative workflows. Professionals can therefore streamline their armamentariums in an instant, saving money, time and helping the environment by reducing plastic waste.
'Game-changing cement'
Dr Akit Patel, one of the first professionals to test the new products said: 'A game-changing cement and adhesive that can do it all.
'I only need one bottle and one syringe for all my direct and indirect adhesive restorative workflows. I used the predecessor adhesive for 10 years and have now upgraded to Scotchbond Universal Plus Adhesive from 3M. This is the best glue with ultimate strength, speed and simplicity.'
Dr Charles Fox also says: 'I love using Relyx Universal Resin Cement when cementing ceramics. Especially with Scotchbond Universal Plus Adhesive.
'Together they completely eliminate the need for multiple adhesives and primers. This means that I can perform treatment quickly and easily. But also with the knowledge that I'm going to get excellent outcomes.
'The new design is wonderful and the dispenser tip instantly minimises levels of material run-on and waste.
'Plus, as I can use Relyx Universal Resin Cement in so many indications, it's now the only cement I use where I previously needed three, saving me space and money.
'I would absolutely recommend it to other professionals.'
Keeping innovation at the forefront
As with every product from 3M Oral Care, what really sets Scotchbond Universal Plus Adhesive and Relyx Universal Resin Cement apart is that they have innovation at their core.
As well as working separately as reliable, predictable products, together this adhesive and cement are a stress-free way to significantly simplify the majority of indirect restorative cases.
It's little wonder that both of these products received recognition in the 2021 Dental Advisor Awards.
Relyx Universal Resin Cement was named 'Best Universal Resin Cement'. And Scotchbond Universal Plus Adhesive received the title of 'Best Universal Bonding Agent'. Reiterating that professionals are impressed by the streamlined performance and innovative qualities these solutions provide.
To find out more about either or both of these products, please contact the team at 3M Oral Care today.
---
For more information, call 08705 360 036 or visit www.3M.co.uk/Dental.
3M representatives continue to be available via video calling technologies for your convenience.
3M, Relyx and Scotchbond are trademarks of the 3M company.