Implant Dentistry Today announces digital edition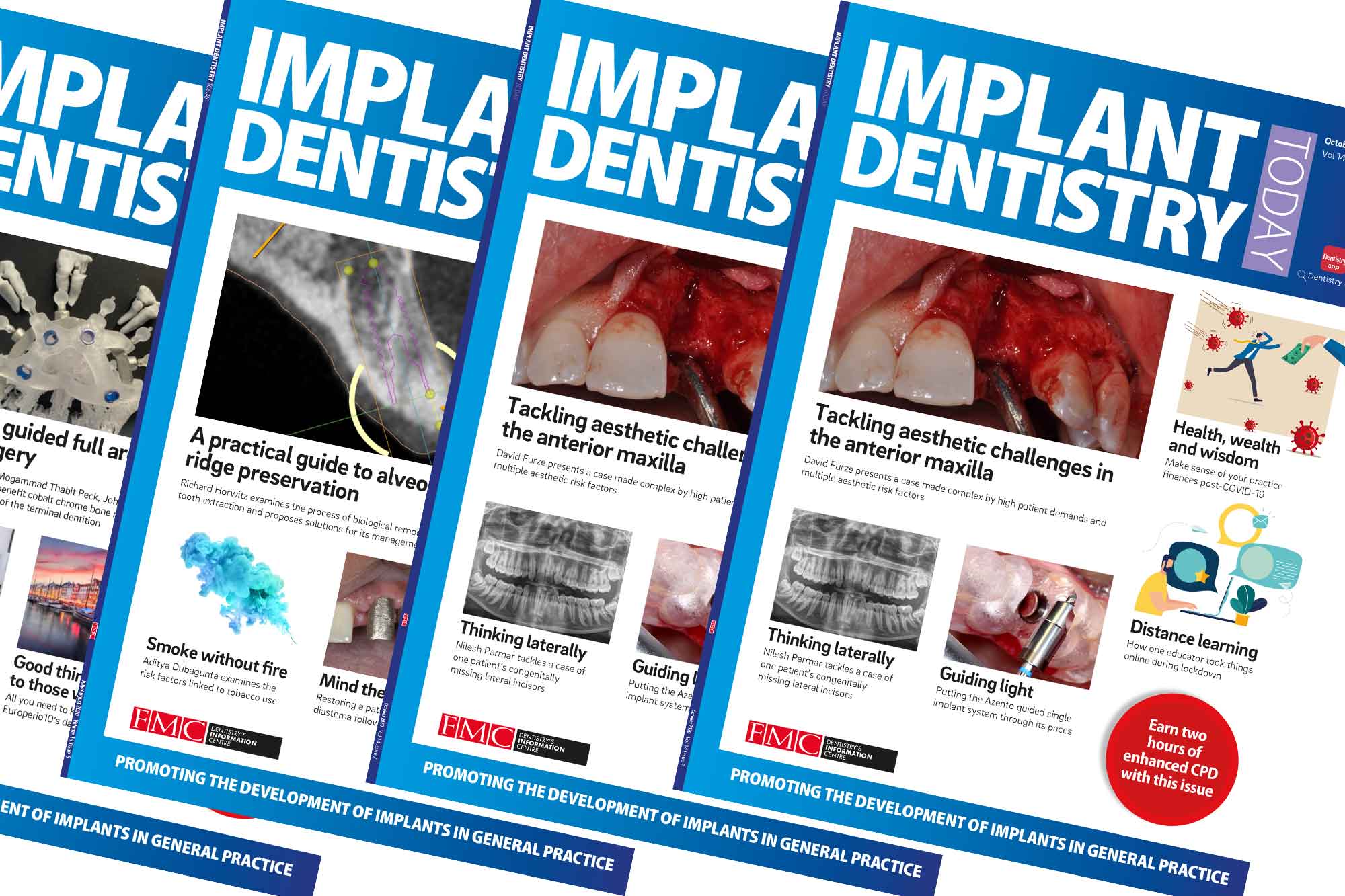 The FMC journal Implant Dentistry Today is joining the digital revolution next month as it adopts a new format for a new year.
The well-loved implant journal will leave its print edition behind to go fully digital from the January 2021 issue. What's more, each issue will be hosted here on Dentistry Online. This means you will have everything you need to dive more deeply into implant dentistry right at your fingertips.
Unbeatable accessibility
The new format will make it easier for subscribers and new readers alike to access the journal's blend of practical clinical content and forays into the issues surrounding implant dentistry.
Managing editor Guy Hiscott said: 'Implant Dentistry Today is now in its 14th year. During that time we've seen digital technology rise to a position of eminence within dentistry.
'More than almost any other modality, implant dentistry has helped spearhead that growth. It's only fitting that the journal embraces the benefits afforded by a platform that we've championed so comprehensively over the years.
'We're excited to see what becoming a digital journal can do to make Implant Dentistry Today more dynamic and help it engage better with its fervent readership. The extra ease of reading and unbeatable accessibility mean nothing but good things for our community. As a result, you can now genuinely keep Implant Dentistry Today in your pocket!
'We're all very excited about what the future holds for the journal as a digital entity.'
Passion and practicality
What won't be changing is Implant Dentistry Today's passion for all things implants. The journal has made its name on bridging the worlds of academia and life in practice.  It focuses on offering articles that are backed by science but resolutely focused on practicality and applicability.
The journal is confidently spearheaded by eminent implant surgeon Professor Eddie Scher. His careful curation has seen the title carve out a niche for itself in the UK's dental scene.
Covering everything from simple single-tooth replacements to partial extraction therapy and sinus lifts, Implant Dentistry Today is a must-read for anyone with a passing interest in implant dentistry.
Implant Dentistry Today launches its first fully-digital issue net month. Keep checking the implant section of Dentistry.co.uk to be the first to read it when it lands.
---
This article first appeared in Implant Dentistry Today magazine. You can read the latest issue here.