Why I moved to a private practice during the pandemic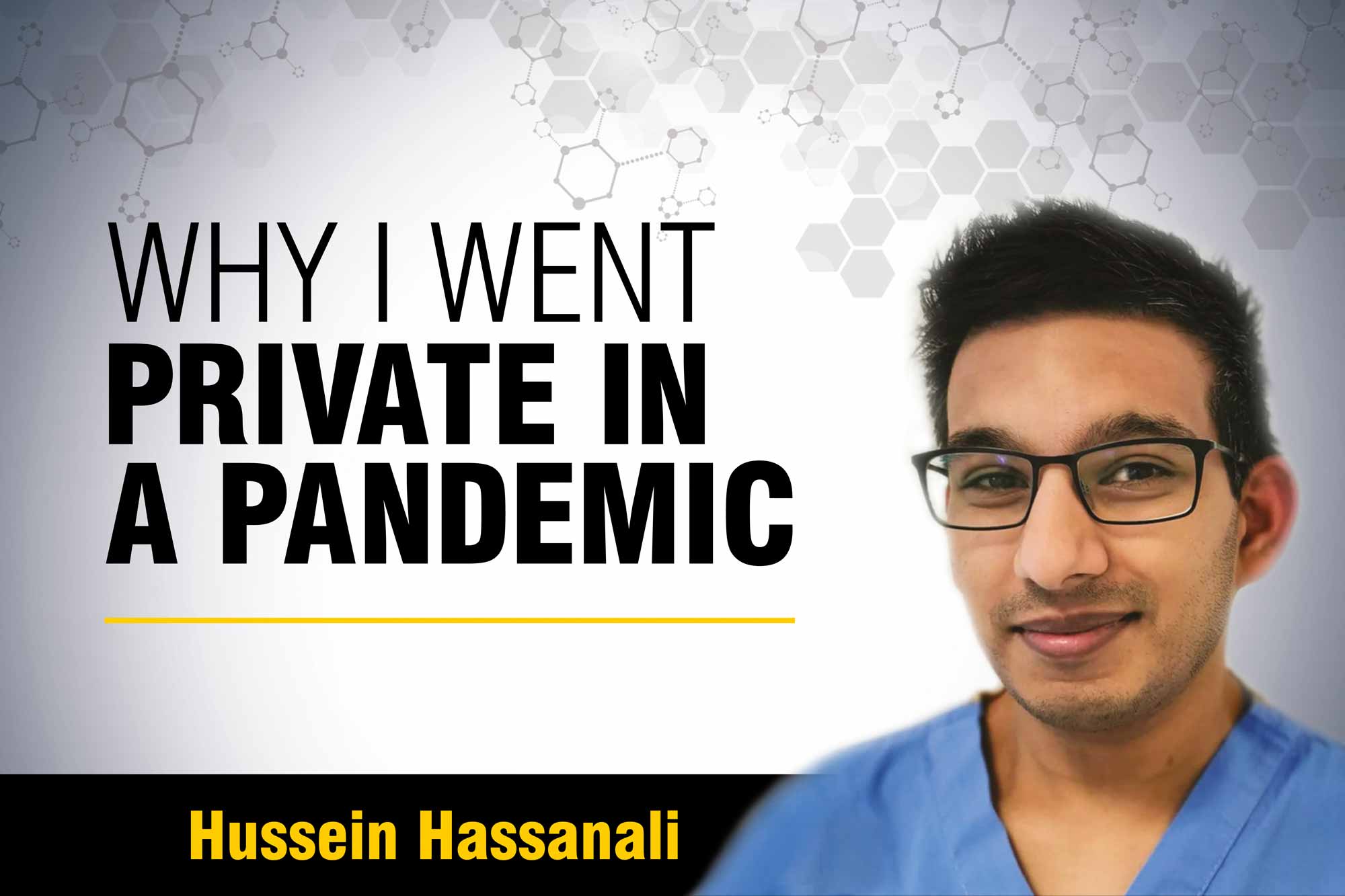 Suki Singh talks to associate Hussein Hassanali about his experience of moving from practising NHS dentistry to private and how he's found the change.
Before the pandemic struck, Hussein Hassanali was working at a practice he had been at for almost a decade. He was spending 95% of his time delivering NHS dentistry.
With a desire to challenge himself and upskill, Hussein had already been thinking about moving towards private dentistry before March 2020. And during the pandemic, he found himself with more time to do just that.
In the first lockdown, Hussein completed courses. He refocused on what it is he truly wanted to achieve and the kind of dentistry he wanted to do. This led him to move to the Thorpe Dental Group, where 99% of his work is private.
I caught up with Hussein to hear more about how he used his time positively during the lockdown and how he feels since making the move to private.
How have you found the past two years' working in the pandemic?
For me, that first lockdown was a good opportunity as it gave me the time to do something I'd wanted to for a while. This was write my portfolio and get my restorative diploma.
I'd worked myself so hard over several years to keep doing more and more within the NHS. At the same time, I was getting less and less for it. I was reaching a period in my life where I was thinking about whether I fancied taking a career break. The first lockdown actually felt like it provided that for me.
It almost reset me. When I came back I had a different mindset of the way that I wanted to achieve things. I'd focused a lot of time during that period on online CPD in non-clinical skills, such as communication. I tried to make that period work positively for me. I wrote down my goals and what I wanted to achieve.
What made it a difficult period is all the terrible things that were happening and the way that the NHS was affected. Practices had to close, it was very slow to open up and there was a lot of emergency care. Nobody really knew what was going on.
I feel like dentistry was treated like medicine's irrelevant sibling. There was no mention of how dentists were going to get protected and what dental care patients needed. Everything at that time was, quite rightly, devoted towards intensive care and the hospital system. But then, when people realised that there is a lot more that's still needed outside of medicine, dentistry still felt quite ignored. That felt very disappointing for patients.
There were so many people needing access to care. Lots of patients who weren't part of an NHS practice were being turned away. There just wasn't space for them. It felt like I couldn't find the time or the capacity to help everybody that needed it. That was difficult.
What made you realise you wanted to move towards private dentistry?
I'd built up a fairly decent network of people outside of my own practice. I spent time with dentists with special interests that I referred to the more advanced work that I couldn't do myself.
Seeing the careers that they had, how fulfilling it was and the way that they really challenged themselves and pushed their own boundaries to really make their day-to-day work interesting, made me feel like I wanted to be able to try and do what they did. And while I still have some way to go, I'm now moving in that direction.
And how do you feel now you are practising privately?
My everyday work is still mostly day-to-day general dentistry and keeping people fit and healthy. This is not too different to when I was working in the NHS. What I feel is different is that my work is more aesthetically driven in terms of the way that I'm doing things and what patients are more interested in.
I'm enjoying doing dentistry and doing more interesting and challenging work, rather than spending all my time either firefighting or just trying to keep patients' caries-free and filling gaps with some amalgam.
I can't say I would never go back into the NHS; the last two years have taught us we don't know what the future holds. But even if I wanted to go back I'm not sure there are many NHS practices around to do that. There's a lot of talk about what sort of systems they're bringing in or how it's going to go and what might change. It's very uncertain.
For example, part of the reason that I did a diploma is because they were thinking about bringing in Tier 1 and Tier 2 practitioners. I thought, if I wasn't moving out of NHS dentistry that becoming a Tier 2 practitioner would have provided a career progression for me within the NHS system. Now, that's almost been buried. The pilots have been kicked into the curb with everything back to the UDA system since April 2022.
I'm not sure how many practices wanted to move back to that.
Thank you Hussein for sharing your thoughts and your experience of moving to private dentistry.