Supercharge your hygiene room!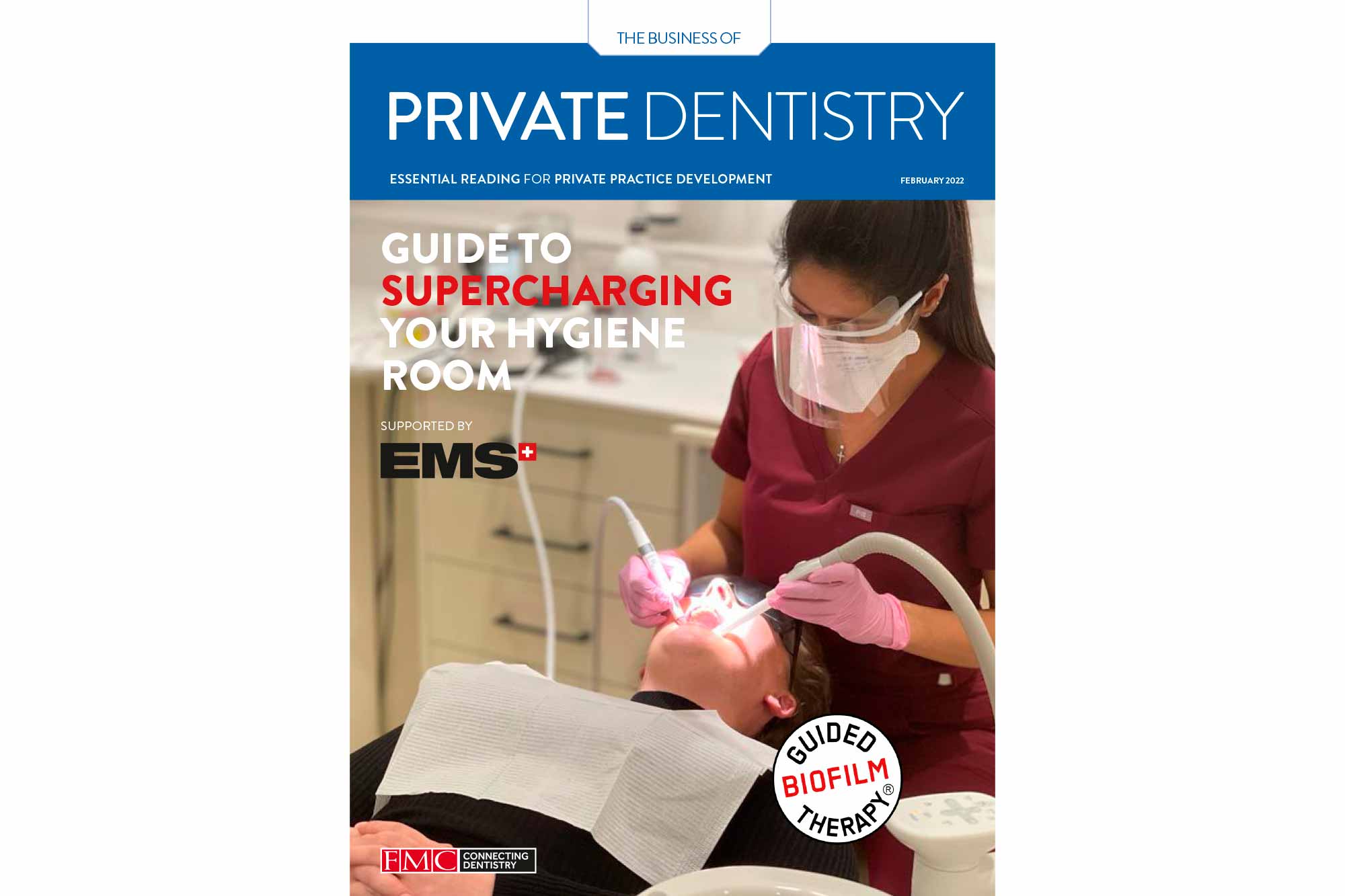 Have you seen your copy of the 'Guide to supercharging your hygiene room' in this month's Private Dentistry? Before you turn to it, why not enjoy a taster of what's in store?
There are incredible opportunities for dental practices right now!
One that stands out from the crowd is building your dental hygiene offering to maximise oral health options. Combine this with its natural progression to cosmetic dentistry for patients desirous of a change in aesthetics. All of which will help to increase your revenue stream in 2022 and beyond.
As Dr Ben Atkins, trustee and past-president of the Oral Health Foundation, writes in his welcoming address: 'We are all aware of the increased desire for cosmetic dentistry following the Covid-19 lockdown. And the considerable amount of time we spent looking at ourselves on various video conferencing platforms.
'Indeed, figures from an Oral Health Foundation survey indicate that 58% of participants have changed the way they see their smile as a result of online video calls. With 33% now more aware of the colour of their teeth and 24% more conscious about the alignment of their teeth.'
He continues to explore the benefits of the hygiene offering in dental practices. He states that it: '…should also be considered integral to the patient journey when it comes to aesthetic desires and restorative needs. We will only deliver gold standard care if we ensure our patients' oral care is as good as it can be before, during, and after treatment.'
Indeed, modern professional prophylaxis options offer: '…the perfect introductory and ongoing pathway for patients seeking improved health and aesthetic treatment. Providing game changing preventive care and patient education prospects. As well as huge business opportunities for practices that get the workflow right.'
Everyone's a winner with a flourishing hygiene department
Joining Dr Atkins in this exciting supplement are a number of movers and shakers in the world of dental hygiene and therapy. They are all looking to support their colleagues' efforts to overcome the challenges of the last couple of years; for a happier, healthier and more prosperous future.
This includes Dr George Cheetham and his colleague Mark Brown. They share their experience of a particular prophylaxis protocol – guided biofilm therapy (GBT). This is a practice builder and an integral aspect of their success as an award-winning oral healthcare provider.
Emphasising the need to put patient care at the forefront, they write: 'As far as we are concerned, building a busy hygiene list is an essential aspect of practice success. In terms of economics, it's a good way of bringing in another revenue stream.'
Oral health optimisation for business growth
Building on this concept, multi-award-winning hygienist and Swiss Dental Academy trainer, Claire Berry, offers insight into why she sees dental hygiene as both a healthcare offering and a business opportunity.
Her practice sees her role as the gatekeeper to oral health optimisation. She works with patients to optimise their health before further treatment. 'When health is achieved, we maintain optimal oral health with life-long care. This means the work we carry out will last. We aim for treatment success, not survival.'
As for the business aspect of delivering dental hygiene care, Claire writes: 'The great thing about the hygiene department is it's an easily achievable revenue stream. Everyone needs to see a hygienist because biofilm never stops re-accumulating.
'Hygienists work with their patients to control, prevent and stabilise the diseases that can result from poor biofilm management.
'So, if every single person requires hygienist services, then every person going through the practice should see a hygienist as a matter of course. Make it an ethical stream for business growth.'
Happy patients, happy team, happy accountant!
Meanwhile, Kate Reeves, the business manager at Aurora Dental and Implant Clinics, is supporting her team in their efforts to ensure patients understand that good oral health is the foundation for the success of all treatment in the practice.
Further highlighting this ethos, she writes: 'Making sure that our patients have a stable and periodontally healthy mouth before starting on future restorations, such as implants, is vital.
'In fact, we do not commence cosmetic treatments unless a patient's oral health meets a minimum standard. Otherwise we cannot guarantee to meet the patient's expectations.'
Offer a clinical view of the situation. Dental hygienist, Louise Stanton, adds: 'For us clinicians, GBT allows us to spend more time to build rapport with patients. Explain about bacteria and the association between systemic health and biofilm. And share tailored oral health instruction.'
Transforming dental hygiene education
As a key pacesetter in dental prophylaxis training, the Swiss Dental Academy, in partnership with EMS, is committed to fostering knowledge and skills by training and educating healthcare professionals.
Its protocol empowers dental hygienists and therapists to help patients keep their teeth and gums as healthy as possible. As well as support dentists' treatment plans.
The reality is that the hygiene department is a great way to get referrals to the dentist. Both for want or need-based treatment that only the dentist can perform. Thereby delivering both direct and indirect revenue.
Indeed, once a patient has come in for an affordable and value-driven oral hygiene treatment plan that they feel confident to commit to immediately, and trust and rapport has been built, it is an easy crossover between departments.
Happy and healthy patients, successful clinicians, and passionate partners; this is the mission. You are invited to join in the efforts to change the face of preventive dentistry in the UK.
---
If you would like a digital copy of the 'Guide to supercharging your hygiene room', please enter your details below and a copy will be sent to you by EMS.