Implant Dentistry Show – hear from Eddie Scher and Aly Virani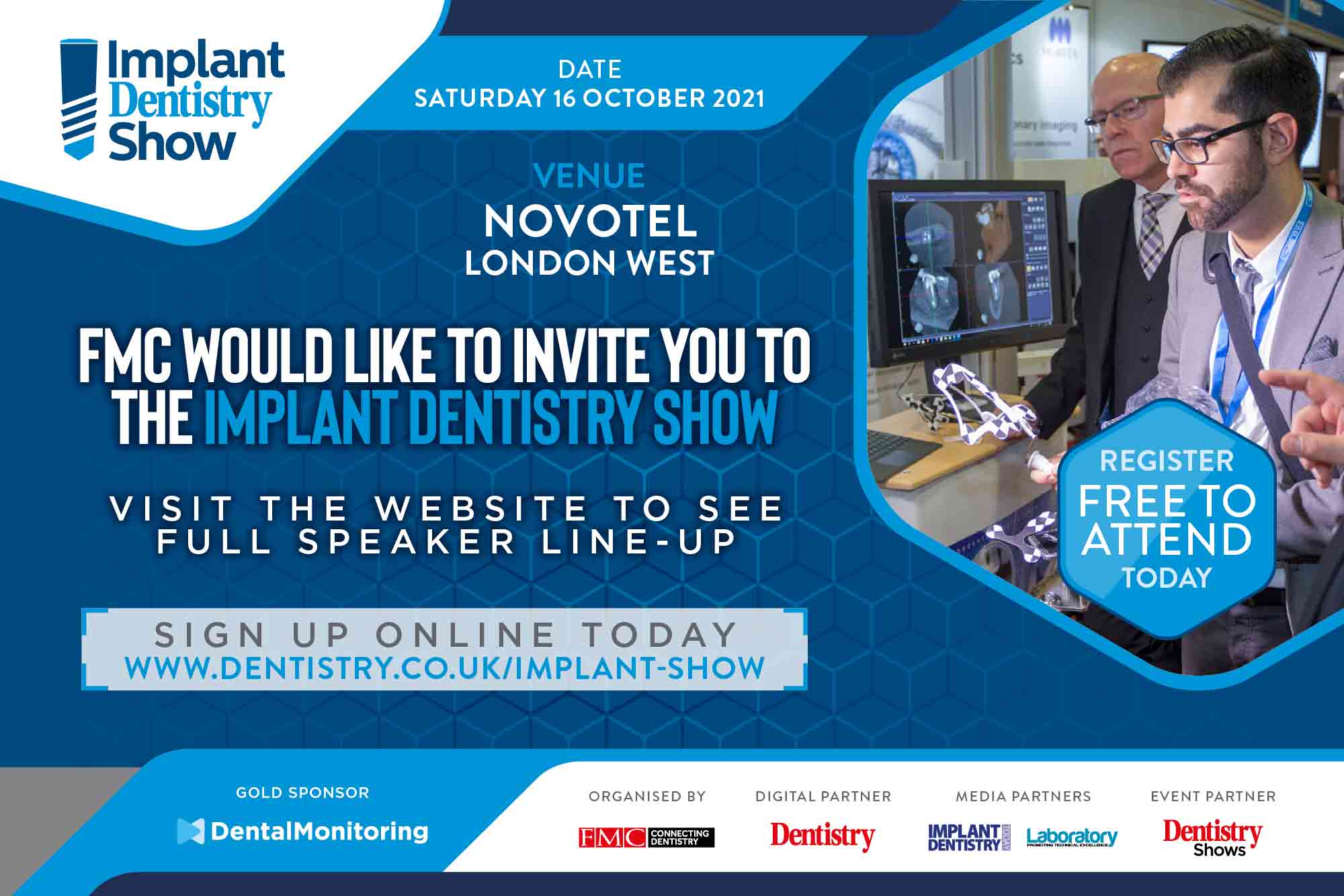 From those just starting up in implant dentistry to expert clinicians, the Implant Dentistry Show has something for everyone.
Taking place this Saturday 16 October, the Implant Dentistry Show will bring a whole host of leading exhibitors where you can check out the latest implant innovations.
There will also be a line-up of leading speakers, including experts such as Aly Virani, Zaki Kanaan and Eddie Scher.
Running from 9am to 4pm at Novotel West, London, the one-day exhibition is for any dentists or technicians interested in implant technologies.
For more information or to register for free visit www.dentistry.co.uk/shows/implant-dentistry-show.
Who's speaking at the Implant Dentistry Show?
Aly Virani
Conventional osteotomy preparation is no longer the only method routinely used by implantologists. Other techniques such as osseodensification and slow drilling have gained popularity more recently.
Although the evidence base, technique and benefits are widely discussed for the other methods, the lack of commercial interest means that we are less frequently exposed to the benefits of the slow drilling technique.
Some of our colleagues have understood and been using a slow drilling technique for many years and swear by it – this is not a new concept.
Aly aims to share his reading and experience with this technique and hopes the connections that he makes between bone physiology theory and daily clinical practice will be of use.
Aly Virani is a graduate of Cardiff University and holds a diploma in implant dentistry from the Royal College of Surgeons of Edinburgh. His practice of dentistry focuses solely on the placement and restoration of dental implants.
Before leaving to dedicate all of his clinical time to implant dentistry in 2019, Aly previously spent five years working in Cardiff as a general dental practitioner with a particular interest implantology and periodontology at a private specialist practice.
Eddie Scher
This will be an interactive lecture where audience participation is welcome. Professor Scher's favourite thing in dentistry is getting to the second consultation and making a plan WITH the patient. It is a puzzle that needs solving and honesty and experience is essential when being trusted by your patient to give your opinion.
Educational aims and objectives:
To discuss a number of treatment plans with the audience and show them what information is needed from the examination and discussion with the patient to achieve the most appropriate treatment planning result
What special tests are necessary?
Pinpoint the patient's options
What are their NHS options?
Discuss my treatment solution
What does the audience think?
Learning outcomes:
The patient's different options for their treatment
The factors involved in achieving the patient's ideal outcome
How the medical history may change our proposal for treatment
How 3D imaging is so important in decision making
To have the panel and our audience's opinion
How financial factors are important
How to protect yourself medico-legally and stay safe.
Dr Scher graduated from University College Hospital, London, UK in 1973. He is registered on the GDC Specialist List in oral surgery and prosthodontics.
He is a visiting clinical professor at the prosthodontics and implant department, Temple University, Philadelphia, USA. Additionally he is visiting professor at University College Cork Dental School.
Implant Dentistry Show timetable:
Lecture zone one
10:00 – 10:30 – Eddie Scher (chair) – Thinking it through – the wonderful art of treatment planning
10:45 – 11:15 – Sergio Polisi – Creating excellence with speed and precision
11:30 – 12:00 – Dr Fazeela Khan-Osborne – Ridge (socket augmentation) in 2021: fact or fiction
12:30 – 13:00 – Ashok Sethi – Refining implant dentistry – functionality, aesthetics and stability
13:30 – 14:00 – David Claridge – How do you correctly choose which intra oral scanner is right for you?
14:30 – 15:00 – Aly Virani – Slow drilling protocol: waterless drilling for implant osteotomy preparation, the how and why.
Lecture zone two
10:00 – 10:30 – Christina Chatfield – An introduction to guided biofilm therapy – the game change for hygiene rooms
10:50 – 11:20 – Boota Singh Ubhi – Top tips on healthy soft tissues around dental implants
11:40 – 12:10 – Matt Perkins – Restorative workflows with implants – grow with Itero
12:40 – 13:10 – Mahmood Mawjee – The mindset of a successful implant dentist
13:40 – 14:10 – Richard Horwitz – A whistle-stop tour of peri-implant disease management
14:40 – 15:10 – Alex Woodham – Dental scan – taking dental imaging into the future.
---
Registration is completely free. Visit www.dentistry.co.uk/shows/implant-dentistry-show.