North of England Dentistry Show – learn about the latest clinical approaches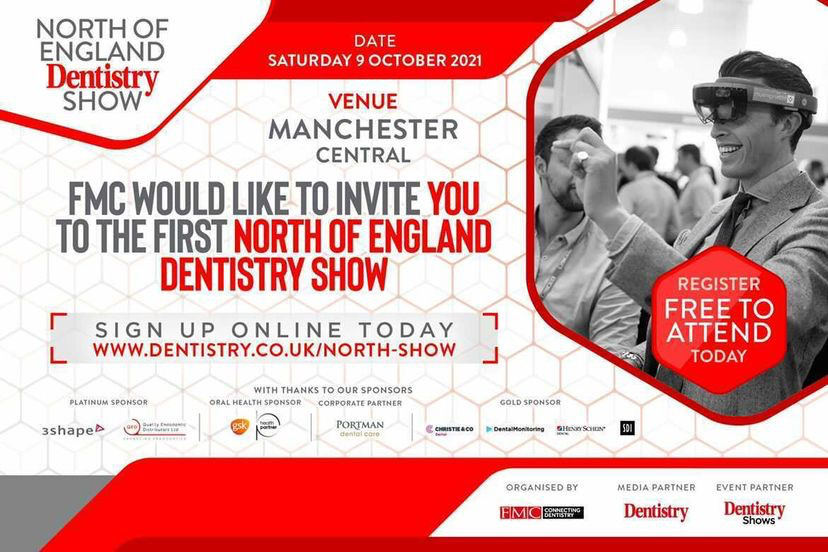 Do you want to learn more about the latest clinical approaches in dentistry for free? Register now for the North of England Dentistry Show.
A variety of speakers will take to the stage at the Clinical Excellence Theatre this Saturday 9 October at Manchester Central for the North of England Dentistry Show.
Just one of five lecture theatres that will be running on the day, the line-up includes the likes of Ashish Soneji, Claire Berry and Andrew Osafo.
Running from 9am to 4pm, delegates can also chat to more than 150 exhibitors – and all completely free of charge.
You can register here www.dentistry.co.uk/shows/north-of-england-dentistry-show
Who's speaking at the Clinical Excellence Theatre?
Ashish Soneji
The questions covered include:
What is minimally invasive cosmetic dentistry?
An overview of contemporary cosmetic techniques which can achieve excellent aesthetic outcomes with minimal biological cost
Understanding use of these techniques in particular clinical scenarios.
Dhiraj Arora
The presentation will help general dental practitioners develop the necessary confidence in moving away from hand filing.
Consider mechanical preparation and its relative importance in root canal treatment
Explain the properties of nickel-titanium and how might they be advantageous in root canal instrumentation
How do automated instruments compare with one another and with stainless steel instrument technique
Recognise the disadvantages of nickel-titanium and automated instrumentation
3Formulate criteria that you might use in selecting the most ideal automated instrumentation system, 'The Cutting Edge Protocol' explained.
Clinical Excellence Theatre timetable:
09:30 – 09:50 – Barry Oulton – The 20-minute solution to parafunction
10:00 – 10:20 – Claire Berry – An introduction to Guided Biofilm Therapy – the game change for hygiene
10:30 – 11:15 – Ashish Soneji – Focusing practice on minimally invasive cosmetic dentistry
11:25 – 11:45 – Dhiraj Arora – Mindful mechanical preparation
12:00 – 12:20 – Andrew Osafo – The medical management of caries
12:30 – 12:50 – Sue Davies – Management of biofilms in DUWL
13:00 – 13:20 – Brian Franks – Risk management in aesthetics
13:30 – 13:50 – Stephen Davies with contributions from Dr Olivia Mills and Dr Amy Burns – Masters in Advanced Restorative Dentistry [MSc ARD]: your blended learning pathway to Clinical Excellence in Restorative Dentistry?
14:40 – 15:00 – Seema Sispal – Erosive tooth wear and the use of the BEWE.
Other theatres include Business Theatre, Implant/Dental Laboratory Theatre, Recommended CPD Theatre and IDDA Digital Dentistry Theatre.
To register visit www.dentistry.co.uk/shows/north-of-england-dentistry-show