Simplify your workflow with Kerr Simplicity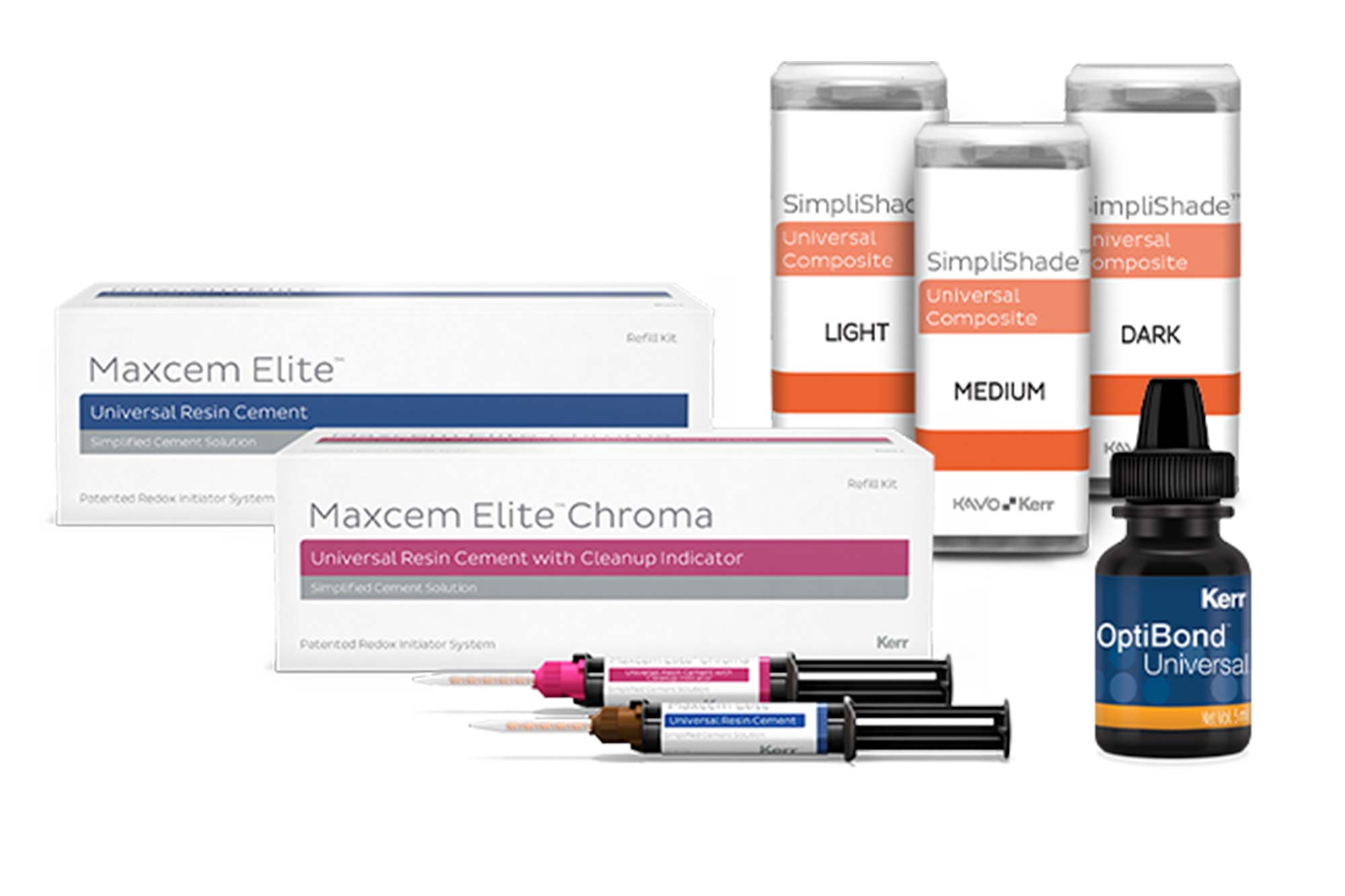 Simplify your workflow and inventory management without compromising on what matters the most when it comes to your restorations, writes Paul Byfleet.
Kerr's Simplicity range enables the simplification of inventory with three products for universal use:
Bonding agent – Optibond, a universal bonding agent that can reduce your inventory. It is compatible with all direct and indirect procedures without the need for separate primers
Cement – Maxcem Elite and Elite Chroma. The first cement that tells you when it's time to clean up
Composite – Simplishade, Kerr's universal composite covers all your restoration needs with just three shades.
Optimal universal bonding
Optibond Universal is the one-bottle dental bonding agent that combines the reliability of patented Optibond GPDM technology with the ease of use of a universal solution.
The Kerr patented formula is enriched with GPDM monomer and the innovative Ternary Solvent System. Effectively etching the enamel while promoting the priming and sealing of dentine. Combined, this results in a more reliable and less sensitive technique.
This single bottle universal dental bonding agent stems from a history of Optibond clinical success. It guarantees great strength, protection against microleakages and complete versatility.
It offers reliable bond strength to all surfaces and substrates, in any etching technique.
Features include:
One bottle, one coat
Proven strength
Complete versatility
Protection against post-operative sensitivity.
Cement to the max
Maxcem Elite self-etch, self-adhesive resin cement for indirect restorations is simplicity refined.
It has high bond strength and superior ease of use, offering proven technology without sacrificing performance.
It is easy to clean up with no hand mixing, and no refrigeration is required. For more convenience, intraoral and root canal tips allow for dispensing of the material in hard-to-reach areas.
Meanwhile, Maxcem Elite Chroma is the first self-etch/self-adhesive resin cement offering a 'Colour Cleanup' indicator. This makes it one of the smartest cements available on the market today. The pink colour fades at gel state, indicating the optimal window of time to clean up excess cement.
Other benefits include:
One of the most secure holds in the market
Outstanding aesthetics and shade matching
Suitable for use with all desired indirect restorations and substrates, including ceramics, PFMs, zirconia and metal restorations, as well as CAD/CAM materials
Easy storage – no need to refrigerate.
Winner of The Dental Advisor 2018 and 2019 award for 'Preferred Product – Self-Adhesive Resin Cement', Maxcem Elite Chroma is also a Dental Advisor Editors' Choice product, with a maximum five plusses (+++++) and a 96% clinical rating.
Simplified universal composite
Simplishade universal composite with Adaptive Response Technology is ideal for streamlining your restoration workflow and inventory management, without compromising strength or aesthetics.
Featuring three shades (Light, Medium, and Dark), Simplishade makes it quick and easy to match all 16 Vita Classical shades. This results in quicker shade-matching that leads to a faster chair time.
With less product to stock, re-order and track, Simplishade allows dentists to focus on caring for patients instead of managing inventory.
This added simplicity comes with superior strength, lifelike aesthetics, and long-lasting performance.
With Simplishade, beautifully strong restorations are easier than ever.
Don't just take our word for it!
Dr Scott Coleman said: 'Every case is unique with a unique solution that needs deciding on between the patient and the dentist. It is great to have a tool like Simplishade in your toolbox when you are deciding what is the best way to fix a problem specific to the patient. The more tools that you have to draw from, the better the end result is for each patient.'
Meanwhile, Dr Matthew Miller commented: 'I love that Simplishade gives me lifelike results quickly and easily. I don't have to use multiple layered shades, which takes more time to complete.'
Why stress? Add Simplicity to your practice
Keep your patients confidently smiling while keeping your workflow simple with Optibond Universal,  Maxcem Elite and Simplishade.
See just how easy it is to use – and order – Kerr's Simplicity line of innovative products by visiting to.kerrdental.com/en/simplicity.