KB Architects – designing a comforting modern dental clinic, in a listed building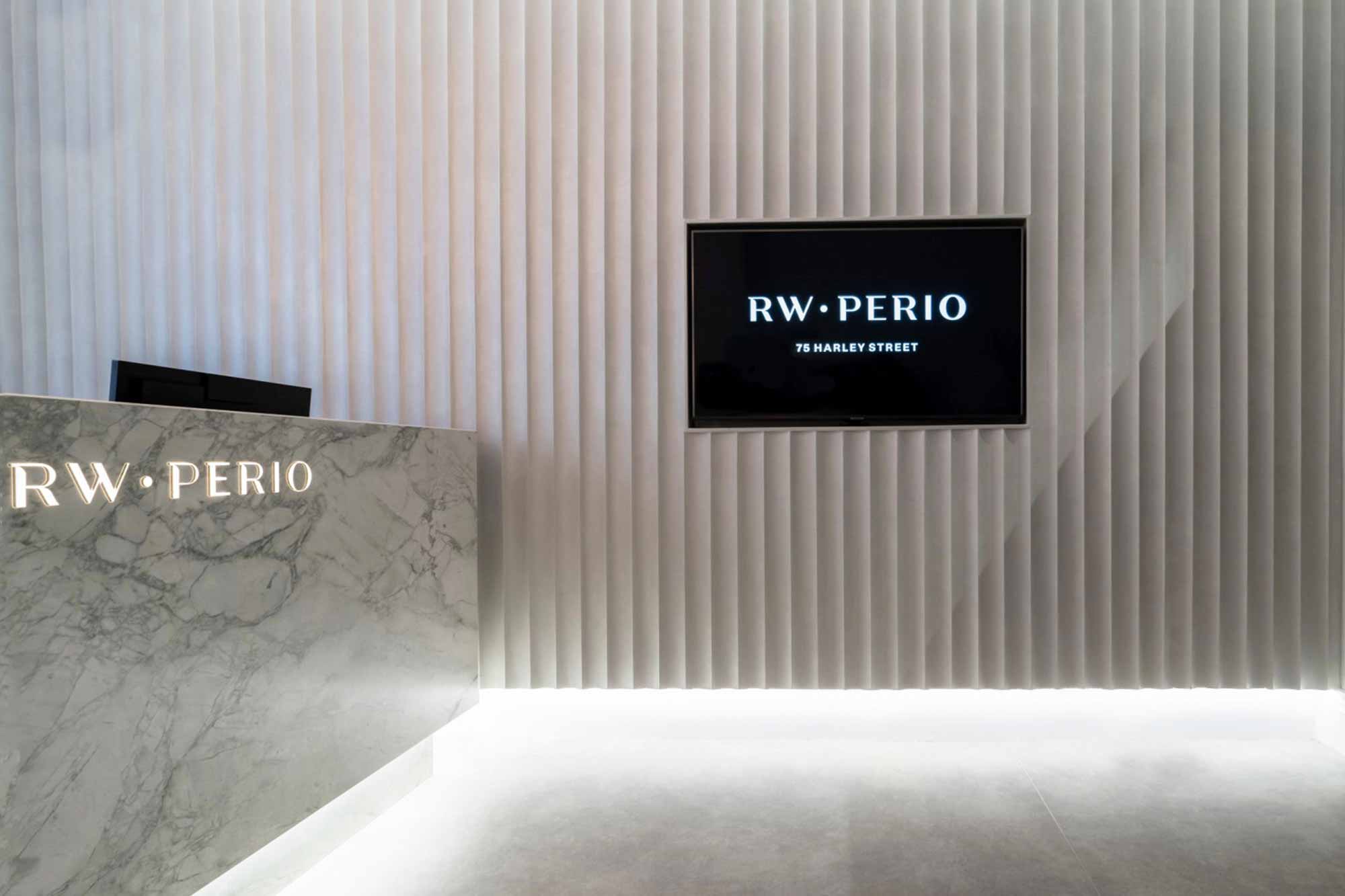 Kimia Benam explains how KB Architects helped to create RW Perio's comforting clinical space for patients and staff.
RW Perio appointed KB Architects to design and deliver its new specialist perio clinic in a grade II listed building in Harley Street Medical Area (HSMA), London.
The brief was to design two dental surgeries and a seminar room, which was supported by back of house staff areas and a decontamination space.
We designed the clinic within a conservation area. So as part of this process KB Architects applied for listed building consent to Westminster City Council.
This exercise and process posed a significant challenge. The level of intrusion to the existing fabric of the base building, which was handed by landlord Howard de Walden Estates, therefore needed to be monitored in micro detail to ensure the proposed concept did not damage the fabric of the existing listed building.
State-of-the-art finish
The new state-of-the-art dental clinic is located on the second floor of the building. The floor area achieved is 112 sqm.
KB Architects, as part of the process, also worked closely with the client team to develop an architectural and interiors brief that clearly defined the parameters for the project.
We utilised a number of mediums to communicate our work at key stages of the project. Such as 3D CGI visuals and 3D physical printed models. This also helped relay the scale and volume of each space and the operational setting of the spaces.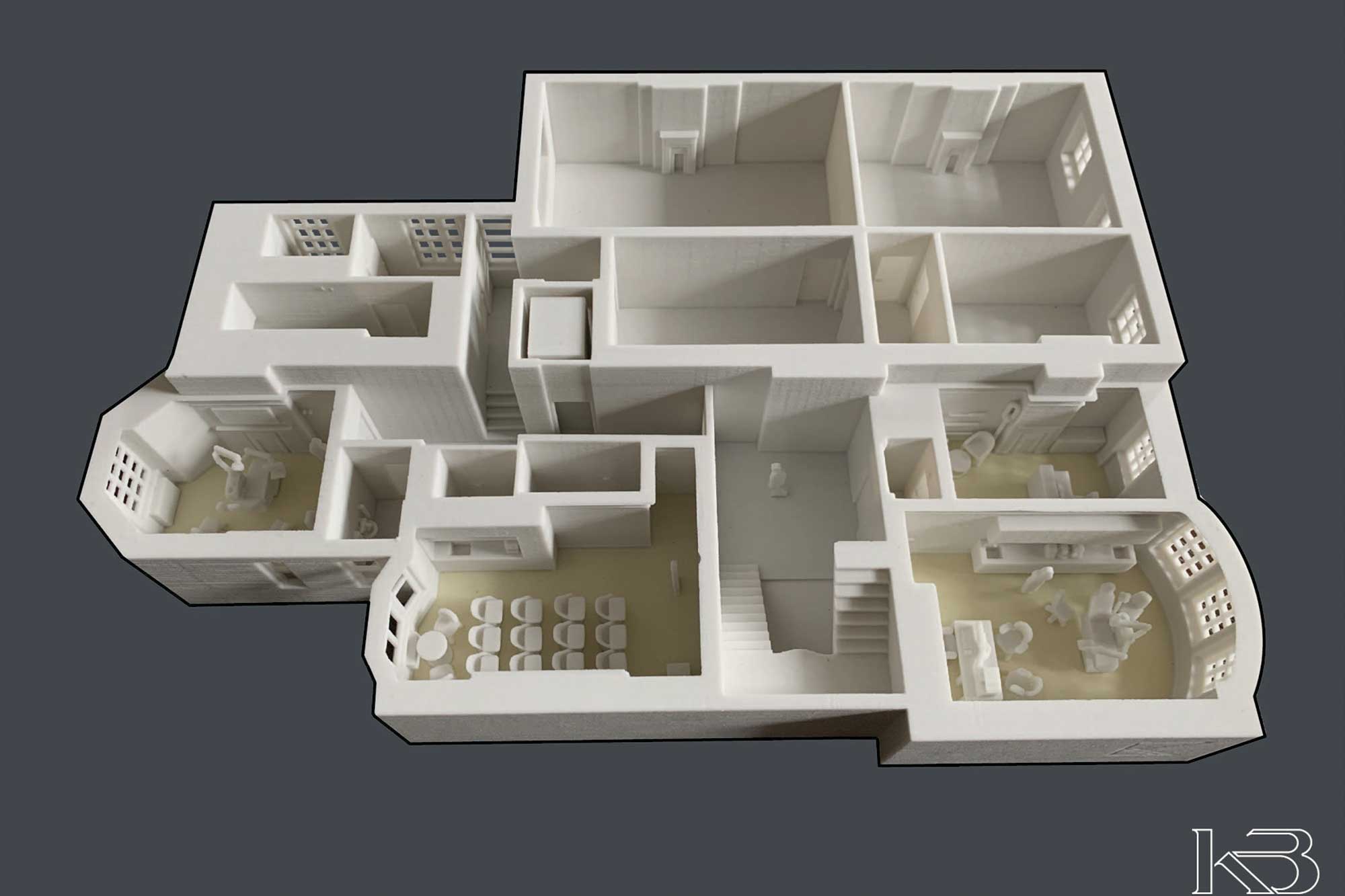 The concept proposed a modern, contemporary and minimalist architectural palette. It worked successfully in tandem with the existing listed period features of the building. This created a fusion of modern and old.
The design was also minimalist, with a clutter free environment. All joinery and finishes received a bespoke design and minutely detailed to ensure a clean and functional concept.
The design team applied biophilic design principles to enhance the patient and staff experience. Such as ceiling-mounted interactive digital screens above patients. These display nature visuals and sounds. Also applying artwork into key spaces by engaging with an artist to transform gum cells into abstract forms.
RW Perio went live and successfully operational in January 2021.
KB Architects
'Working within a listed building to design and deliver a dental clinic can impose several constraints and limitations,' Kimia Benam, director at KB Architects, says.
'However, 75 Harley Street is a good example how, with a well thought through design process, you can fuse the period features of a listed building to blend with modern technology.
'This can then offer a comforting clinical space for the patients and the staff.'
'Kimia was a pleasure to work with during our project,' Dr Reena Wadia, RW Perio, says.
'She has brought innovative ideas with her architectural experience. She was very helpful in overcoming the challenges we faced during our project such as listed building consent.
'Her attention to detail made a significant difference to the overall outcome and I would highly recommend her as an architect.'
If you would like to find out more about the design and building process we went through to achieve RW Perio clinic, please do not hesitate to get in touch for a free phone consultation.
We would love to hear about you, your practice and your future aspirations. As well as explaining how we can be of assistance.
---
For more information visit www.kbarchitects.co.uk, email [email protected] or call 07890 549108.